In China, no 'Revenant,' but mad Oscar buzz for Leonardo DiCaprio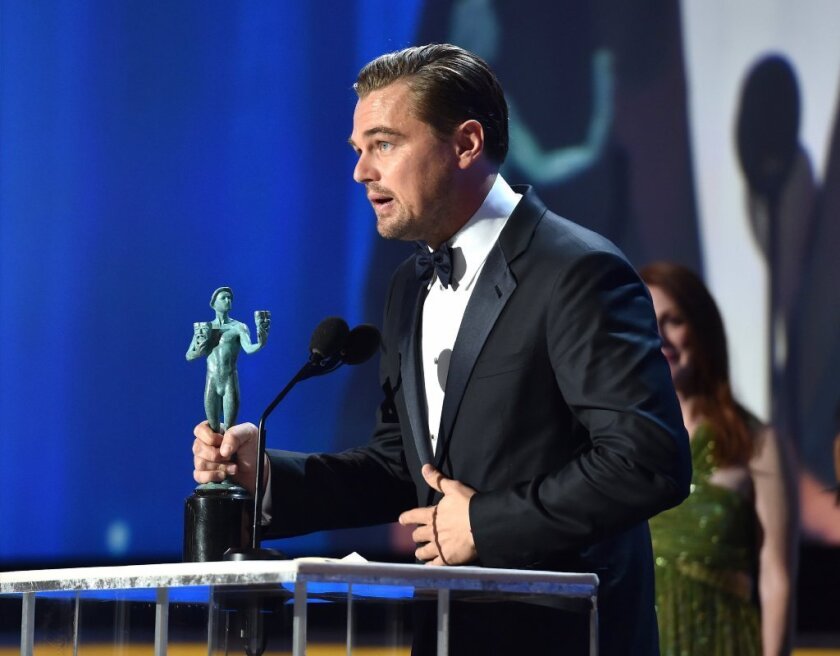 In recent years, Leonardo DiCaprio hasn't been making the kind of films Chinese censors are very keen on. With its full-frontal nudity, expletive-riddled script, flagrant drug use, graphic sex and general debauchery, "The Wolf of Wall Street" never had a chance with the Communist Party's conservative gatekeepers. Ditto for "The Revenant," with its gore, violence and sexual assault.
But don't fret, Leo, China hasn't forgotten you. In fact, the entire country seems to be rooting for you to finally take home Oscar gold come Feb. 28.
While the #OscarsSoWhite controversy has dominated the awards season conversation stateside and elsewhere this year, in China the buzz has centered on whether "Xiao Lizi" — or Little Leo, as the 41-year-old DiCaprio is widely and affectionately known here — can finally take home the statue that has eluded him for so long.
Oscars 2016: Full Coverage | Complete list | Snubs, surprises and reactions | Top nominee photos | Oscars are so white, again
Hundreds of articles analyzing his losing streak and his prospects for winning this year have been published in Chinese since nominations were announced last month and DiCaprio was tapped for a lead actor nom for his portrayal of frontiersman Hugh Glass in "The Revenant."
On Chinese social media sites, fans have taken to creating funny memes and gifs to express their hopes that Xiao Li won't walk away empty handed yet again. A message board on the crowd-sourced Q&A site Zhihu has hundreds of posts analyzing why DiCaprio has never taken home a "Little Gold Man," as the Oscar statuette is often called here.
Though many Chinese became DiCaprio fans after "Titanic" fever swept the globe in 1997, Xiao Li first hit Chinese TV screens in the early 1990s, when the TV show "Growing Pains" was one of the few American sitcoms allowed on state-run television.
"Whether DiCaprio can win the award is definitely the hottest Oscar topic among Chinese this year," said Wu Renchu, a Shanghai-based film critic. Along with Nicolas Cage, DiCaprio is at the top of the Hollywood heap for Chinese fans, he said.
"He has huge influence on Chinese people of any age — from the young to the very old — because of 'Titanic,'" said Wu. "He has been nominated by the academy five times [for acting], but he hasn't won one, so his fans think it's really unfair. They think the academy owes him a gold trophy."
While many of DiCaprio's recent films have not been released in Chinese cinemas, added Wu, "people are still impressed by his performance in 'The Wolf of Wall Street' and 'Revenant.' They all watched pirated copies of his films online."
(Perhaps due in no small part to Chinese fans, "The Wolf of Wall Street" garnered the dubious distinction of being named 2014's most illegally downloaded film, according to Excipio, which monitors online copyright infringements. The firm said more than 30 million people individually downloaded "Wolf" using Torrent software that year.)
After DiCaprio walked away from the Academy Awards empty-handed in 2014 (he was nominated both for his acting in "Wolf" and as a producer of the film), the Chinese press poured out its sympathy. "Don't cry, Xiao Li, you have won the lifetime nomination prize," the Beijing News said in one typical piece.
After his last loss, one particularly devoted fan made a video montage of DiCaprio and penned a musical ode to the actor, "I want to get a Little Gold Man! Little Leo, No Cry."
The lyrics go, in part:
I once imagined winning the little gold man
So I took my acting so seriously in every film
I put my heart into every role
But how come I still have got nothing after four nominations?
"The Wolf of the Wall Street," "Inception" and "The Aviator"
"The Departed," "Gangs of New York," "Django Unchained"
I made one classic after another yet still got no Oscar
An actor who hasn't won an Oscar keeps striving for his dream
I only wish to get the little gold man to prove my talents
I have spared no effort for the highest award
Though I have lost you four times, I will keep trying
It would be OK if I can eventually win the lifetime achievement award
I'd like to be consoled by winning the little gold man
Every award ceremony is such a torture.
Although I'm popular and my films have earned boffo box office,
I still missed the Oscar so many times.
So handsome guys don't get awards?
Little Leo, no cry!
Among the memes circulating in China this year have been pictures of DiCaprio gazing intently at a Oscar statue, with a caption reading, "It's time for me to win an Oscar, right?" His infamous Golden Globes Lady Gaga gif moment has been repurposed as well, with a caption in Chinese saying: "Look how happy you are, getting this award…. Who do you think you are?"
This Oscar season, only one of the Best Picture nominees — "The Martian" — has been imported to China. "That has weakened the Chinese audience's enthusiasm about the Oscars," said Wu. "The Oscars don't have the same influence in China as in the U.S. or Europe."
China restricts the number of non-Chinese films allowed into the country each year to about 55, with 34 of those being major, wide releases. That means that smaller, art house titles like "Brooklyn" and "Spotlight" don't get much exposure in China.
Though many Chinese are rooting for DiCaprio to win this year, watching the Oscars live in China isn't that easy. The show can be seen on TV in some upscale hotels, and was streamed on several Web portals last year. But state-run CCTV does not carry the broadcast in real time; an edited version is usually aired later in the day. It is unclear whether any websites will be streaming the show live this year.
Chinese authorities have been wary of broadcasting the ceremony live on TV for decades, ever since the 1993 Oscar ceremony, when presenter Richard Gere went off script and denounced China's human rights record in Tibet.
Noting that the proceedings were being seen live in China, Gere said: "I wondered if Deng Xiaoping is actually watching this right now, with his children and his grandchildren, and with the knowledge that — that — that — what a horrendous, horrendous human rights situation there is in China, not only toward their own people but to Tibet as well."
Gere continued that it would be "miraculous" if "we could all kind of send love and truth and a kind of sanity to Deng Xiaoping right now in Beijing, that he will take his troops and take the Chinese away from Tibet and allow people to live as free, independent people again."
Said Wu: "I remember in 1993's ceremony, Richard Gere said something unfriendly toward the Chinese government and the interpreter suddenly stopped interpreting his speech. After that, all the ceremonies haven't been on live."
Yingzhi Yang and Nicole Liu in the Times' Beijing bureau and special correspondent Chuan Xu contributed to this report.
Follow @JulieMakLAT for news from China
Get more entertainment news on Facebook
---
The complete guide to home viewing
Get Screen Gab for weekly recommendations, analysis, interviews and irreverent discussion of the TV and streaming movies everyone's talking about.
You may occasionally receive promotional content from the Los Angeles Times.