Lupita Nyong'o adjusts to attention from '12 Years a Slave' role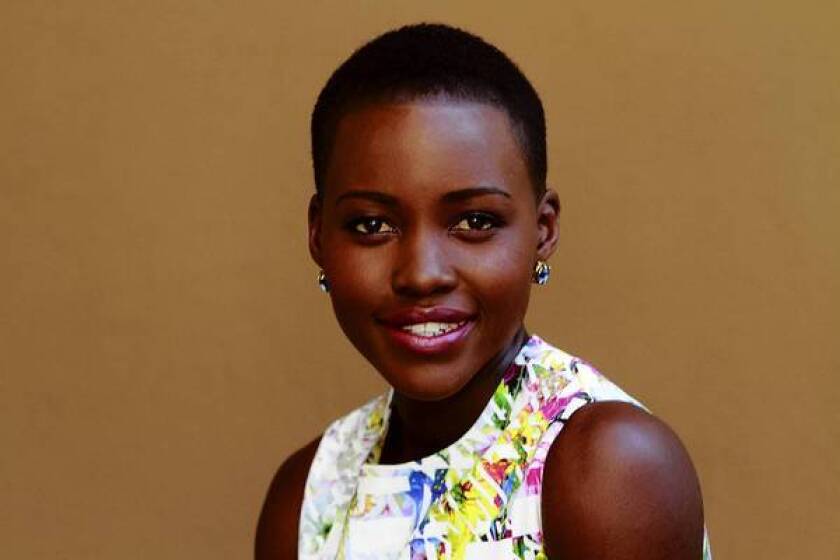 Lunching at the Beverly Hills Four Seasons, impeccably made up and glowing with enthusiasm and easy charm, Mexico-born and Kenya-raised actress Lupita Nyong'o makes a very different impression than on-screen in director Steve McQueen's "12 Years a Slave." Nyong'o plays a fieldworker, Patsey, who not only has to suffer the inhumanity of slavery in the pre-Civil War South but also has to endure a dangerous combination of lust and contempt from her owner, Edwin Epps (Michael Fassbender). Nyong'o is already surrounded with award buzz for her first big-screen role — but is not overwhelmed. "I didn't grow up watching the Oscars; the first time I watched was when I was an undergrad [at Hampshire College]. There is so much happening right now that I'm trying to adjust and rise to the occasion — and, yeah, I'm just taking it day by day."
How did this film find you?
I was about to graduate from the Yale School of Drama, and my manager was given the script for another client of hers, Garret Dillahunt. She read it and saw the role of Patsey, and she thought I'd be good for it. So she had me put myself on tapes in New York, and then I went to meet and work with [casting director] Francine Maisler for about an hour [in L.A.], a very grueling audition ... and then the third step was meeting Steve down in Louisiana and auditioning for him there.
INTERACTIVE: Best and worst Oscar moments since 2008
Is it tough to play societal attitudes from the past, with different modes of thinking about equality, justice ... ?
You know, as an actor, if you think that way, you do nothing. It is crippling to have an omniscient view of what's happening. So, for me, it's important to narrow in on the subjective view of the one character, and if you are really doing that homework, then those things get taken care of. But you can't look at them from that kind of panoramic view. You have to zero in on your character ... and then it's Steve's business to worry. [Laughs]
The film was shot in Louisiana. How much does being there physically help?
It helps immensely, because history in Louisiana is present in the oaks; they are 300-plus years old, and they were the trees under which slaves took a breather, and they are the trees that slaves hung from, and you are aware of that. The trees ... the moss, the bayous, everything is just pregnant with history, and it's incredible because it's tangible. It brings that history right into the present. The heat is a character in the film, and it changes the way you move, how you think, and so it really did help push us even further. That these horrible things happened in such a beautiful environment makes it that much more emotional.
When you are just reading the script, is it interesting to read a film that is not cutting away from the more horrible elements of its topic?
"12 Years a Slave" is about life and love, because it's only love that gets Solomon Northup [Chiwetel Ejiofor] through those 12 years — the love for his family, to hope that he would see them again. And even Master Epps, he is conflicted by his love for Patsey — he wants to destroy that love for her by destroying her. We can relate to these people because they are so identifiable and they are so well-rounded. They aren't just villain and victim; there is more to it than that. You see the turmoil in Master Epps. And ... you witness the institution that slavery was in all its diversity. For me this film is really about life and love, and love as not some passive emotion but something that takes a stand and is about a restoration of peace and justice.
---
Inside the business of entertainment
The Wide Shot brings you news, analysis and insights on everything from streaming wars to production — and what it all means for the future.
You may occasionally receive promotional content from the Los Angeles Times.