Golden Globes 2015: Snubs, surprises and assorted trends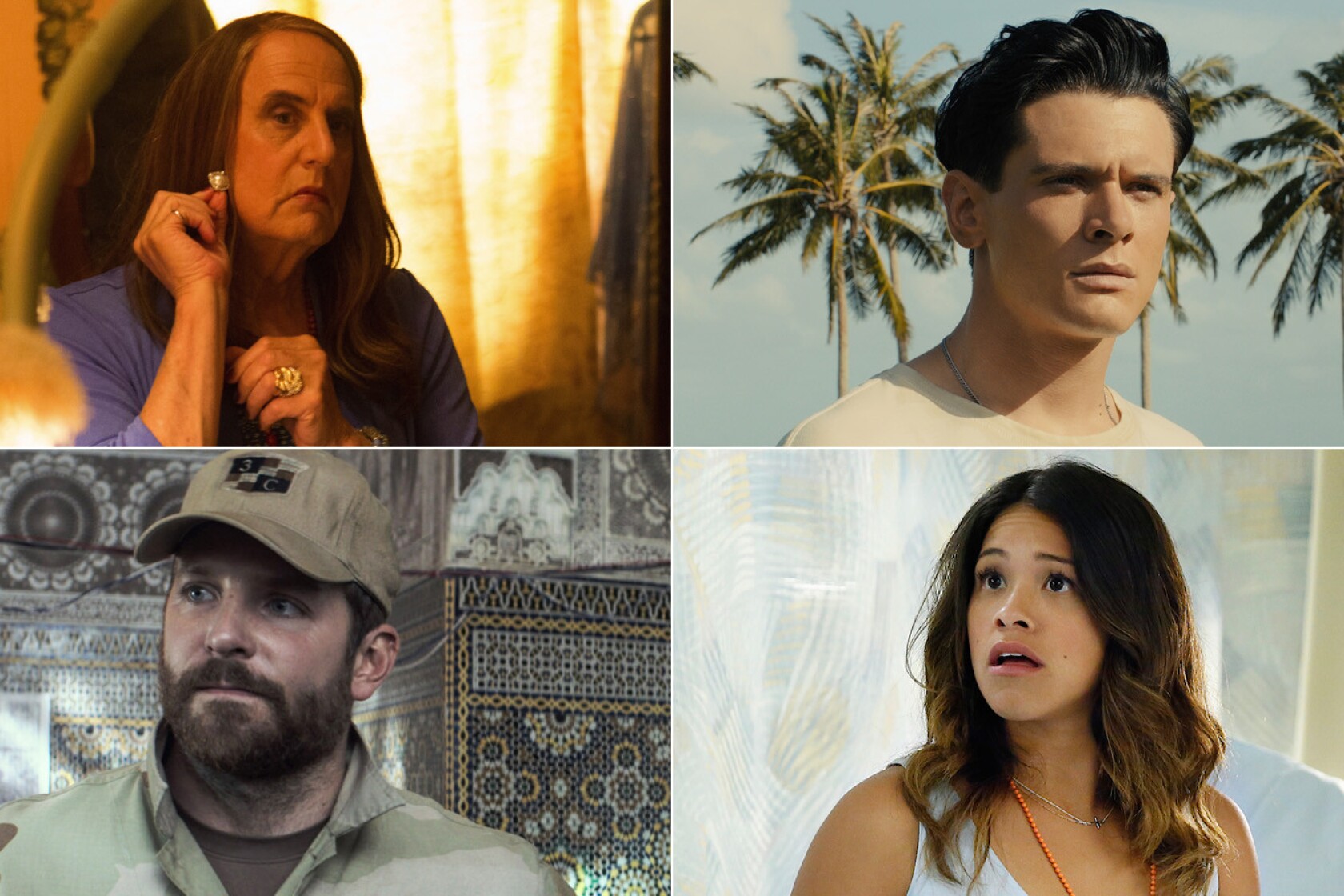 Here is a look at some snubs and surprises from the 2015 Golden Globe nominations.
(Clockwise from top left: Amazon Studios, Universal Studios, The CW, Warner Bros.)
Director Angelina Jolie's World War II survival tale was touted as an awards season contender, but the film was shut out on Golden Globes nomination morning.
(Universal Studios)
It's one of the highest-rated shows on TV and gets general critical approval, yet "The Walking Dead" has received only one Golden Globe nomination, in 2011. It came up short again this year.
(Frank Ockenfels / AMC)
The 11-year-old actress has a short acting resume, but it's already long on awards. After an Oscar nomination for "Beasts of the Southern Wild" in 2013, she's got another nomination for "Annie."
(Barry Wetcher / Columbia Pictures)
On Wednesday, fans of the "Orphan Black" star were cheering her recognition at the SAG Awards nominations. But despite a Golden Globe nom last year, she was back out in the cold this year.
(Steve Wilkie / BBC)
His film "Gone Girl" failed to grab a motion picture drama nomination, but the HFPA clearly enjoys David Fincher's work. This is his third director nomination.
(Liz O. Baylen / Los Angeles Times)
"Transparent" was a critical favorite, but that doesn't always translate to Golden Globes love. But Jeffrey Tambor's performance as a transgender parent clearly won over enough people for a nomination.
(Beth Dubber / Amazon Studios)
Awards-giving types tend to give Clint Eastwood the benefit of the doubt, but his latest, "American Sniper," got no love from the HFPA.
(Warner Bros.)
The onetime awards show perennial has fallen on some Don Draper-esque hard times lately. "Mad Men," in its final season, got no love from the Golden Globes.
(Michael Yarish / AMC)
"Interstellar" came away with only one nomination this year for original score.
(Melinda Sue Gordon / Paramount)
Joaquin Phoenix's lead actor nomination for his role in "Inherent Vice" is surprising to some, considering the field of other strong performances.
(Wilson Webb / Warner Bros.)
Awards shows do not always favor newcomers, so the nominations for both actress Gina Rodriguez, center, and the freshman comedy series "Jane the Virgin" come as a surprise.
(Danny Feld / The CW)
Angelina Jolie has been nominated for Golden Globes for her acting in "Changeling," "Gia" and "The Tourist," part of half a dozen noms over the years for the A-list star. The group even nominated her feature directorial debut, 2011's "In the Land of Blood and Honey," in the foreign film category.
But when the Hollywood Foreign Press Assn. unveiled its shortlist Thursday, Jolie and her movies were nowhere to be found: not a single nod for her World War II-set directorial effort, "Unbroken," and nothing for her turn as the lead in the fairy-tale hit "Maleficent" either.
She was part of a group of snubs and surprises from HFPA voters at the annual Beverly Hills rite, at which the outliers are often as interesting as the mainline nods.
Clint Eastwood was also absent from the Globe list, with his soon-to-be-released military drama "American Sniper" garnering no nominations. Eastwood has gotten plenty of love as a director, making the cut previously in the category for "Invictus," "Flags of Our Fathers," "Letters From Iwo Jima" and "Million Dollar Baby," among others, though he notably hasn't picked up any directing nods in the five years since "Invictus."
Among other top-tier filmmakers, Christopher Nolan saw his "Interstellar" get only one minor nomination, for original score. Nolan has been a favorite of the HFPA of late, with "Inception" landing best picture drama, director and screenplay nods.
Just as with the Screen Actors Guild Award nominations announced Wednesday, Laura Dern was snubbed for her supporting actress turn as an ethereal mother in the outdoors drama "Wild," putting a dent into her chances for an Oscar nomination next month. Jessica Chastain, on the other hand, landed a slot in the category for her role as a cool customer in the gritty street tale "A Most Violent Year," boosting her chances for an Oscar.
Julianne Moore snagged a rare twofer for lead acting — for her turn as a woman with Alzheimer's in "Still Alice" in the drama category and as a washed-up actress in "Maps to the Stars" for comedy. The first was expected, but the "Maps" nomination was a surprise.
When the ceremony rolls around Jan. 11, Moore will try to become the fourth actress to win two Globes in the same year. (Sigourney Weaver, Joan Plowright and Kate Winslet are the others.)
The HFPA, meanwhile, continued its trend for favoring a commercial play, nominating Quvenzhané Wallis for actress in a comedy or musical for "Annie."
The snubs and surprises cause a realignment of sorts. The "Unbroken" omission in best drama cleared the way for "Foxcatcher" to land a slot; the movie, a bubble contender for an Oscar best picture nomination, has solidified its candidacy heading into that balloting period.
"Foxcatcher" director Bennett Miller did not land a director nod, which cleared the way for David Fincher of "Gone Girl," considered far from a lock. The HFPA has shown him some respect in the past, nominating him in the director category for "The Social Network" and "The Curious Case of Benjamin Button."
Twitter: @ZeitchikLAT
---
From the Emmys to the Oscars.
Get our revamped Envelope newsletter, sent twice a week, for exclusive awards season coverage, behind-the-scenes insights and columnist Glenn Whipp's commentary.
You may occasionally receive promotional content from the Los Angeles Times.