'Goodbye to Language 3D' edges 'Boyhood' as film critics' best of 2014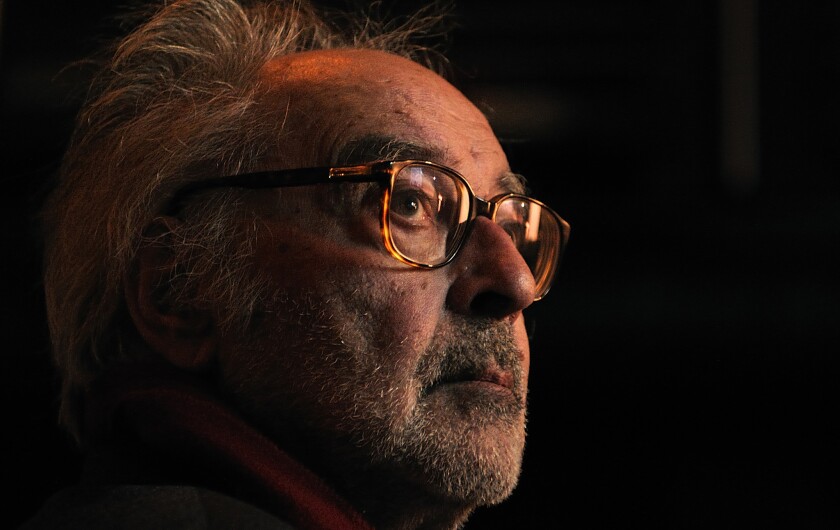 A film many people have never heard of -- Jean-Luc Godard's "Goodbye to Language 3D" -- was named best film of 2014 on Saturday by the National Society of Film Critics, edging out "Boyhood" by one vote.
The 70-minute, 3-D film from the pioneering 84-year-old French New Wave director features Godard's own dog. The film previously took a Prix du Jury award at Cannes, where Los Angeles Times film critic Kenneth Turan described it as a "cinematic puzzle."
("Goodbye to Language" opens Jan. 23 at the American Cinematheque's Aero Theatre.)
The society includes many of the nation's leading film critics. The Godard film won with 25 votes. "Boyhood," Richard Linklater's unique coming-of-age story that won the top prize from the Los Angeles Film Critics Assn. and New York Film Critics Circle, came in second with 24 votes, followed by "Birdman" and "Mr. Turner" tying for third place with 10 votes each.
Linklater took top honors in the director category, with Godard runner-up and Mike Leigh ("Mr. Turner") placing third.
Lead actor honors went to Timothy Spall for his performance as British painter J.M.W. Turner in "Mr. Turner." Tom Hardy was runner-up for "Locke." Joaquin Phoenix for "Inherent Vice" and Ralph Fiennes for "The Grand Budapest Hotel," tied for third place.
The critics selected Marion Cotillard in the actress category for her performance in the Belgium drama "Two Days, One Night" as a young woman returning to work after suffering a nervous breakdown who discovers her job is at risk, as well as for the period drama "The Immigrant," in which she plays a Polish emigre in New York. Julianne Moore placed second for "Still Alice" and Scarlett Johansson came in third for her roles in "Lucy" and "Under the Skin."
J.K. Simmons took supporting actor honors as a ruthless music teacher in "Whiplash," with Mark Ruffalo coming in second for "Foxcatcher." Edward Norton placed third for "Birdman."
Patricia Arquette topped the supporting actress vote for her role as a single mother in "Boyhood," with Agata Kulesza placing second for "Ida" and Rene Russo, third, for "Nightcrawler."
Wes Anderson won screenplay honors for "The Grand Budapest Hotel," with Paul Thomas Anderson second for "Inherent Vice" and Alejandro G. Iñarritu, Nicolas Giacobone, Alexander Dinelaris and Armando Bo third for "Birdman."
Nonfiction film honors went to "Citizenfour," Laura Poitras' documentary on former NSA contractor Edward Snowden. Frederick Wiseman's "National Gallery" was runner-up and Jess Moss' "The Overnighters" placed third.
Cinematographer honors went to Dick Pope for "Mr. Turner." Darius Kjondji placed second for "The Immigrant" and Fabrice Aragno came in third for "Goodbye to Language."
The Film Heritage Award went to Ron Magiliozzi, associate curator, and Peter Williamson, film conservation manager, of the Museum of Modern Art for identifying and assembling the earliest surviving footage of a feature film with a black cast -- 1913's "Lime Kiln Field Day," starring Bert Williams.
Ron Hutchinson, cofounder and director of the Vitaphone Project, also earned a Film Heritage Award. Hutchinson has collected and restored original soundtrack discs since 1991 for early sound films and shorts including the recently restored 1929 "Why Be Good?"
The film society said it was dedicating its meeting Saturday to two former members who died in 2014 -- former Los Angeles Times Arts Editor Charles Champlin and Boston Globe film critic Jay Carr.
There were 59 members of the society eligible to vote at Saturday's meeting at Lincoln Center in New York. The group uses a weighted ballot system, so there can be a discrepancy between vote tallies and the number of voters.
The society, which was founded in 1966, includes principal critics from major newspapers and media outlets. The group's choices rarely match those of the Academy of Motion Picture Arts and Sciences.
Over the last 40 years, only five times has the critics' pick for best picture also won the best picture Oscar: 1977's "Annie Hall," 1992's "Unforgiven," 1993's "Schindler's List," 2004's "Million Dollar Baby" and 2009's "The Hurt Locker."
Last year, the society named Joel and Ethan's Coen's "Inside Llewyn Davis" as the best picture of 2013, while the Oscar went to "12 Years a Slave."
---
The complete guide to home viewing
Get Screen Gab for weekly recommendations, analysis, interviews and irreverent discussion of the TV and streaming movies everyone's talking about.
You may occasionally receive promotional content from the Los Angeles Times.