Caption this Oscar moment: John Travolta and the Idina Menzel flub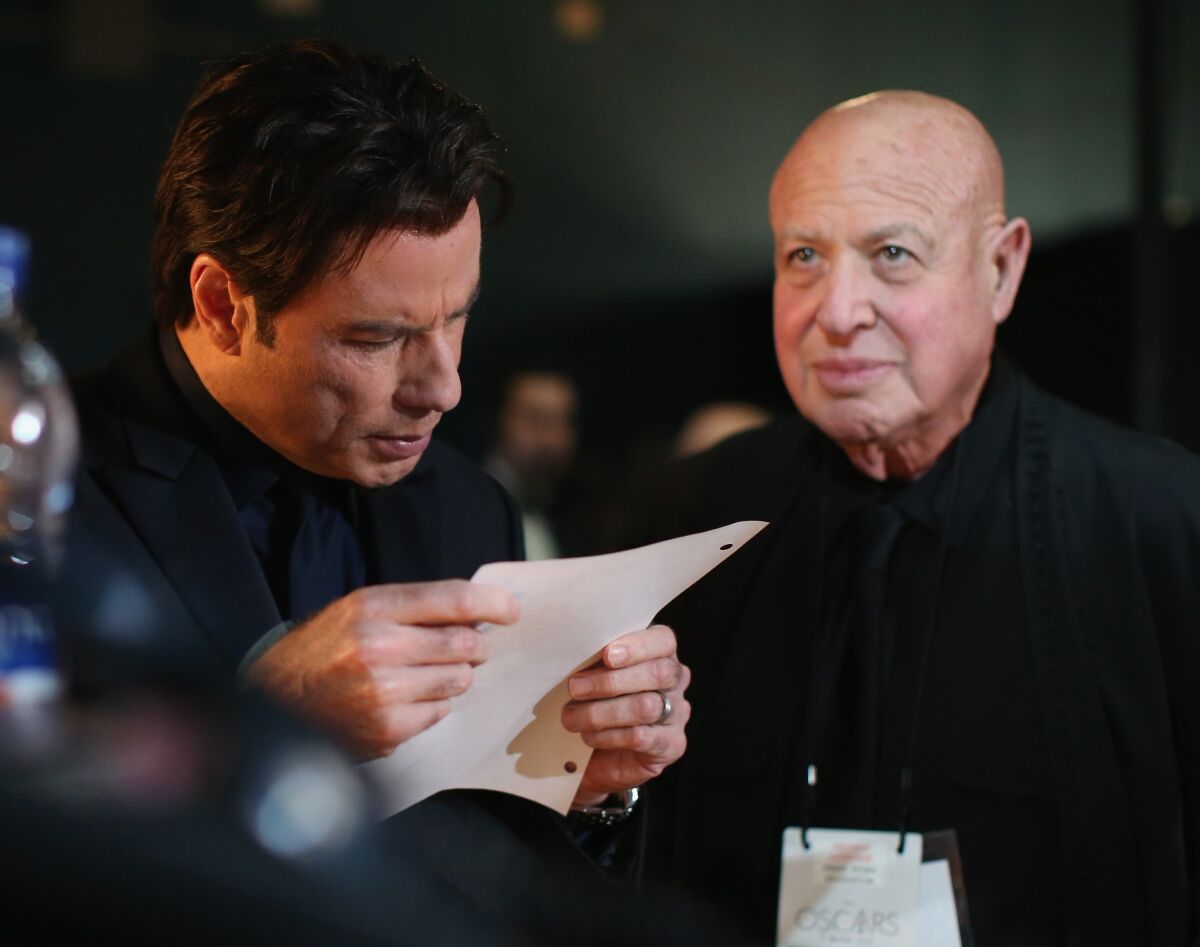 With one mispronunciation on stage at the Academy Awards, John Travolta created a wildly popular meme — and seemingly an entirely new person — when he introduced "Let It Go" singer Idina Menzel by a name that sounded more like "Adele Dazeem."
The flub was instantly commemorated on social media, and Travolta eventually expressed his embarrassment in an emailed statement on Tuesday afternoon, but he stopped short of saying what exactly caused him to make a mess of the singer's name.
Was there an error in the script? Did the teleprompter malfunction? Did Travolta fall victim to nerves? The "Saturday Night Fever" star isn't saying. But the backstage photo above offers a clue — it shows Travolta, alongside publicist Paul Bloch, scrutinizing a piece of paper. Is it a pizza menu? A script page? And if so, is he studying the name before he went out on stage? Or perhaps examining it after the fact to see what went wrong?
FULL COVERAGE: Oscars 2014 | Complete list of winners
And what could Travolta have been saying to Bloch as the photo was taken?
Any number of captions could go under this image. We want to hear the most plausible scenario — or the funniest — as one of the nation's best-known actors tries to learn about one of its best-known Broadway singers.
Help fill in the gap and leave your wittiest caption in the comments below. We'll print the best three or four submissions and the names of the readers who submitted them in the days ahead.
ALSO:Oscars 2014: Leonardo DiCaprio strikes out, fans cry '#PoorLeo'
Jared Leto to play Ukraine; Oscar speech edited in Russian telecast
Oscars 2014: Watch entire Academy Awards ceremony in 1 minute [video]
Get our L.A. Goes Out newsletter, with the week's best events, to help you explore and experience our city.
You may occasionally receive promotional content from the Los Angeles Times.