Multi-Ethnic Media Coalition to focus its efforts on the film industry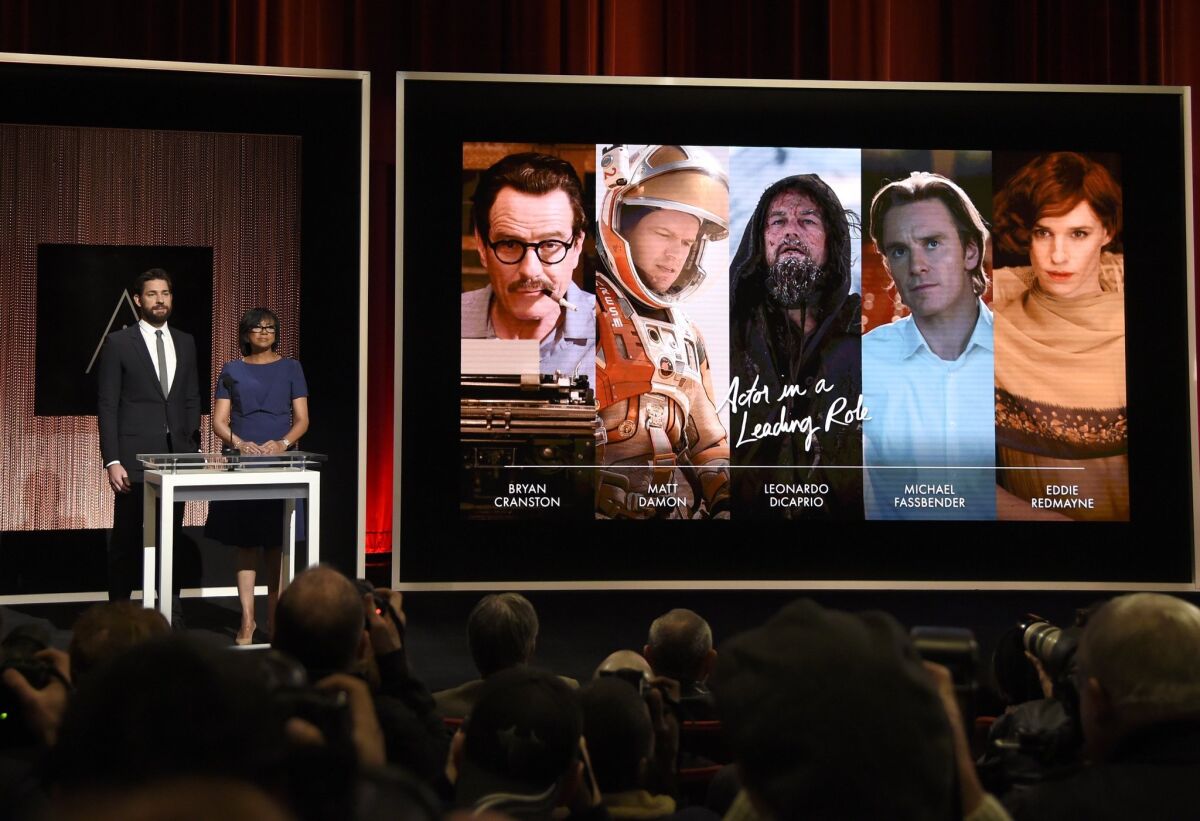 Members of the Multi-Ethnic Media Coalition announced a new plan Wednesday to meet with the major movie studios in an effort to boost diversity within the film industry. The group -- which includes the National Hispanic Media Coalition, the Asian Pacific American Media Coalition and American Indians in Film and Television -- will discuss details of its new initiative at a media conference in Pasadena on Thursday morning.
Since 2000, the coalition has met annually with the four major broadcast TV networks in a campaign to increase the representation of minorities both in front of the camera and behind the scenes of the TV business. Now, in the wake of this year's Oscar nominations, in which for the second year in a row, no actors of color received any nods, the group is reaching out to the six top film studios -- Sony, Warner Bros., Fox, Universal, Paramount and Disney -- to try to spur the movie business to take similar steps.
#OscarsSoWhite: Full coverage of the boycott and Hollywood's reaction
The #OscarsSoWhite controversy led the Academy of Motion Picture Arts and Sciences to announce sweeping new changes aimed at doubling the number of women and minorities in its ranks by 2020. But many argue that the ultimate responsibility for the issue should be laid at the feet of the studios, which determine the kinds of films that are made in the first place.
"Individuals from all of our communities have been denied meaningful opportunities for their work to be considered for Academy Awards," Alex Nogales, president and CEO of the National Hispanic Media Coalition, said in a statement. "Studios need to know that representation matters -- for recognition of hard work and talent, for combating negative stereotypes in our public discourse and for the next generation of our future leaders in the film industry."
Sonny Skyhawk, a member of the Academy of Motion Picture Arts and Sciences and founder of American Indians in Film and Television, said in a statement that the group is looking to extend the successes of its diversity campaign in television into the film world.
"Each year, [the TV networks] provided data on the minorities they've hired as writers, producers, directors and actors, and we've discussed how accurately their series are reflecting reality," Skyhawk said. "The great improvements you've seen on the small screen have been due in large part to our efforts. Now, we're setting our sights on meeting with the top six movie studios and asking them to do the same on the big screen."
Twitter: @joshrottenberg
Get our L.A. Goes Out newsletter, with the week's best events, to help you explore and experience our city.
You may occasionally receive promotional content from the Los Angeles Times.