Oscars 2015: 'CitizenFour,' that treason joke and an onstage surprise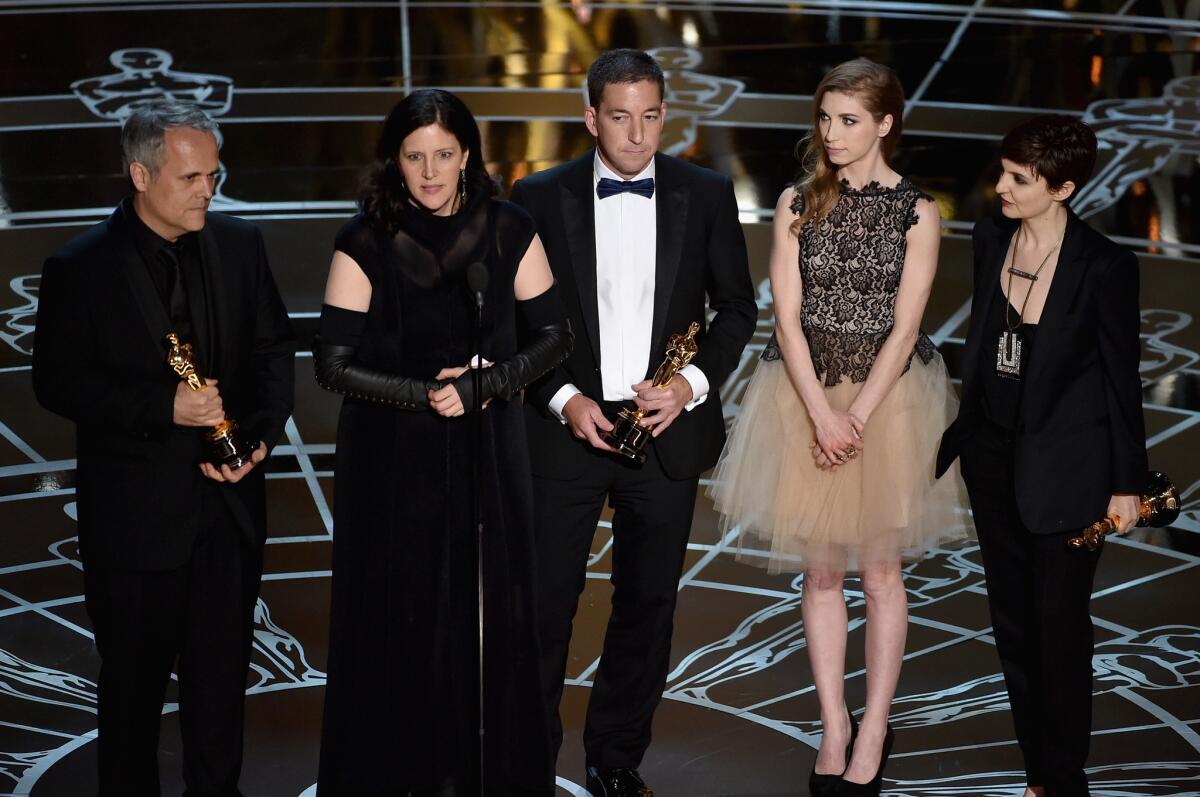 Edward Snowden laughed at the gibe directed at him during the Academy Awards while the director of "CitizenFour," the now Oscar-winning documentary about him, took exception.
As the filmmakers behind "CitizenFour" left the stage Sunday night after accepting their Oscar for documentary feature, host Neil Patrick Harris made the remark, "The subject of 'CitizenFour,' Edward Snowden, could not be here for some treason."
In an interview on Monday, the film's director Laura Poitras responded by saying, "At best it's a bad joke. On those questions, I think everyone can reach their own conclusion, but I think I'm pretty sure that history is going to answer that question and that Neil Patrick Harris is wrong.
FULL COVERAGE: Oscars 2015
"What [Snowden] did, he's a whistleblower and this is an act of conscience," she added. "That's my feeling about it and I'm pretty sure that's what history is going to say too."
In a Reddit AMA online interview on Monday, Snowden himself responded, "To be honest, I laughed at NPH. I don't think it was meant as a political statement, but even if it was, that's not so bad. My perspective is if you're not willing to be called a few names to help out your country, you don't care enough."
Snowden then included a quote from Patrick Henry, "If this be treason, then let us make the most of it."
The film, which dominated awards season, is an examination of privacy and contemporary surveillance culture, with riveting footage of Snowden as he was in the process of first leaking classified documents in 2013.
Snowden, currently living in Russia, is not officially charged with treason in the U.S., rather he faces charges under the 1917 Espionage Act.
The exchange Sunday night recalled for some the 1975 Oscar broadcast in which Bert Schneider, producer of the documentary "Hearts and Minds," read a telegram from the Vietcong ambassador to the Paris peace talks that was rebutted later in the show by Frank Sinatra.
Anyone watching the Academy Awards on Sunday night may have identified onstage Poitras, producers Mathilde Bonnefoy and Dirk Wilutzky and journalist Glenn Greenwald, a key figure in the film.
OSCARS 2015: Complete list | Show highlights | Red carpet | Quotes from the stars | Backstage | Top nominees | Q&As with the contenders
But there was also a slender young woman in a tutu-inspired dress who might not have been as immediately identifiable. It was Lindsay Mills, Snowden's girlfriend. (In "CitizenFour" it was first revealed that she has recently been living with Snowden in Russia.)
Poitras noted that Mills was also at the Spirit Awards on Saturday when the film won a prize, but amid a larger group of collaborators onstage no one noticed her. With the smaller group at the Oscars, Mills was easier to spot, although she was not acknowledged or introduced and did not appear with the filmmakers in the press room backstage.
"It was really exciting, I must say, to have her there," said Poitras, noting that not just Snowden but other figures featured in the film are currently unable to travel to the U.S. "There were a lot of people who couldn't be there and she could. I think for her to be there, it was really meaningful."
Even with the Oscars now over, the life of the film is not, as "CitizenFour" has its broadcast premiere Monday night on HBO almost exactly four months after its theatrical opening. The film has so far made more than $2.6 million in theatrical release and will now be in front of an audience of more than 30 million HBO subscribers.
With the film now making its way to its potentially largest audience via HBO, Poitras is happy that it will continue to be seen and discussed. Yet for her there is no specific policy point or single goal she hopes to see attained by the attention.
"It's not about trying to have end games in that way," she said. "Certainly there are themes in the film I want to come through, I think this kind of surveillance, mass indiscriminate surveillance, is really a dangerous control that's being held by governments and is something that should be reined in. It's a threat to democracy.
"So those are themes I want to communicate as a filmmaker, as an artist, but they're not a means to another end," she said. "I make films because I want to express something about the world and the goal is to reach an audience so they are hopefully informed or moved. I make films to make films."
Follow on Twitter: @IndieFocus
Get our L.A. Goes Out newsletter, with the week's best events, to help you explore and experience our city.
You may occasionally receive promotional content from the Los Angeles Times.