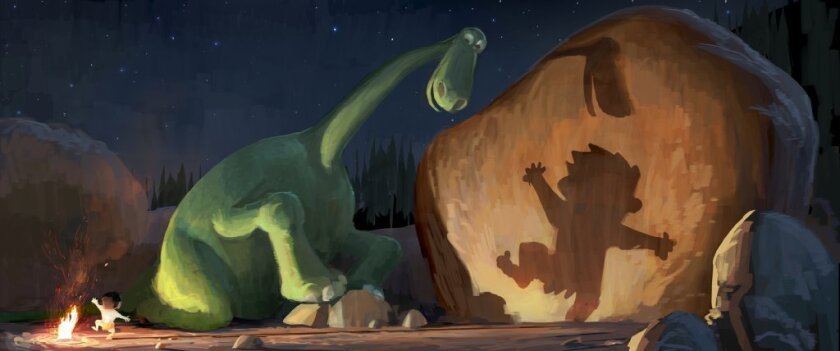 The Walt Disney Co. is pushing back "The Good Dinosaur," the Pixar movie that had been set for release in 2014, making next year the animation studio's first without a feature film since 2005.
"The Good Dinosaur," which was to have hit theaters May 30, 2014, will now arrive Nov. 25, 2015, on the date "Finding Dory" was set to open. That movie, Andrew Stanton's "Finding Nemo" sequel, will now arrive in the summer of 2016.
"Nobody ever remembers the fact that you slipped a film, but they will remember a bad film," said Pixar's president, Ed Catmull. "Our conclusion was that we were going to give the [dinosaur] film some more time."
PHOTOS: Fall movie sneaks 2013
Pixar removed director Bob Peterson from "The Good Dinosaur" over the summer, as the movie's release date approached and several creative decisions had not been made. The movie is based on the premise that an asteroid never hit Earth, and dinosaurs and humans coexist.
After Peterson left "The Good Dinosaur," a team of people including Pixar Chief Creative Officer John Lasseter, "Toy Story 3" director Lee Unkrich, "Brave" director Mark Andrews and the film's original co-director, Peter Sohn, began overseeing various sections of the movie. A replacement director has not yet been named.
Pixar, which typically releases one movie a year, has been moving toward its first year of releasing two movies. Pixar now plans to release two movies in 2015.
PHOTOS: Upcoming Disney fall films and beyond
Before "The Good Dinosaur," the studio's next movie will be Pete Docter's "Inside Out," a risky project set inside the brain of a young girl. "Inside Out" is due June 19, 2015.
With budgets over $200 million and crews in the hundreds, that ramp-up in production puts a strain on the resources of the studio, according to Stanton.
"We can't have the amount of labor it takes to do these movies at the same time because it becomes unsustainable economically," he said in an interview in June. "But it means if one director has a problem, everybody's connected to the same bed sheet. You pull one end and it makes wrinkles in the other one. It's a new problem."
ALSOPixar reveals risky film 'Inside Out,' set in a girl's brain
Pixar Animation takes Bob Peterson off 'The Good Dinosaur'
Miyazaki's 'The Wind Rises' to get Oscar qualifying run in November
---