Screen Actors Guild Awards 2016: Queen of Comedy Carol Burnett receives the Life Achievement Award
Everyone loves Carol Burnett. And they certainly showed it Saturday night at the Screen Actors Guild Awards when she took the stage, helped up the stage to receive the SAG Life Achievement Award from funny ladies Tina Fey and Amy Poehler who spoke about how influenced they were by her and her long-running variety show.
"Carol has been such a huge part of our lives for 50 years," said Poehler. "Carol is better than all of us." Fey and Poehler both grew up watching "The Carol Burnett Show" and loved that not only was Burnett the star, she was also the "boss."
FULL COVERAGE: Screen Actors Guild Awards
Burnett, 82, received a long and loud standing ovation both before and after she received the award.
Best known for her Emmy-winning work on "The Carol Burnett Show," comedy legend Carol Burnett has been keeping audiences in stitches for more than 50 years. Her upcoming SAG Life Achievement Award is the latest in a long line of honors.
(Clockwise from top left: Bob D'Amico / ABC; Columbia House Home Video; Tony Esparza / CBS; CBS Photo Archive / Getty Images)
On the show, Burnett, center, starred with Harvey Korman and Vicki Lawrence. Together with Lyle Waggoner and Tim Conway, they employed improvisation and scripted comedy to skewer pop culture and the news. Burnett famously concluded each episode by tugging her left ear, a signal to her beloved grandmother.
(CBS)
In 1967, Burnett became a household name when CBS launched the smash variety series "The Carol Burnett Show," which lasted 11 seasons and earned 23 Emmy Awards.
(Columbia House Home Video)
Leonard Nimoy, left, appeared with Burnett on an episode of "The Carol Burnett Show."
(CBS Photo Archive / Getty Images)
After college, Burnett moved to New York, where work in theater and comedy led to appearances on both "The Tonight Show" and "The Ed Sullivan Show" in 1957. By 1959, she had received a Tony nomination for "Once Upon a Mattress," and an Emmy nod for her work on "The Garry Moore Show." (Pictured: Burnett in a 1972 revival of "Once Upon a Mattress.")
(Los Angeles Times)
Burnett was nominated for an Emmy in the 1974 TV adaptation of the play "6 Rms Riv Vu," which costarred Alan Alda.
(Los Angeles Times)
A sketch of the Bob Mackie curtain gown for a "Gone With the Wind" spoof on a 1976 episode of "The Carol Burnett Show." The show aired from 1967 to 1978.
(FIDM Museum & Galleries)
With "The Carol Burnett Show" signing off in 1978, Burnett split her time among stage, TV and the big screen, appearing in 1981's "The Four Seasons" and 1982's "Annie." In 1984 Burnett, left, reunited with Vicki Lawrence on the CBS sitcom "Mama's Family."
(CBS Photo Archive / Getty Images)
Burnett had three children with her second husband, Joe Hamilton, who died in 1991. Their daughter Carrie Hamilton, shown in 1988, passed away in 2002. Burnett married musician Brian Miller in 2001.
(CBS )
Burnett, left, teamed with Julie Andrews, pictured with Dr. Milton Wexler in 1988, for the 1962 CBS special "Julie and Carol at Carnegie Hall." It earned Burnett her first Emmy.


(Los Angeles Times)
On the '90s NBC sitcom "Mad About You," Burnett and fellow TV comedy legend Carroll O'Connor ("All in the Family") played the parents of Helen Hunt's character Jamie, pictured with co-star Paul Reiser.
(Alice S. Hall / NBC)
Burnett took to the Broadway stage again in 1995 for "Moon Over Buffalo," which earned her a Tony nomination.
(Rocco Landesman and Elizabeth Wi)
Burnett, left, and Vicki Lawrence joke around at a gathering to announce Columbia House's release of "The Carol Burnett Show" in a video library form on Oct. 24, 2000.
(Kim D. Johnson / Associated Press)
In 2001, Burnett starred in the CBS special in "The Carol Burnett Show: Show Stoppers."
(Tony Esparza / CBS)
Burnett joined pal Joel Grey at the Music Center's 18th Distinguished Artists Awards Gala at the Beverly Hilton Hotel, where Grey received an award.
(Lawrence K. Ho / Los Angeles Times)
Carol Burnett, left, with musician Itzhak Perlman, was recognized at the 2003 Kennedy Center Honors.
(Tony Esparza / CBS)
The stars of "The Carol Burnett Show" have reunited several times since the show's completion, including the 2004 special "Let's Bump Up the Lights."
(Tony Esparza / CBS)
In 2005, Burnett, left, guest-starred on Season 2 of "Desperate Housewives" as the stepmother of Bree (Marcia Cross, right).
(Ron Tom / ABC)
For the 2005 ABC adaptation of the musical "Once Upon a Mattress," Burnett, right, joined Tracey Ullman, left, as well as Denis O'Hare, Zooey Deschanel, Michael Boatman and Tom Smothers.
(Bob D'Amico / ABC)
Burnett clowns around with fellow voice actors Jim Carrey, left, and Steve Carrell while promoting the 2008 animated film "Horton Hears a Who."
(Karen Tapia Andersen / Los Angeles Times)
The Academy of Television Arts and Sciences honored the star at "An Evening with Carol Burnett" in 2013.
(Richard Shotwell / Invision)
Burnett was awarded the Mark Twain Prize for American Humor at the Kennedy Center in 2013.
(Owen Sweeney / Invision)
Burnett, left, joined her friend and frequent collaborator Jim Nabors ("The Andy Griffith Show") on his 85th birthday in 2015 at his home in Honolulu.
(John Berger / Honolulu Star-Advertiser)
Burnett, left, with Jane Lynch, guest-starred on a 2015 episode of Fox's "Glee."
(Eddy Chen / Fox)
Carol Creighton Burnett was born in San Antonio, Texas in 1933, and moved to Los Angeles with her grandmother at a young age. She majored in theater arts at UCLA. She is pictured at the Wal-Mart shareholder meeting in Fayetteville, Ark. on June 5, 2015.
(Danny Johnston / Associated Press)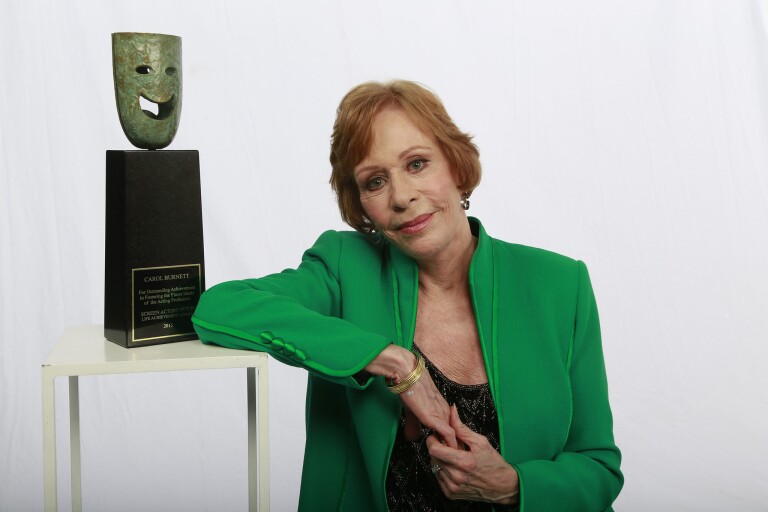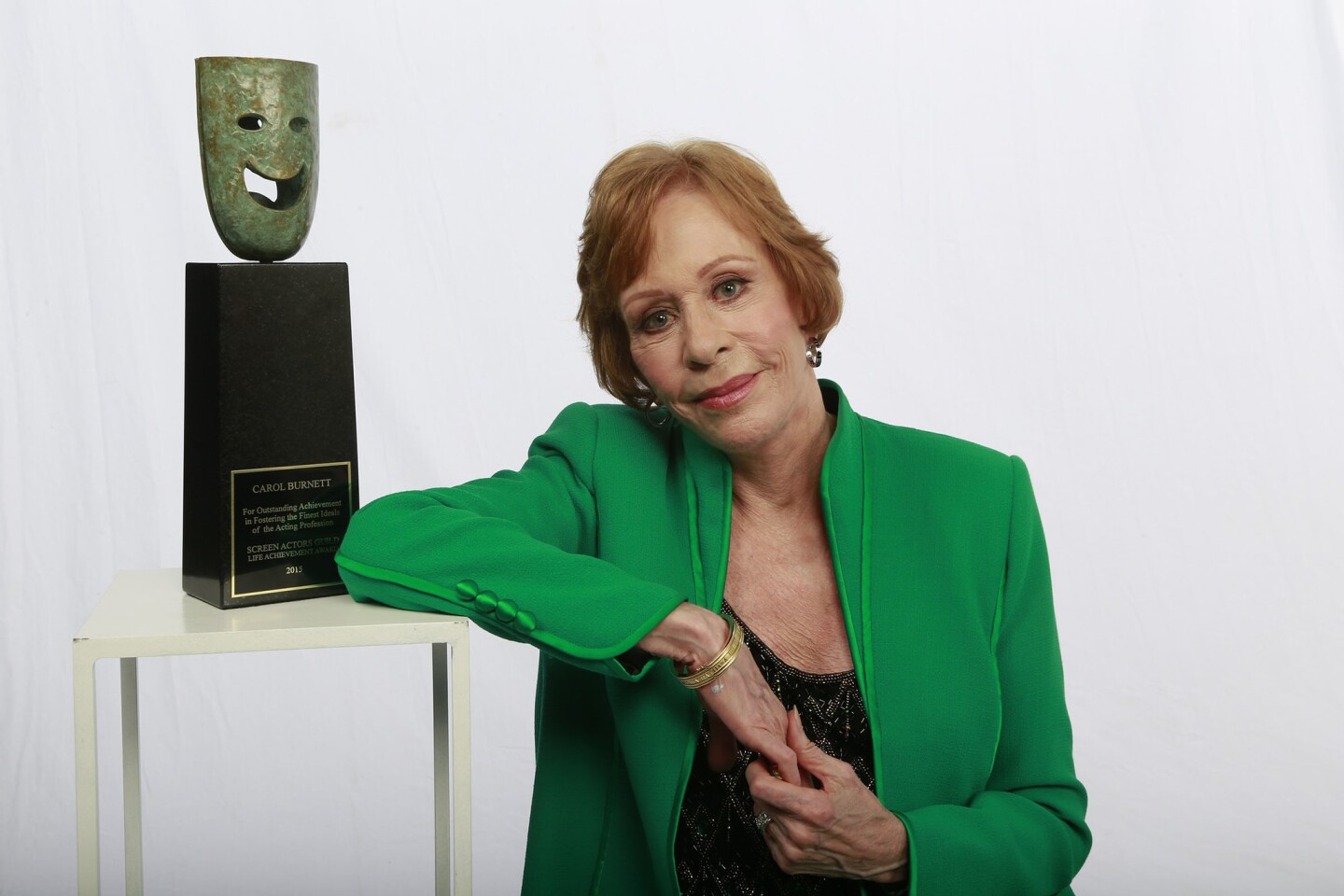 Burnett was honored with the Screen Actors Guild Life Achievement Award at the SAG Awards on Jan. 30, 2016.
(Kirk McKoy / Los Angeles Times)
From left, Julie Andrews, Christine Baranski and Carol Burnett perform onstage during Lincoln Center's American Songbook Gala on Feb. 1, 2017, in New York City.
(Neilson Barnard / Getty Images)
As Burnett told The Times, she was "gobsmacked" when she learned last year she was receiving the SAG honor and she seemed gobsmacked on Saturday night on stage at the Shrine Exposition Hall.
"Tina and Amy, you just touched my heart so much," Burnett said. "You are the whole ball of wax."
She admitted that CBS didn't want her to do a musical variety show but rather a half-hour comedy called "Here's Agnes." She was told that musical variety series were not "for a gal. Comedy variety is a man's game."
Screen Actors Guild Awards: Live coverage | Best and worst dressed | Complete list | Full coverage | Red carpet
Of course, Burnett proved them wrong. And for 11 seasons, she said, "we mounted a musical comedy revue a week."
She thanked the crowd with the line from her famous song that ended each episode of her series, "I'm so glad we had this time together."
And then she gave her traditional tug-of-her ear farewell.
ALSO:

Screen Actors Guild Awards 2016: Complete list of winners and nominees
SAG Award winner Jeffrey Tambor reaches out to 'people who are not Maura Pfefferman'
Screen Actors Guild Awards: Winning doesn't necessarily mean Oscar gold
---
Inside the business of entertainment
The Wide Shot brings you news, analysis and insights on everything from streaming wars to production — and what it all means for the future.
You may occasionally receive promotional content from the Los Angeles Times.