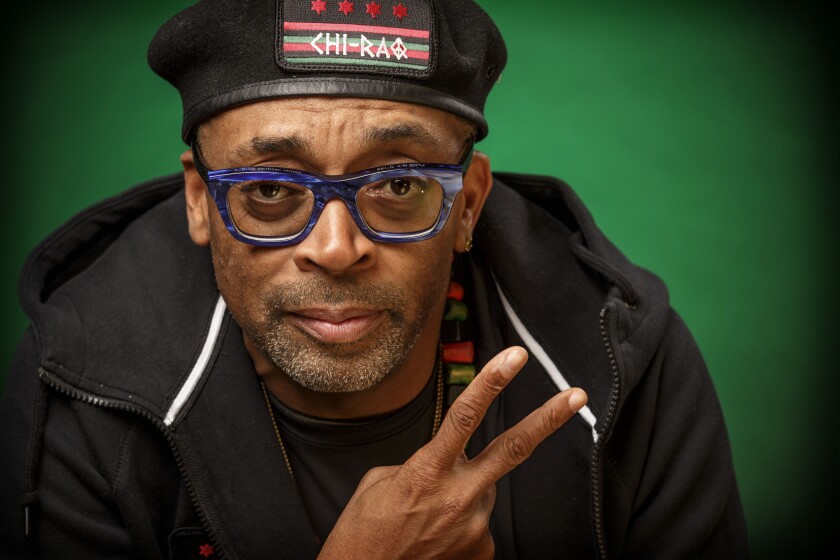 Don't call it a boycott.
Director Spike Lee sat down with "Good Morning America" anchor George Stephanopoulos on Wednesday morning to clarify his previous statements regarding his disappointment with the Academy Awards nominees and their noted lack of diversity.
"I have never used the word 'boycott,' " Lee said. "All I said was my beautiful wife, Tonya, we're not coming. It's like, do you. We're not coming."
#OscarsSoWhite: The boycott, reaction and more
Instead of attending this year's Oscars, Lee and his wife are opting to watch his beloved Knicks face the Miami Heat at Madison Square Garden.
The Academy has faced intense criticism since the announcement of this year's nominees on Jan. 14, when it revealed that for the second consecutive year, not a single person of color was nominated for an acting prize.
Since Lee's Instagram statement on Monday that he and his wife would not be attending the 88th Academy Awards — notable specifically because Lee was honored in November with an Honorary Oscar, the recognition of which would surely be included in the main ceremony — many Hollywood elite have spoken out expressing similar disappointment in the Academy's representation problem.
Jada Pinkett Smith actually beat Lee to the punch Monday, posting a video to her Facebook page in which she said that she would not be watching or attending this year's Oscars, with a written message declaring, "We must stand in our power."
Academy member David Oyelowo — whose portrayal of the Rev. Martin Luther King Jr. in "Selma" went unrecognized last year, as did that of the film's director, Ava DuVernay — told the Hollywood Reporter, "For 20 opportunities to celebrate actors of color, actresses of color, to be missed last year is one thing; for that to happen again this year is unforgivable."
-------------
For the record
2:35 p.m.: In an earlier version of this post, actor David Oyelowo's last name was misspelled Oyewelo.
-------------
Similar sentiments have arisen from others, including supporting Oscar-winner Lupita Nyong'o, George Clooney, Don Cheadle, returning Oscar host Chris Rock and even Academy President Cheryl Boone Isaacs, who released a statement Monday underlining her heartbreak and frustration over "lack of inclusion" in the nominees.
But despite disappointment in the Academy, Lee maintains that the problem is not with the awards body itself, but rather with the studio gatekeepers responsible for green-lighting projects, a sentiment he shared in his speech accepting his Honorary Oscar.
"It goes further than the Academy Awards. It has to go back to the gatekeepers," Lee said. "We're not in the room. The executives, when they have these green-light meetings quarterly, where they look at the scripts and they decide what we're making and what we're not making."
Lee's solution for the situation models itself after the NFL's Rooney Rule, instituted in 2003, which requires NFL teams to interview minority candidates for head coaching and senior executive jobs. At the time the rule was instituted, the league had had only had seven minority head coaches since its inception. In its wake, that number has increased to 21.
The idea of the Rooney Rule is to get minority representation into conversations that too often would exclude them, an element that Lee finds vital. "We can't go to that old, tired realm, 'Well, we can't find any qualified candidates,' " he said.
The 88th Academy Awards will be broadcast at 5:30 p.m. Feb. 28 on ABC.
Follow me on Twitter at @midwestspitfire.
MORE:
The plea to boycott the Oscars has put many actors in a bind
'Aunt Viv' blasts Will Smith and Jada Pinkett Smith over Oscars boycott
Jada Pinkett Smith to boycott Oscars: 'Begging for acknowledgement ... diminishes dignity'
---