Jamie Lee Curtis, Topher Grace share what inspired their acting careers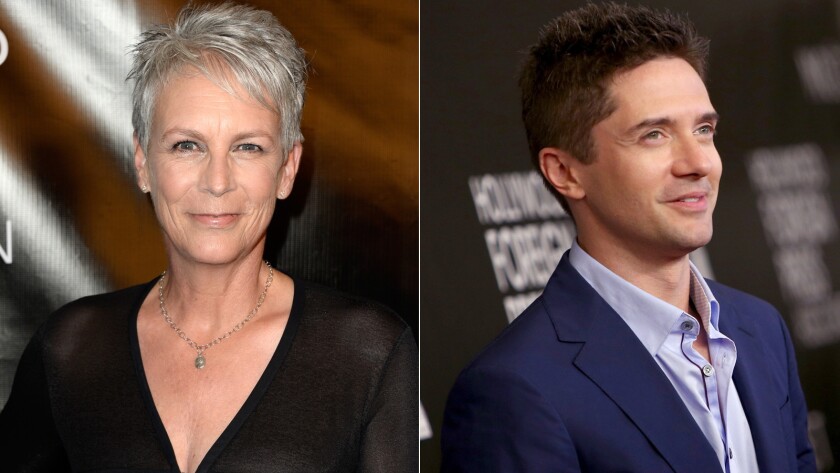 An impressive group of stars gathered Thursday at the Beverly Wilshire Hotel in Beverly Hills for a charity event hosted by the Hollywood Foreign Press Assn., the group that sponsors one of Hollywood's biggest nights, the Golden Globes.
The press association's annual Grants Dinner Banquet financially supports nonprofit entertainment-related organizations and scholarship programs. This year, more than $2.1 million was gifted in grants and scholarships.
Celebrity attendees, accepting the awards on behalf of the organizations, included Lady Gaga, Jake Gyllenhaal, Jane Fonda, Elizabeth Banks, America Ferrera, Topher Grace, Halle Berry and Ice Cube and his son, "Straight Outta Compton's" O'Shea Jackson Jr.
SIGN UP for the free Indie Focus movies newsletter >>
By night's end, grants were awarded to 55 organizations, an eclectic mix that included Women Make Movies, the Ghetto Film School and the Young Musicians Foundation. The press association hopes the funds will be used to support and encourage young people to enter the entertainment industry.
Ahead of the event on the red carpet, stars shared their inspirations for becoming entertainers, and bits of advice for those aspiring to do the same. Check out some of their responses below:
Topher Grace
His inspiration: "I just did a movie with Robert Redford, and [my inspiration] was probably 'All the President's Men.' It's my favorite film. Someone showed it to me in school and just working opposite him, I said to myself, 'This is the greatest way to learn anything.'"
Advice: "I'm jealous of people who are young and want to get in. With the invention of YouTube, and the fact that there is a better camera on my phone than I had 10 years ago, it's possible now to make your own stuff."
Jamie Lee Curtis
Her inspiration: "I fell into the entertainment industry. If luck, if the confluence of my life had not occurred in the way it did, I would've never been an actor. I would've been a cop."
John Boyega
His inspiration: "Just storytelling. I always liked to tell stories. I always liked to play people in my family and play people in my life. Storytelling is a great thing to me. I just didn't know that acting could be a very fulfilling avenue for me for storytelling."
Jason Isaacs
His inspiration: "I wasn't really interested in entertainment. I'm just curious about people. I've always wondered [about] what other people were thinking, why people were angry, upset, in love, or jealous. I just wanted to know how people tick so that I can work out how to behave. In the end, people have to watch the work, but, for me, it's the detective work of mining the soul that I find exhilarating."
Advice: "Do it yourself. When I started out and you wanted to make a film, you had to have a very rich parent. Now, you can shoot, cut, post produce, score and broadcast with an iPhone 4. Start doing stuff yourself and tell your own stories. Young people are actually the Holy Grail. Everyone in Hollywood wants to know what young people want to see. Why are they waiting for middle-aged men in cashmere sweaters to tell them?"
Twitter: @TrevellAnderson
---
The complete guide to home viewing
Get Screen Gab for weekly recommendations, analysis, interviews and irreverent discussion of the TV and streaming movies everyone's talking about.
You may occasionally receive promotional content from the Los Angeles Times.