'The Peanuts Movie' gets Charlie Brown and Snoopy right, reviews say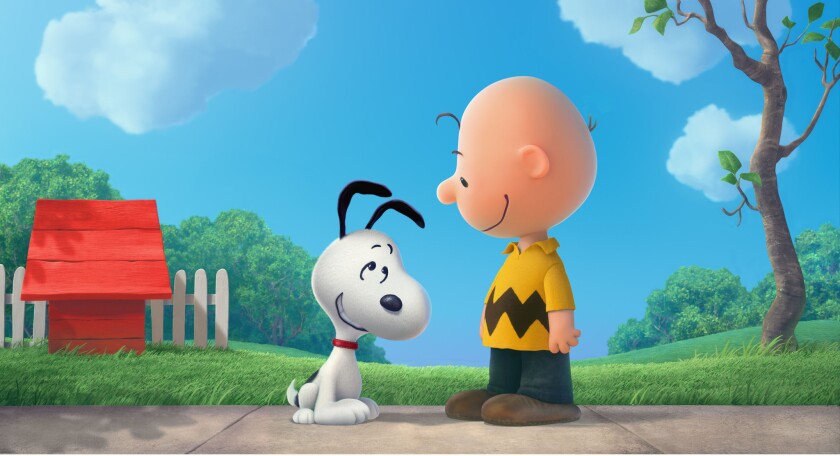 Charlie Brown and Snoopy are back after 35 years, this time on the big screen with a shiny new 3-D computer-animated makeover in "The Peanuts Movie," and reviews have been quick to reassure fans that this faithful adaptation keeps the spirit of the Peanuts gang intact.
Many critics are pleased with the film, which has earned an 86% "certified fresh" rating on review-aggregate site Rotten Tomatoes, and they maintain that both fans who have grown up with Charles M. Schulz's comic strip characters and younger viewers who do not yet associate the holidays with "Peanuts" TV specials will be charmed by "The Peanuts Movie."
Directed by Steve Martino, whose previous credits include "Horton Hears a Who!" and "Ice Age: Continental Drift," "The Peanuts Movie" was written by Craig Schulz, Bryan Schulz and Cornelius Uliano (a writing team that includes the "Peanuts" creator's son and grandson).
SIGN UP for the free Indie Focus movies newsletter >>
The movie sees everybody's favorite "blockhead" Charlie Brown (voiced by Noah Schnapp) fall for the Little Red-Haired Girl who moves into the neighborhood as he struggles with familiar anxieties and insecurities, and Snoopy (voiced by Bill Melendez, using archival recordings) in his ace pilot persona, fighting his sworn enemy, the Red Baron — both familiar plot points for established "Peanuts" fans.
In fact, the film is full of familiar scenes, including Lucy's psychiatric booth and a certain sequence involving an attempt to kick a football.
For Mark Olsen of The Times, however, the film digressed to Snoopy's World War I Flying Ace fantasy "a few too many" times. " 'The Peanuts Movie' falls somewhere between a tribute and something genuinely new," Olsen writes in his review.
"In the 65 years since Charles M. Schulz first published a Charlie Brown comic strip, the characters have become archetypes of struggle and perseverance," Olsen says. "Part of the characters' enduring appeal has been that, deep down, many of us know those feelings as well."
And while the CG animation did not necessarily diminish that familiar appeal, Olsen was not completely won over by the movie.
"The movie is pleasant and charming, but when making a big-screen adaptation of a beloved classic and genuine touchstone for generations, adequate doesn't feel like quite enough," he says. "The movie isn't some kind of disservice to the legacy of Charles Schulz, but it also feels unnecessary."
Olsen isn't alone in his sentiments. Moira Macdonald of the Seattle Times agreed that "it's all the same, but not the same" in the film.
"The Peanuts Movie" is scrupulously faithful to the original characters," Macdonald writes. "But what it doesn't have is a reason to be a movie. At 88 minutes, its charm is stretched out to the breaking point, and you watch yearning for 'It's the Great Pumpkin, Charlie Brown' and 'A Charlie Brown Christmas' — both tiny classics, over before you want them to be."
But Macdonald does concede that for those unaffected by nostalgia for classic "Peanuts," the movie "might serve as a pleasant introduction" to Charlie Brown and the rest of the gang.
"The Peanuts Movie" is "a skillful, sweet-natured film with nice messages about believing in yourself and not giving up. But somehow, the magic got lost along the way."
Neil Genzlinger for the New York Times, on the other hand, believes the movie is geared more toward longtime fans of "Peanuts."
"The movie is a pleasant G-rated grab bag of everything people over a certain age know and love from the Charles M. Schulz comic strip and its many offshoots, all centered, of course, on Charlie Brown," he writes.
And while Genzlinger wonders if younger viewers "will fully grasp the intricate dynamics of the universe Schulz created around Charlie Brown over many decades," he believes the film will appeal to viewers regardless of their familiarity with the source material.
"It's a bit startling, and undeniably refreshing, to see a children's movie that doesn't involve a villain's effort to seize a princess's kingdom or some other high-stakes power struggle but instead is driven by the small anxieties a real child might experience on a daily basis," Genzlinger writes.
SIGN UP for the free Classic Hollywood newsletter >>
That "Charlie Brown is just an ordinary kid trying to find a comfortable place in an ordinary but daunting world" is the appeal.
Andrew Lapin of NPR sees "Charlie Brown [as] one of the great tragic heroes of American fiction. A born failure who nevertheless continues to believe his victories lie just around the corner."
"For 'The Peanuts Movie,' ... the challenge is to introduce today's youth to that wondrous melancholy without succumbing to the same ugly commercialism that 'A Charlie Brown Christmas' warned us about a half-century ago," Lapin says.
And while the movie avoids "the obvious traps to ensure a charming, harmless trip down memory lane" to "please the Great Pumpkin faithful," Lapin feels "this 2015 Charlie Brown [is] safer and sappier than he's been in the past."
Additionally, Sandie Angulo Chen of the Washington Post notes that "the brightly colored World War I flight scenes take good advantage of the film's 3-D animation."
She reassures fans that although "plenty of other childhood treasures have been atrociously adapted for the big screen, 'The Peanuts Movie' is a sweet little gift for fans of the long-running comic strip."
Tom Russo of the Boston Globe also believes the film "is certainly a very pleasing reminder of why we love the Peanuts gang, whether we've been tuning into their holiday specials for just a couple of years or too many to count."
And while the film is focused "on re-creating classic bits and sticking to a gently familiar episodic story line rather than something more fully, ambitiously developed," it still perfectly "overlays the blueprint for a Contemporary Animated Hit, even with Snoopy still pounding away on a manual typewriter and Lucy still charging just a nickel for psychiatric advice," Russo writes.
Above all, "even with his glossy new look, Charlie Brown remains the Charlie Browniest," he says.
Twitter: @tracycbrown
---
The complete guide to home viewing
Get Screen Gab for weekly recommendations, analysis, interviews and irreverent discussion of the TV and streaming movies everyone's talking about.
You may occasionally receive promotional content from the Los Angeles Times.