Leonardo DiCaprio's 'The Revenant' is a brutal test for awards voters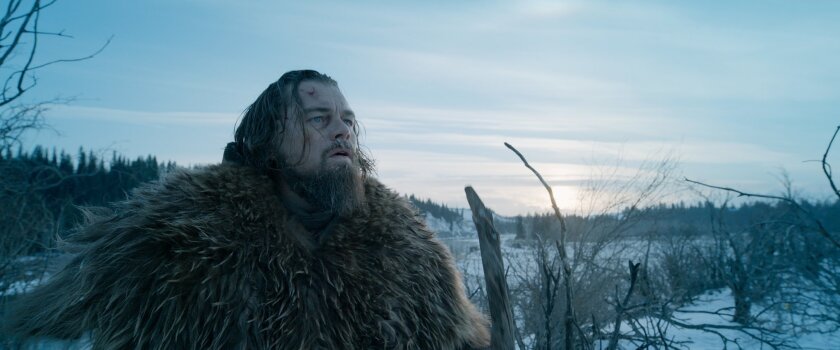 Early press coverage of "The Revenant" has focused on the grueling experience director Alejandro G. Inarritu and star Leonardo DiCaprio had shooting their frontier epic.
After the film screened to an attentive audience of media and awards voters Monday night at the Academy of Motion Picture Arts and Sciences, it seems clear moviegoers will also need some grit to make it through the brutal 2-hour, 36-minute tale of real life frontiersman Hugh Glass (DiCaprio), which Fox will open at Christmas.
An explorer guiding fur trappers in what is now South Dakota, Glass was mauled by a grizzly bear in 1823 and left for dead by members of his party. "The Revenant," from a screenplay by Mark L. Smith and Inarritu, depicts Glass' expedition with mercilous realism, showing him grappling with the bear, scavenging meat off carcasses and cauterizing his own festering wounds by burning them shut.
Members of the crowd at Monday's screening, which nearly filled the Academy's 1,200-seat theater, gasped, yelped and often covered their eyes during the film, while others walked out during "The Revenant's" many violent sequences.
At a post-screening Q&A, DiCaprio said "The Revenant" was, "the most difficult film, I think, that any of us have ever done."
Glass spends much of the movie alone and rendered nearly speechless by injury, leaving DiCaprio to communicate his character's anguish and agony wordlessly, with pleading eyes and a staggering body. When he speaks, it is often in a Native American language, either to his son or to a helpful Pawnee Indian whom he meets on the trail.
While all eyes are on DiCaprio as an Oscar contender, supporting performances by Tom Hardy, as a fearsome trapper with much of the movie's dialogue, and Domhnall Gleason, as the good-hearted leader of the expedition, are equally memorable. Native American actors in smaller roles deliver some of the movie's most stirring moments, including Forrest Goodluck as Glass' son, Hawk.
Shot in Canada and Argentina by Emmanuel Lubezki, who has won the Oscar for cinematography the last two years in a row for "Birdman" and "Gravity," "The Revenant" juxtaposes barbarous action sequences pitting man against nature and man against man with sweeping vistas of snow-covered mountains and icy rivers.
Lubezki's camerawork here seems likely to land him another stauette, and is matched by much of the below-the-line craftsmanship, in particular the immersive sound design that gives moviegoers the sensation of a grizzly bear's breath on their necks.
MORE:
Spirit Awards: What movies received the biggest boosts?
Who will Golden Globes voters go for this year? Not necessarily the biggest stars
Todd Haynes' 'Carol' leads the Film Independent Spirit Award nominations with six
---
The complete guide to home viewing
Get Screen Gab for weekly recommendations, analysis, interviews and irreverent discussion of the TV and streaming movies everyone's talking about.
You may occasionally receive promotional content from the Los Angeles Times.