California Sounds: Cut Chemist's grand return; the Quick's 'Mondo Deco' reissue, San Cha's urban cumbia and DJ Muggs meets MF DOOM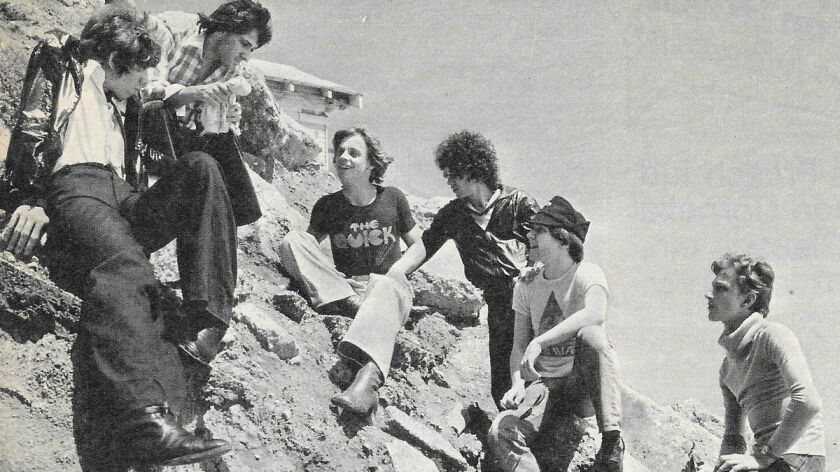 Cut Chemist, "Die Cut" (A Stable Sound). Earlier this year, the master Los Angeles DJ and producer born Lucas MacFadden issued his first album in a decade, and since then he's offered a steady drip of clips to remind the attention-deficient that a few-months-old record is still a new release.
Cut Chemist is in the midst of a monthlong partnership with Apple Music to unveil four videos — but the most striking to come from "Die Cut" arrived in April, for "Home Away from Home." An uptempo beat track that features skittering high-hats, sharp snare-bangs on beats two and four, a wobbly, liquified bass-line and the whispered voice of the Long Lost singer Laura Darlington, the video costars a mystery woman and some sort of black desert beetle, both of which seem headed nowhere in particular.
San Cha, "Capricho del Diablo" (Outside Insight). The devil has a name for the self-described Latinx singer, who landed in Los Angeles after jumping from the San Francisco Bay Area to Jalisco, Mexico. Who was she running from? A former associate who, according to press notes, "demanded San Cha's soul, claiming ownership not only of her music, but her whole being."
Now based in Boyle Heights, the artist's solo debut references that alleged soul-stealer. Called "Capricho del Diablo" ("Whims of the Devil"), the six-track EP mixes bass-heavy cumbia music, Mexican folk, dub and hints of ska-punk. A self-assured artist obviously capable of channeling her soul in service of sound, the artist is at her best on "Cosmic Ways," a genre-transcendent track that mixes Spanish- and English-language verses that serve to indict her unnamed Diablo.
The Quick, "Mondo Deco" (Real Gone Music/Mercury). Before Los Angeles punk became its own thing in the late 1970s, the Quick were one of the city's hottest bands. A post-glam power-pop outfit originally mentored by the late producer Kim Fowley, the Quick signed to Mercury Records to release "Mondo Deco," but it failed commercially.
The reasons were many: a falling out with the notoriously abrasive Fowley and an active ambivalence from the Hollywood punk crowd, who didn't think the band was "punk enough" compared to the roughnecks in the Germs, the Bags and X. One listen to "Mondo Deco" will confirm that truth, while simultaneously revealing a tight band who understood pop and rock music and could generate foot-stomping energy.
Muggs & MF DOOM, "Death Wish (featuring Freddie Gibbs)" (Soul Assassins). The beat producer Muggs, best known for his work as part of Cypress Hill, is heading in a film-noirish direction for his new project. Set for an August release date, the album, "Assassination Day," is a "thematic album with a vigilante concept," according to advance notes. Specifically, the concept occurs as "hip-hop takes corruption head-on, figuratively killing off powerful evildoers in positions of power as the story unfolds."
The story will be told two songs at a time across the summer, and the track listing confirms that Muggs has a rich Rolodex. During the down-tempo, menacing track "Death Wish," DOOM teams with the rapper Freddie Gibbs. Together, they tell a yet-unknown story involving a Ninja Turtles backpack and its contents — a ".38 next to my Lunchables."
For tips, records, snapshots and stories on Los Angeles music culture, follow Randall Roberts on Twitter and Instagram: @liledit. Email: randall.roberts@latimes.com.
---
The complete guide to home viewing
Get Screen Gab for weekly recommendations, analysis, interviews and irreverent discussion of the TV and streaming movies everyone's talking about.
You may occasionally receive promotional content from the Los Angeles Times.