David Bowie's 'outsider' worldview struck a global chord
He arrived sometime between the Beatles and Led Zeppelin wearing a space-age metallic cape, singing about spiders from Mars, moon dust trailing out of his flaming orange hair.
Even in rock's risk-taking heyday, David Bowie stood out.
From Ziggy Stardust to the Thin White Duke to the Elephant Man to the Goblin King, the singer and actor, who died Jan. 10 at age 69, embodied an impossible combination of dark and light, the alien and familiar, the spooky and the intimate.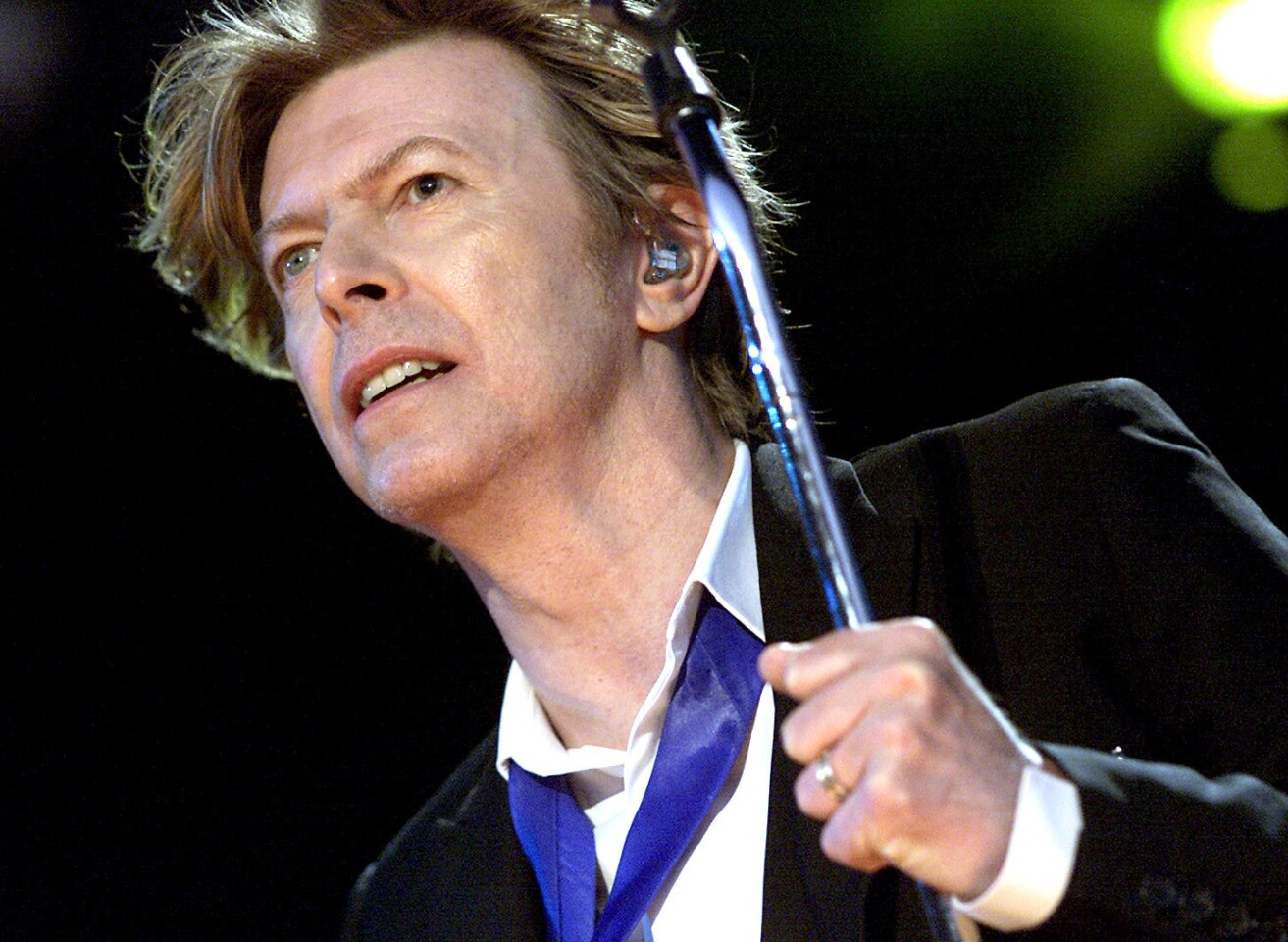 David Bowie
(Robert Lachman / Los Angeles Times)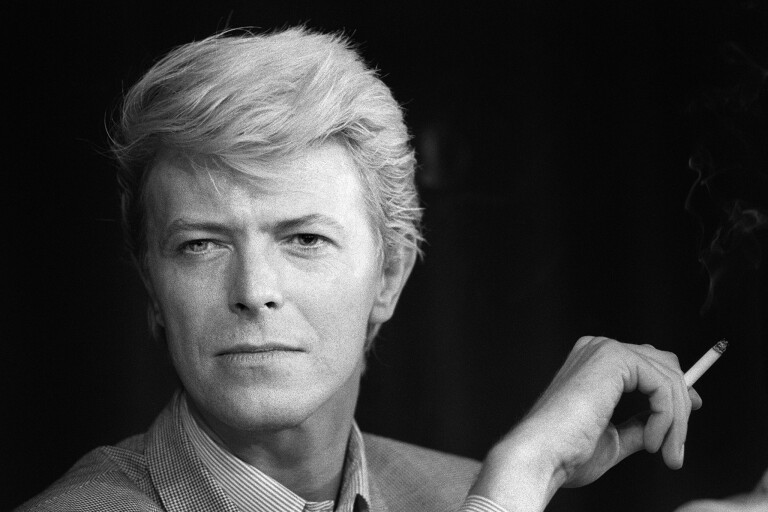 A portrait taken on May 13, 1983 shows British singer David Bowie during a press conference at the 36th Cannes Film Festival. He is the main actor in Nagisa Oshima's film "Merry Christmas Mr. Lawrence."
(RALPH GATTI / AFP/Getty Images)
English model Twiggy poses with David Bowie in Paris for the cover of his 'Pin Ups' album, 1973.
(Justin de Villeneuve / Getty Images)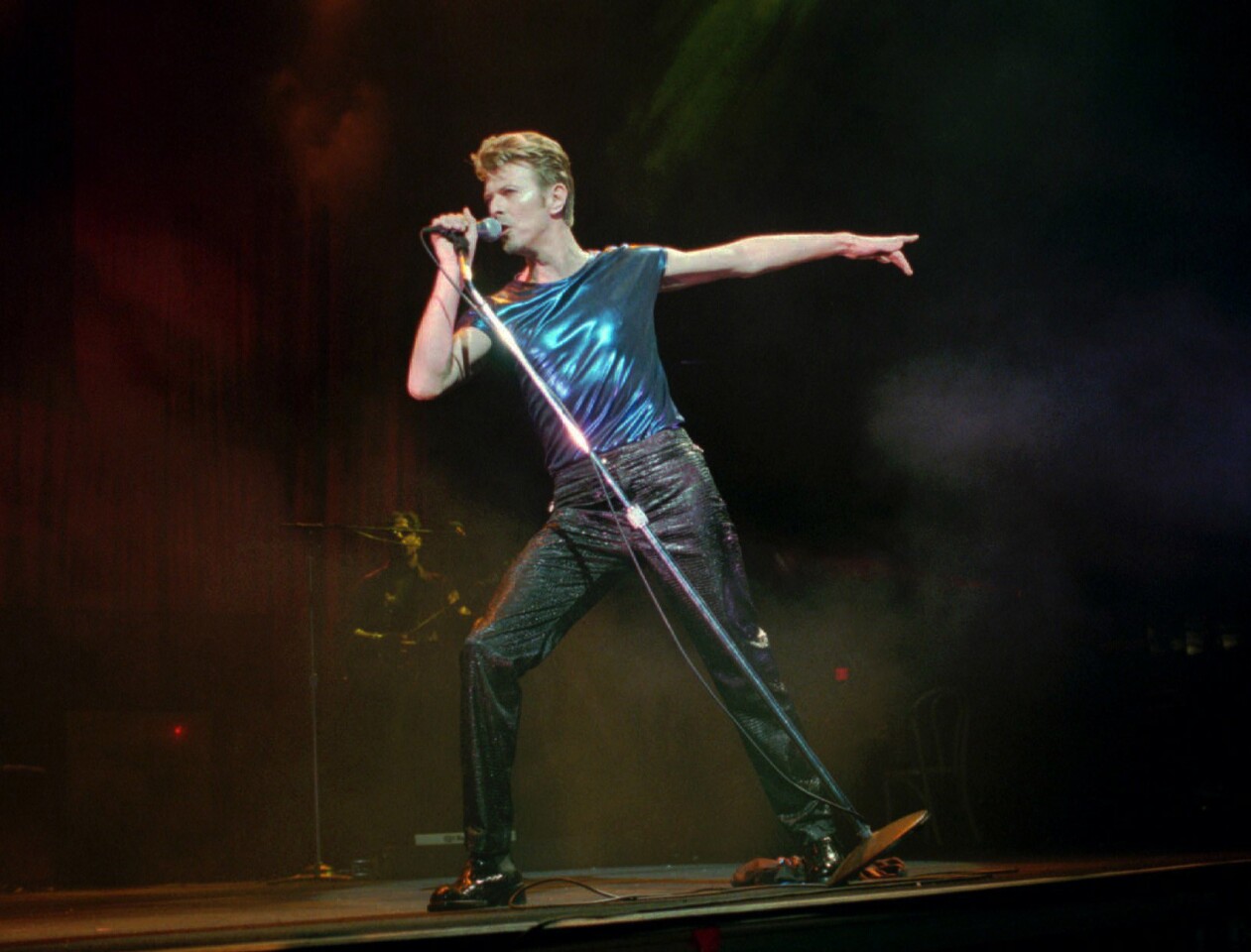 David Bowie performs in Hartford, Conn.
(BOB CHILD / Associated Press)
David Bowie performs on the first night of his UK tour at the MEN Arena on November 17, 2003 in Manchester, England.
(Alex Livesey / Getty Images)
David Bowie performs on stage on the third and final day of "The Nokia Isle of Wight Festival 2004" at Seaclose Park, on June 13, 2004 in Newport, UK.
(Jo Hale / Getty Images)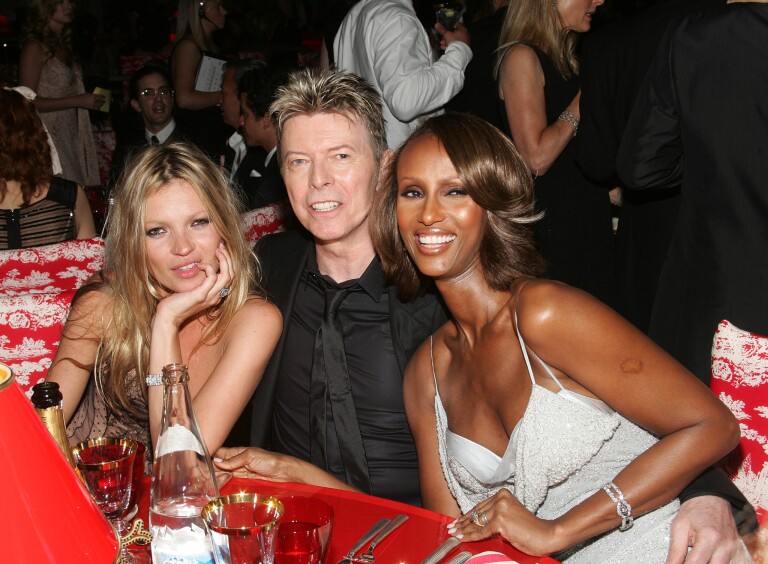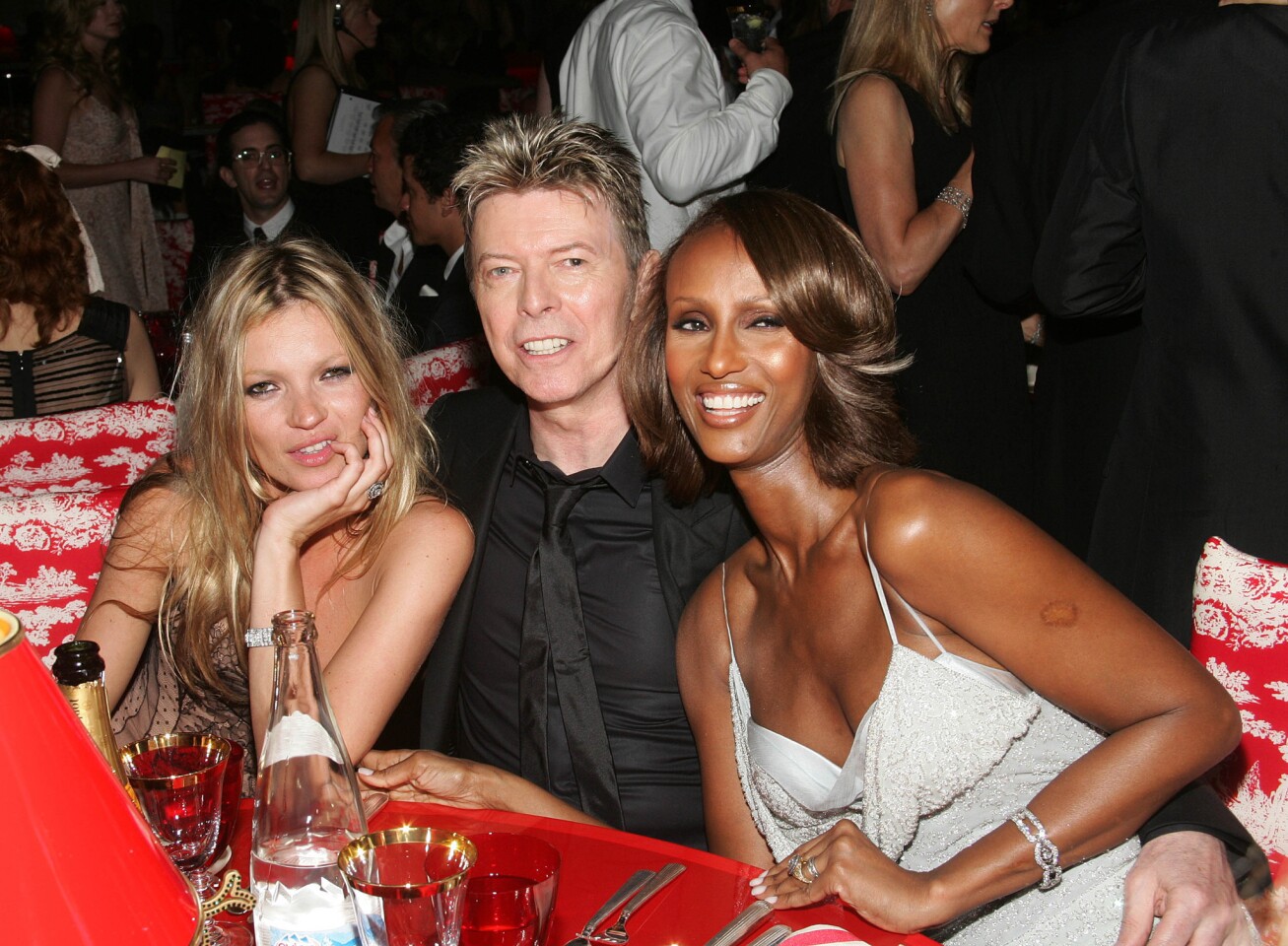 From left, Kate Moss, David Bowie and his wife, Iman, pose for a photo at the 2005 CFDA Awards dinner party at the New York Public Library.
(Evan Agostini / Getty Images)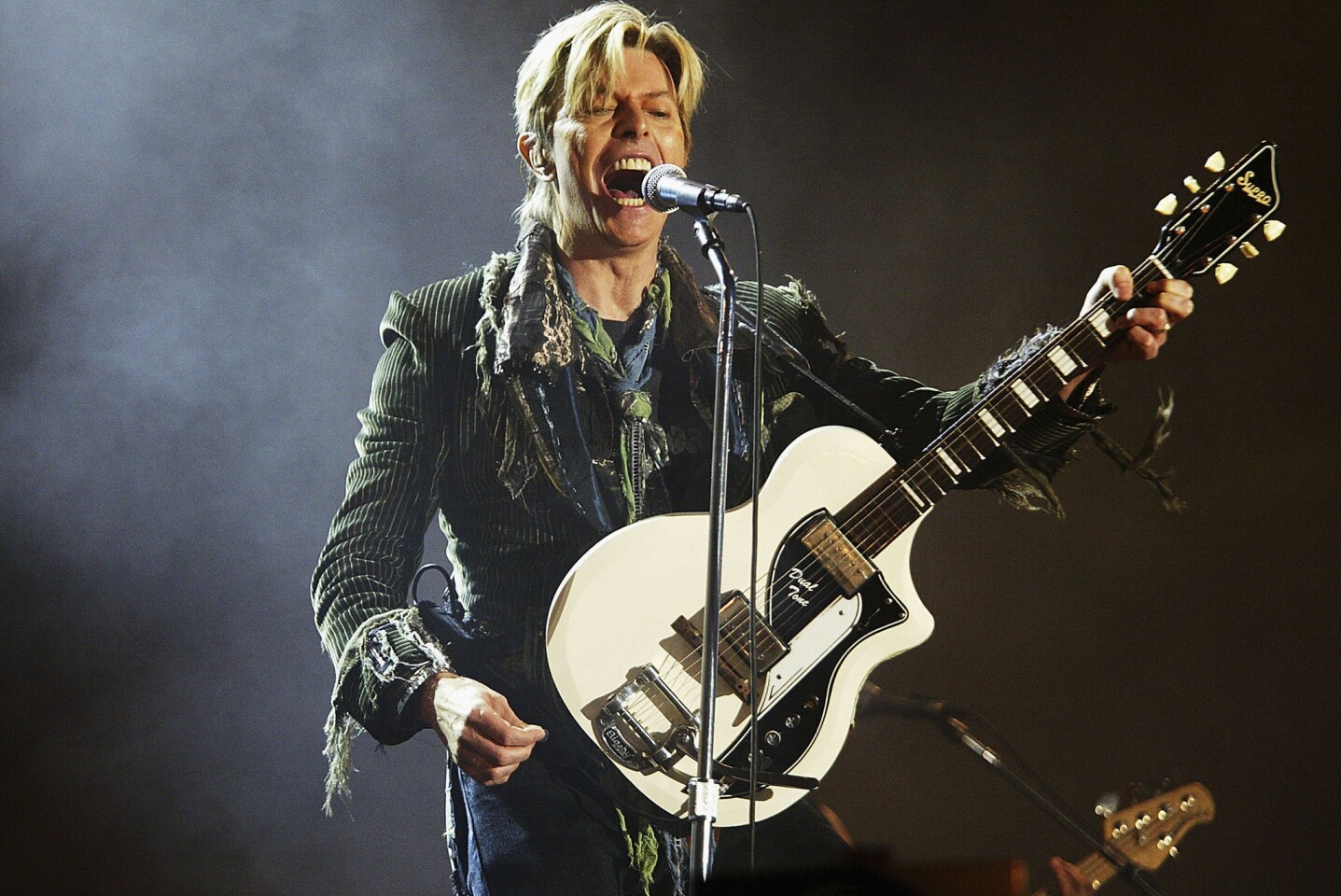 David Bowie performs during the Nokia Isle of Wight Festival in Newport, Britain, on June 13, 2004.
(Jo Hale / Getty Images)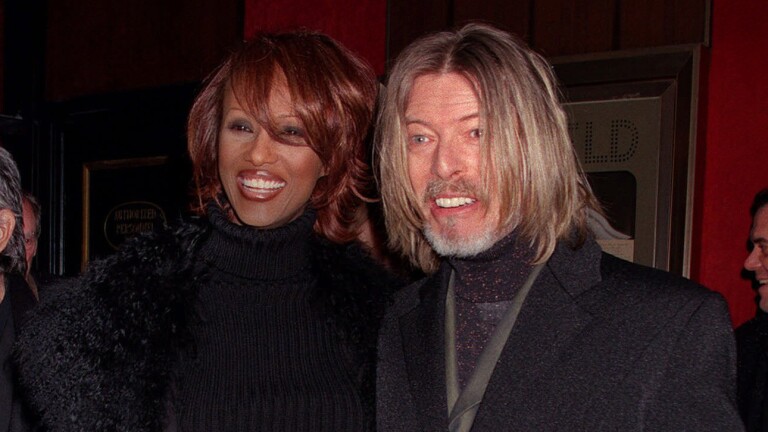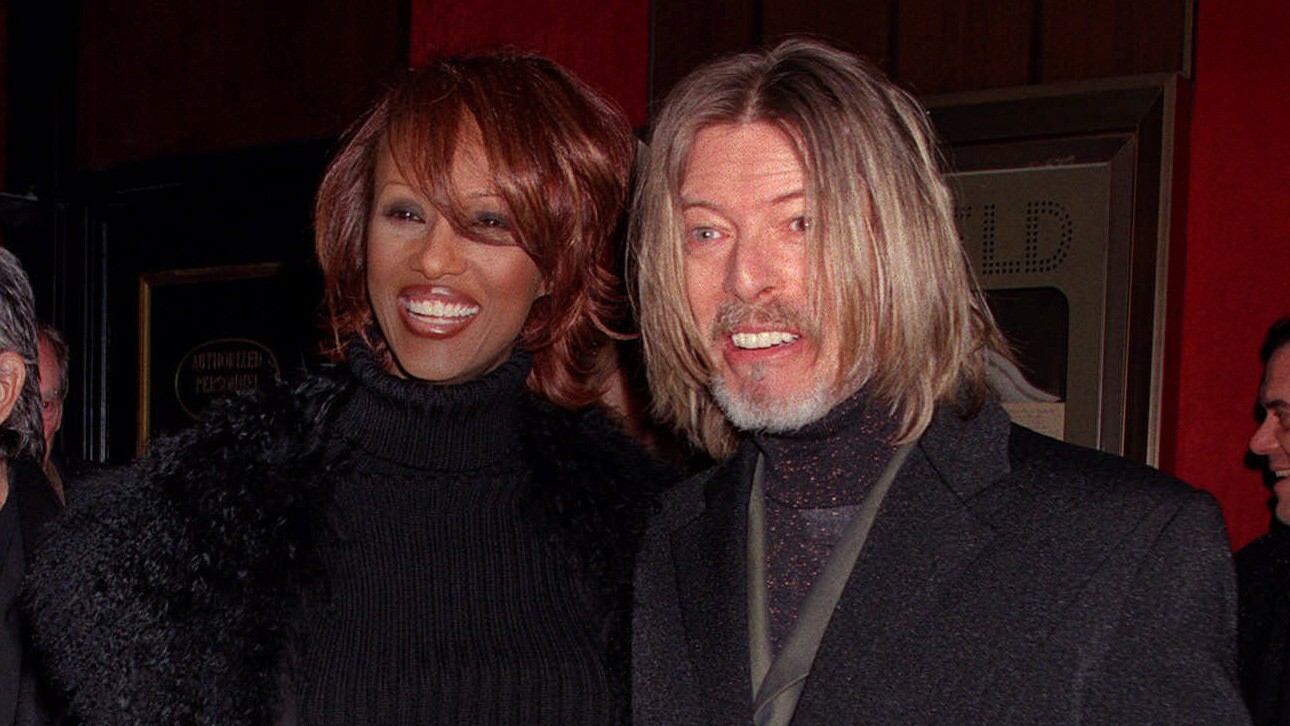 David Bowie with his wife, Iman, at the New York premiere of "Hannibal" at the Ziegfeld Theatre on Feb. 5, 2001.
(Darla Khazei / Associated Press)
David Bowie at the 2010 CFDA Fashion Awards at the New York Theatre Workshop on April 2, 2015.
(Peter Kramer / Associated Press)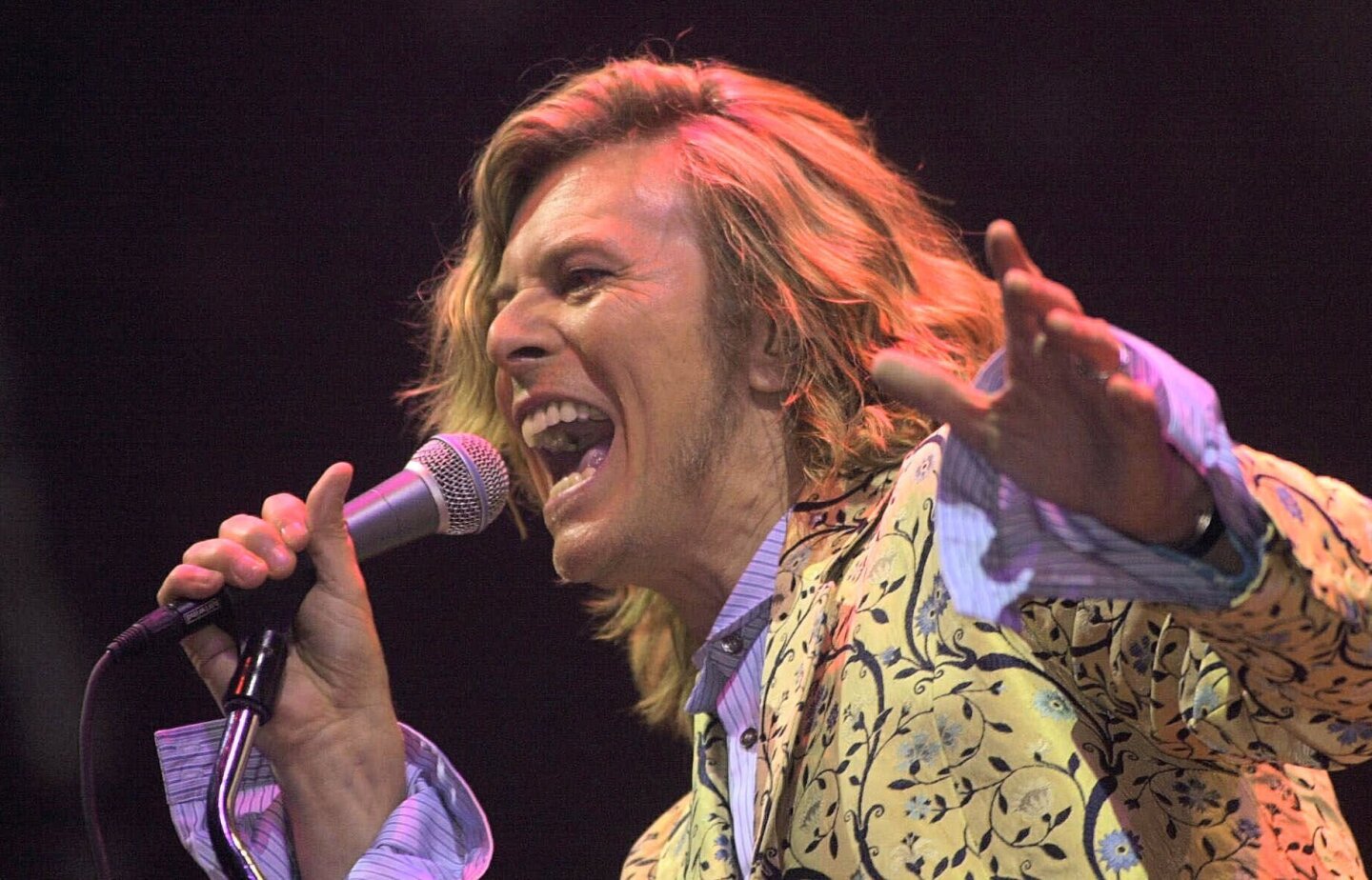 Bowie performs at the Glastonbury Festival in Pilton, Britian, on June 25, 2000.
(Toby Melville / Associated Press)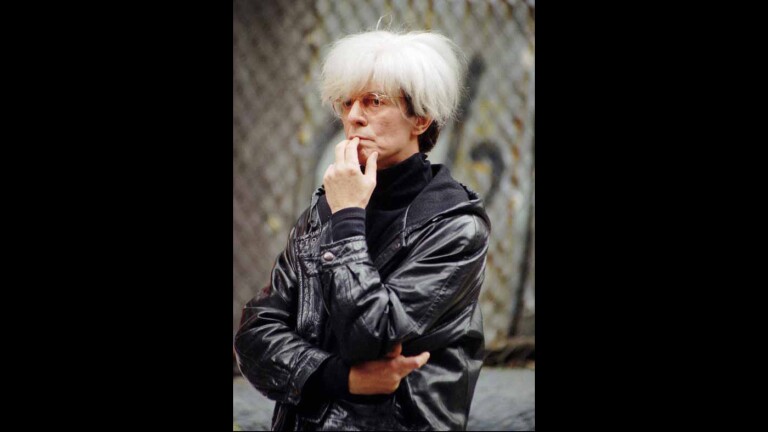 David Bowie as Andy Warhol during filming of the movie "Basquiat" in New York on June 13, 1995.
(Steve Sands / Associated Press)
Bowie was a freak before disco made the term cool; before thinking differently was shortened into a slogan to sell computers rather than a liability. And he flirted with transgender themes long before anyone imagined that Bruce becoming Caitlyn would become a hit TV series.
FULL COVERAGE: David Bowie's life and career
He was a joyful misfit who existed in a galaxy light years away from the popular kids club that is pop today — a universe he created out of every genre that came and went over his decades-spanning career.
Glam, new wave, electronica, jungle, jazz were all steppingstones for Bowie, inspirational pit stops in his penchant for adventure and change. Why stay in one place when you don't really fit in anywhere?
Superstar musician and actor David Bowie died at the age of 69 after battling cancer for a year and a half in secrecy. Todd Martens, Mikael Wood, Lorraine Ali and Randall Roberts of the Los Angeles Times discuss the artist, his work, his influence a
Though it may seem hard to believe when faced with the likes of One Direction and Katy Perry, Bowie's influence is there. Everyone actually wants to be different now, even if they aren't.
Nicki Minaj's outrageous alter-egos, Dave Grohl's occasional skirt onstage, Lady Gaga's mere existence (for better and worse) all owe something to the man who fell to Earth before them.
Challenging norms, feminizing rock, busting gender roles seemed so easy for Bowie. A playful swipe at the square culture around him. But the difference between shtick and the real thing is depth, and he had plenty of that.
It was somewhere between the boundless twinkle of space and the sentimental corners of the soul that Bowie connected, orbiting just out of reach to preserve his weirdness from the crush of conformity but close enough to touch us with songs that fully embraced the fallibility of being human.
A timeline of David Bowie's studio releases
He sang about scary monsters and super creeps in one song, painting his child's crib on another. He fed off society's ills as a Diamond Dog, then escaped the cabal by nesting in the messy, misfit love affair that was "Heroes." (The latter has to be one of the most beautiful love songs ever written for those of us who never believed, or found ourselves in, the billion other love songs that were aimed at but missed our hearts).
Still, even Bowie, a master of the unexpected, would have been surprised by how many people — pop stars, rappers, politicians, music fans of all stripes — considered his gentle, flamboyant, charming and extraterrestrial musings part of their own DNA. The outpouring of grief in the days since his death has been overwhelmingly personal, and multi-generational.
The usually cynical comedian Ricky Gervais tweeted, "I just lost a hero. RIP David Bowie." Singer Lorde, 19, posted on Facebook: "He was a piece of bright pleated silk we could stretch out or fold up small inside ourselves when we needed to ... I realized everything I'd ever done, or would do from then on, would be done like maybe he was watching. I realized I was proud of my spiky strangeness because he had been proud of his." And during a talk Tuesday at the Pasadena Civic Auditorium, astrophysicist Neil deGrasse Tyson paused to honor Bowie and earlier tweeted, "I wonder if some forms of creativity can only be generated by a Space Oddity that Falls to Earth. RIP #DavidBowie"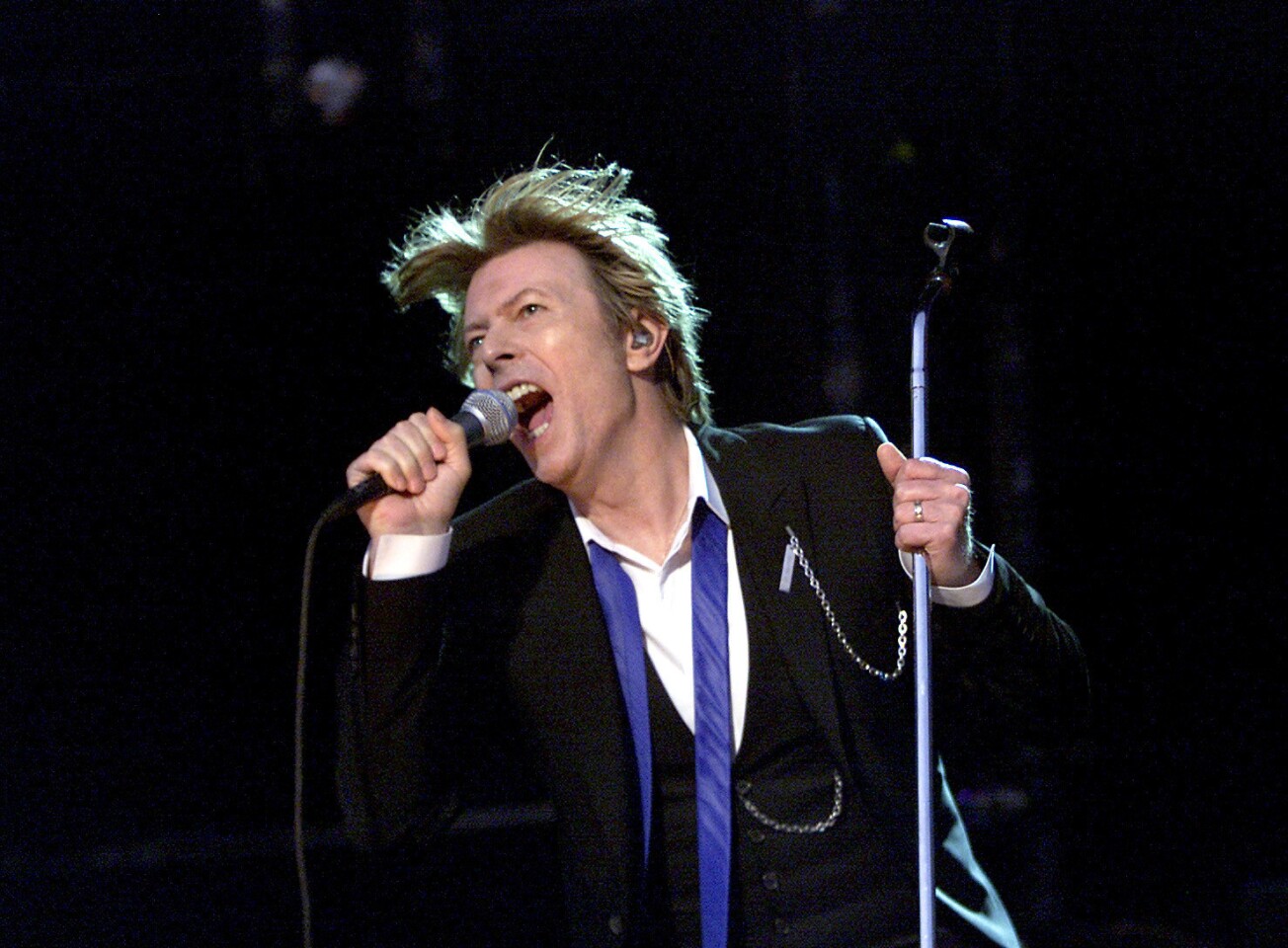 David Bowie performs at the Verizon Wireless Amphitheater in Irvine on Aug. 13, 2002.
(Robert Lachman / Los Angeles Times)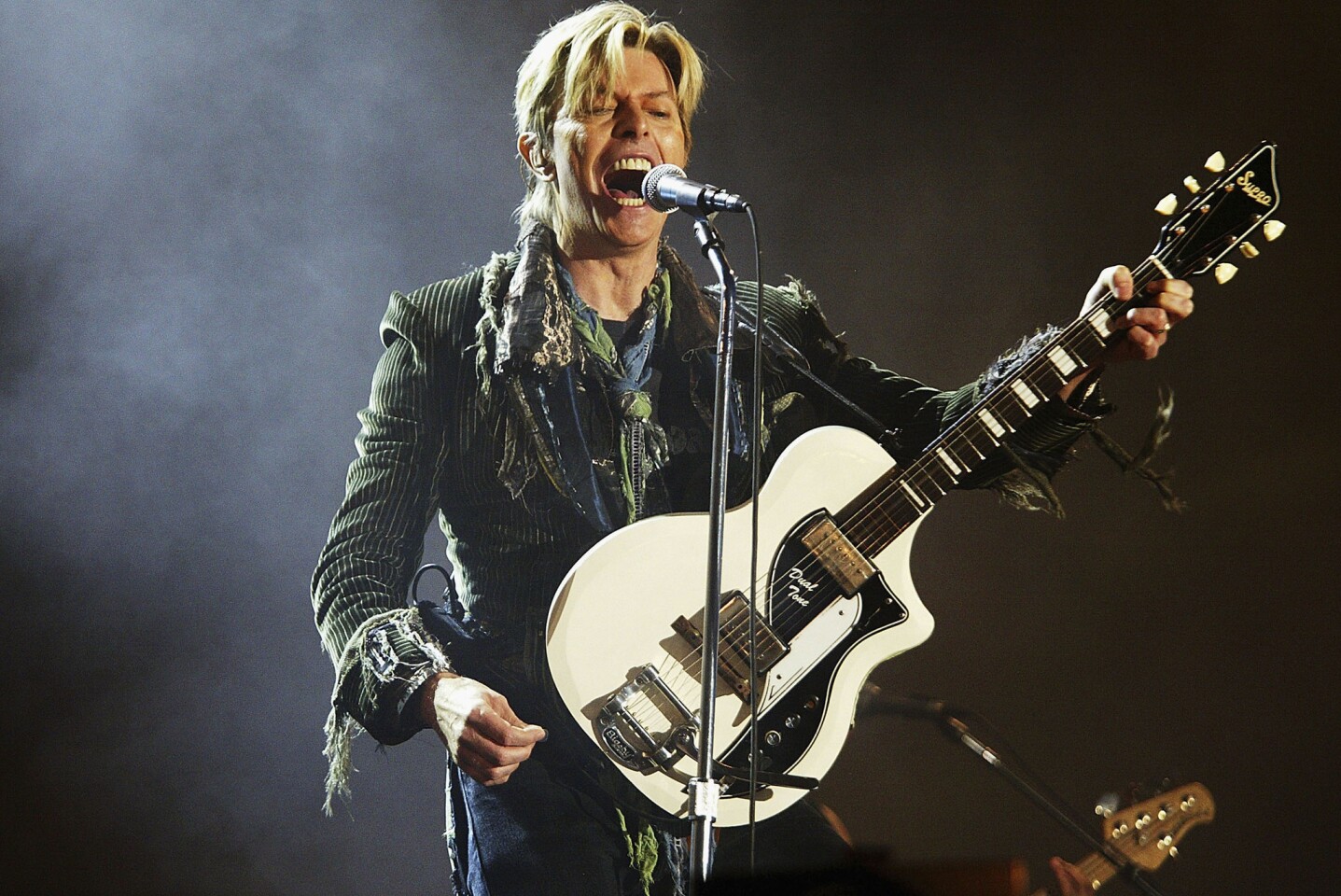 David Bowie performs during the Nokia Isle of Wight Festival in Newport, Britain, on June 13, 2004.
(Jo Hale / Getty Images)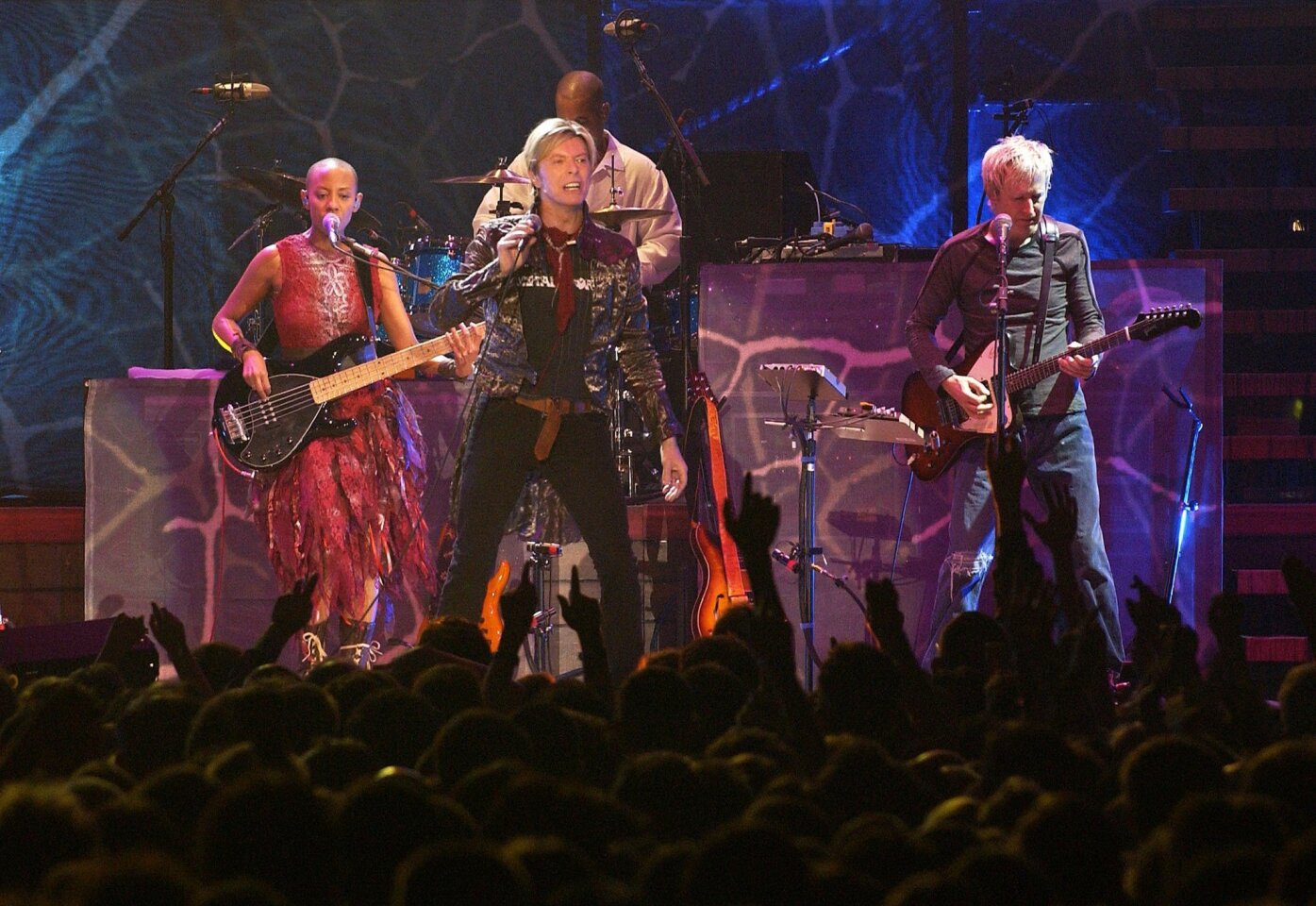 David Bowie performs at Bercy Arena in Paris on Oct. 20, 2003.
(Bertrand Guay / AFP/Getty Images)
David Bowie performs at the Hollywood Athletic Club on Sept. 10, 1997.
(Gary Friedman / Los Angeles Times)
David Bowie performs during ABC's "In Concert" on Aug. 30, 1991.
(ABC Photo Archives / Getty Images)
David Bowie performs during a stop of his Ziggy Stardust tour at Newcastle City Hall in Britain on Jan. 7, 1973.
(Ian Dickson / Getty Images)
David Bowie
(Brian Rasic / Getty Images)
Fame, however, wasn't really a crusade for the lithe Londoner born under the unassuming name of David Jones. Just listen to the song that became his first No. 1 hit in the U.S., (coincidentally titled "Fame"), off an album that cemented his fame, and you'll find he even viewed that pursuit through the eyes of an outsider.
The androgyny when everyone else was oversexed, the oddball movie roles ("Merry Christmas Mr. Lawrence," "The Hunger"), the lyrics that likened death to the journey of an untethered astronaut. Not exactly sure-shot moves toward Top of the Pops or "The Tonight Show" but rather a path burned out of necessity.
How many spaces were there for an eccentric who even stood out in the glam scene he came from — a curious optimist among the brilliant yet tortured forefathers of punk rock.
His career was a study in reinvention and that often-said but rarely followed idea of staying true to one's self even as he explored new personas.
Bowie didn't always hit the mark, but as a high-wire risk-taker he never hit the ground either. The singer played a vampire and, of course, an alien in film, an elephant man on the theater stage, and was one of the first music stars to put his name to a video game.
His last album, "Blackstar," was released two days before he died. An existential journey set to music, it made it clear that Bowie was still exploring his own depths and that of the great unknown before him. But he also returned to an old theme, one that Ziggy Stardust and Major Tom knew well — mortality.
What comes next, as it turns out, was always at the front of Bowie's mind.
Yet his death was unexpected by the rest of us, and not because he'd just released an album days earlier or that he kept his fatal illness a secret from the public for nearly two years. It's that this father of reinvention finally succumbed to something predictable.
A constant refrain has been that we believed the singer would last forever. Wishful thinking, or course, yet the kind of nonconformity we always expected — and usually got — from David Bowie.
Twitter: @LorraineAli
MORE
David Bowie: A half-century of music
David Bowie: The Man Who Changed the (Music) World (1947-2016)
David Bowie the icon is nothing without David Bowie the songwriter
David Bowie was a vivid and gentle presence who never stopped exploring
---
The complete guide to home viewing
Get Screen Gab for weekly recommendations, analysis, interviews and irreverent discussion of the TV and streaming movies everyone's talking about.
You may occasionally receive promotional content from the Los Angeles Times.