How Sweet the Sound: New exhibit at CAAM celebrates the city's gospel tradition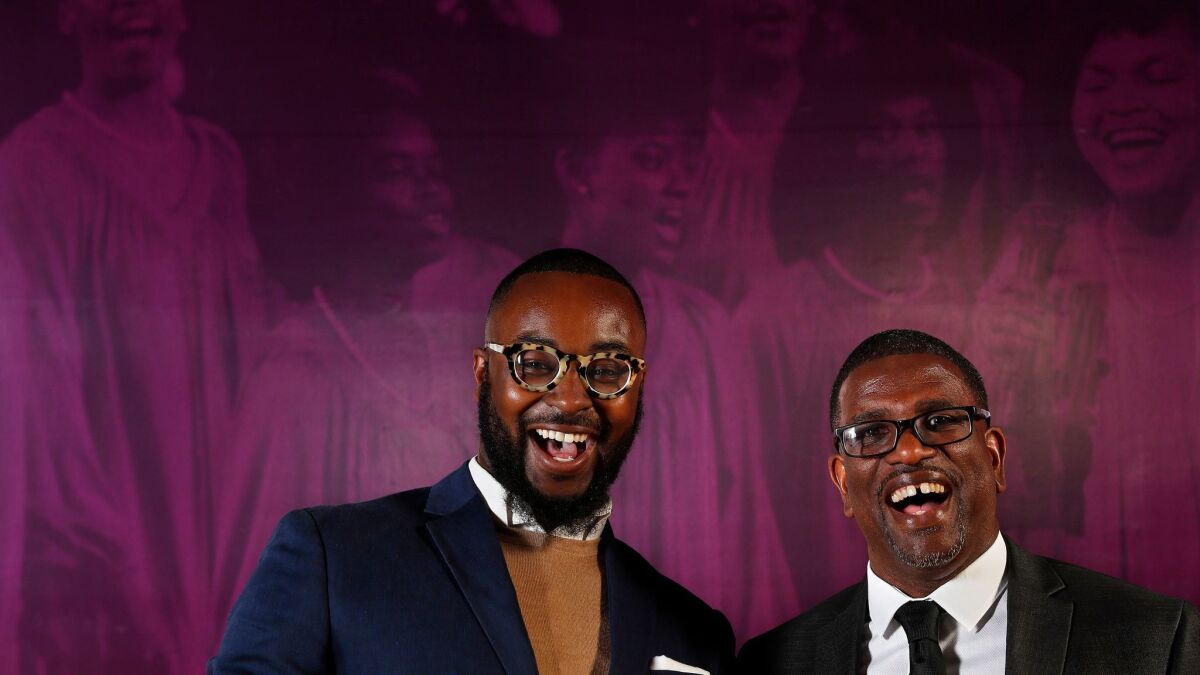 In the early 1850s, a woman named Biddy Mason migrated to Southern California with a slave-holding Southerner who thought he owned her. He was wrong. Upon their arrival, Mason sued for her freedom and won.
Her image and story introduce visitors to "How Sweet the Sound: Gospel Music in Los Angeles," a survey of South L.A.'s spiritual-musical heritage that recently opened at the California African American Museum in Exposition Park. The exhibit traces gospel music's legacy, one that found purchase in churches and, as it evolved, went on to influence secular genres including blues, R&B and rock 'n' roll. It runs through Aug. 26.
"When I grew up, you could tell the denomination of somebody by what type of music they sang," historian Daniel E. Walker of USC's Center for Religion and Civic Culture said during a walk-through of the show with its co-curator, CAAM curator Tyree Boyd-Pates.
Mason ultimately became an entrepreneur whose success prompted her to organize the first African Methodist Episcopal Church in Los Angeles. With it, Mason planted a seed that in the decades to follow blossomed as she and other faith leaders built community spaces where gospel music could thrive.
In the 150-plus years since Mason's arrival, praise-messengers including Sallie Martin, Bishop Samuel Crouch, Sam Cooke, the Rev. C.L. Franklin, Andrae Crouch and the so-called Three Sons of Thunder spread the gospel in South L.A. They did so with a tapestry of anthems, spirituals, hymns and sanctified songs that resonated in the sanctuaries of major area churches including Mount Moriah Baptist Church, Grace Memorial Church of God in Christ and Victory Baptist Church.
In the process, argue Walker and Boyd-Pates, these renegades drove gospel music in profoundly influential directions. The stories captured in the show prove it.
Standing before a photo of Charles Harrison Mason, Walker cited the Southern preacher's influence after traveling in 1907 to Los Angeles for the Azusa Street Revival. The religious awakening, a "meeting of prayer, song and testimony" that occurred in South L.A. from 1906-09, is considered the birthplace of modern Pentecostalism.
Using scripture as inspiration, Mason invited believers to, as Walker says, "come into this space and play. Spoons, washboards, tambourines, pat their feet, do whatever else, and it ends up creating a style of music that we call sanctified singing." Worshipers were simultaneously speaking in tongues.
The music at those nightly gatherings echoed so far that The Times attempted to describe what it called "a gurgle of wordless talk" in a 1906 story about the revival and the nights "made hideous" at the "tumble-down shack on Azusa Street." The story documents a space where "the devotees of the weird doctrine practice the most fanatical rites, preach the wildest theories and work themselves into a state of mad excitement in their peculiar zeal."
Mason returned to the Mississippi Delta from South L.A. with his newfound epiphany and started similar musical awakenings in his Memphis, Tenn., church.
That church was just blocks from Beale Street, the center of the city's blues scene, says Boyd-Pates. According to exhibition notes, the proximity to Beale bled into the music via worshiping musicians who "often blended its musical influence with church teachings and created a branch of religious singing called the holy blues."
Another pivotal figure, Arizona Dranes, made her mark as a Texas boogie woogie pianist and singer in the 1920s. USC's Walker, who is the great-nephew of blues guitarist T-Bone Walker, describes her influence on his uncle: "In his biography, he says the first time he ever heard boogie woogie was from a blind, light-skinned piano player from Dallas." That's Dranes.
The historian then lays out a multi-generational tree that connects Dranes with figures including Bishop Crouch (uncle of the late Grammy-winning gospel singer Andrae Crouch) and testifying guitarist Sister Rosetta Tharpe.
What binds them is an energy, one that would go on to inform the electric blues, R&B and rock 'n' roll sounds of Howlin' Wolf, the Beatles and Eric Clapton. Minus lyrics, says Walker, "it sounds like blues and jazz. But they're singing the Lord's praises. My argument is, they're the ones starting the stuff, and other people are taking things from them."
Boyd-Pates says that it was essential to include Dranes and Tharpe, "because black women, without their innovations musically, there would be no rock 'n' roll, there would be no musical genres that we appreciate today."
The exhibit's narrative crosses the decades to highlight the success of Cooke, Franklin's years in L.A. and his daughter Aretha's rise. The show culminates with the release of Aretha Franklin's astounding gospel soul album, "Amazing Grace." Recorded at the New Temple Missionary Baptist Church on South Broadway in January 1972, the multi-platinum album confirmed her roots while expanding gospel music's reach.
That success was, in part, the result of the innovators who preceded her. As well, Walker notes that were it not for physical spaces such as New Temple and other sanctuaries, the music could not have endured.
For example, the L.A. preachers who united in the 1930s as the Three Sons of Thunder each formed a church. Due to their passion, gospel music poured from the windows. The vast choirs that gathered in the rooms became foundations upon which L.A. gospel music was built.
In Los Angeles, notes Walker, those foundations are in constant flux as South L.A.'s demographics shift. Churches, after all, reflect the communities in which they reside.
"Every group needs them. I don't care if you're Hmong, Sikh or Hindu, you're going to need a space," he says. With the worshipers come music — and a uniquely Angeleno kind of culture clash.
"I love seeing those signs. It's an African American church, then it has another sign because the next service is in Spanish, then it has another sign," Walker says. "It's like the places that have menudo and chitlins at the same time."
For tips, records, snapshots and stories on Los Angeles music culture, follow Randall Roberts on Twitter and Instagram: @liledit. Email: randall.roberts@latimes.com.
---
Get our L.A. Goes Out newsletter, with the week's best events, to help you explore and experience our city.
You may occasionally receive promotional content from the Los Angeles Times.