Madison Square Garden is bringing a new concert arena to Las Vegas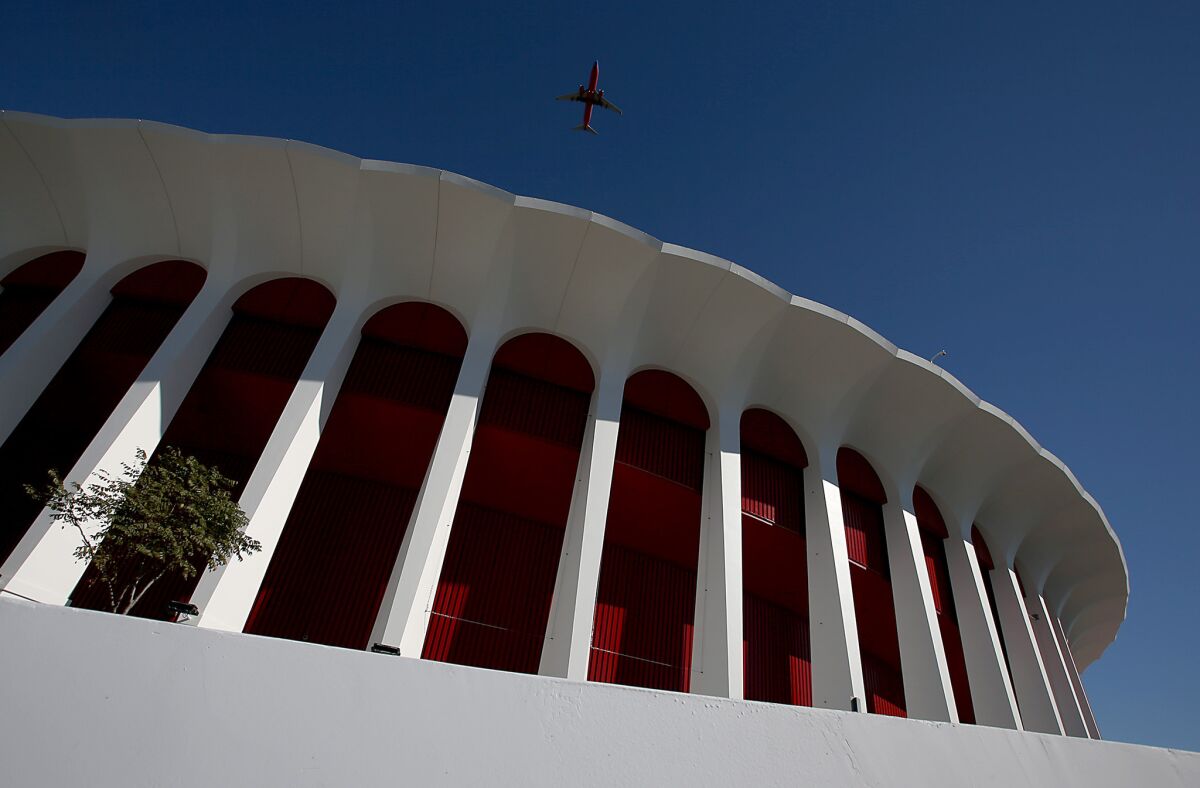 First they resurrected the Forum in Inglewood as a major concert venue. Now, Madison Square Garden executives are turning their sights to Las Vegas.
The company announced Wednesday that it will build a 17,500-seat arena just off the Las Vegas Strip.
The facility, as yet unnamed, will compete with two other similar-sized multipurpose arenas: the 20,000-capacity T-Mobile Arena and the 16,800-seat MGM Grand Garden Arena.
All three would sit barely two miles apart.
Can Las Vegas support three concert and entertainment-focused venues, none of which are home to major sports franchises?
Principals in the new venue believe that there is more than enough consumer interest to go around.
"Forty-two million people come to [Las Vegas] each year looking for entertainment," said David "Doc" O'Connor, president and chief executive of Madison Square Garden Co.
"It's one of the few entertainment destination cities in the world," he said. "Las Vegas has been under-served in terms of large-scale entertainment."
O'Connor said that Las Vegas hosted 48 concerts in buildings with a capacity of more than 9,000 in 2015. During that same year, more than 180 comparable music and other entertainment events took place in Los Angeles.
The new venue is a partnership among Madison Square Garden Co., Sands Corp., Azoff MSG Entertainment, concert promoter Live Nation and Oak View Group, an entertainment advisory firm.
"This will be a state-of-the-art venue of the future, an entertainment-only venue," O'Connor told The Times.
MSG will own the new venue, which is planned as a 400,000-square-foot facility, about 21% larger than the Forum's 330,000-square-foot size.
L.A.'s Staples Center sports arena, by contrast, occupies about 950,000 square feet and seats about 18,000.
Unlike most sports arenas, all seats in the new venue will be in front of the stage, a design configuration expected to maximize sight lines and sound quality and facilitate easier loading in and out for the touring attractions.
The room itself will be designed first and foremost for music, as MSG did with the Forum, rather than the multipurpose model used in most sports arenas.
"There has not been an incentive for major, premium-quality acts to come to Las Vegas on a number of levels," O'Connor said.
Entertainment mogul Irving Azoff said the $100-million-plus restoration of the Forum gave him and MSG executives the motivation to look elsewhere for cities where a large-scale venue designed specifically for music might work.
The Forum opened in 1967 and, with Madison Square Garden in New York, helped usher in and define the era of arena rock concerts.
But it sat largely unused after AEG built and opened Staples Center in 1999 in downtown Los Angeles, taking with it the Lakers and Clippers sports franchises.
"Last year Madison Square Garden was the No. 1 most-attended [concert-entertainment] arena in the country, and the Forum was No. 2," Azoff said in the interview. "We struck gold with the Forum, and as we looked out at what other markets might work, Las Vegas was the natural third area."
Arena-level concert activity in the L.A. area increased 49% after the Forum reopened, O'Connor said.
"It went from 122 to 181 simply by opening a new venue," O'Connor said, suggesting that MSG's new facility also would expand, rather than cannibalize, the arena-level concert market in Las Vegas.
Azoff said permits for the new venue are still being cleared — "It's a matter of when," he said, "not if" — and therefore the three executives wouldn't say when they expect to break ground or open the new facility.
"We're probably a couple of years away," Azoff said.
Likewise, they declined to offer estimates of what it would cost.
MSG put more than $100 million into refurbishing the Forum, which the company bought in 2012 for $23.5 million from the Faithful Central Baptist Church of Inglewood. Church officials had owned it since 2000 and used it for their services, occasionally renting it out for pop music concerts, traveling circus attractions, boxing matches and other entertainment events.
At the time the Forum's reboot was underway, Live Nation chief Michael Rapino told The Times that building a new multipurpose sports arena could easily cost up to $500 million.
Azoff said that financing is secure and that "No public monies will be used" to build the venue.
Officials with the new project said in addition to music performances, they also expect to host boxing matches and other non-musical entertainment events. But there will be no resident sports teams.
Azoff said the new building will include luxury suites, but not the glass-walled type in many modern sports arenas that can play havoc with music sound systems. "They will be bunker-type suites," he said.
The venue also will be able to be scaled for different-size audiences, from 4,000 to 17,500, Azoff said.
Live Nation, the world's largest concert promoter, has an exclusive arrangement to handle ticketing at the space, but Azoff said it would be an "open house" available for other promoters who wish to book concerts there.
Oak View Group, a sports and entertainment advisory firm launched recently by Azoff and veteran arena executive Tim Leiweke, who formerly ran Staples Center for AEG Live, will consult with MSG and Sands personnel in bringing the new venue online and expanding marketing opportunities.
Azoff MSG Entertainment will be involved in helping provide talent that will play there.
Azoff said he expects that many acts that play the Vegas venue also will play the Forum, and vice versa. It's also likely that the new venue will feature multiple-night engagements and some residencies.
"We think," Azoff said, "some acts will decide they only want to play in Vegas."
---
Get our L.A. Goes Out newsletter, with the week's best events, to help you explore and experience our city.
You may occasionally receive promotional content from the Los Angeles Times.