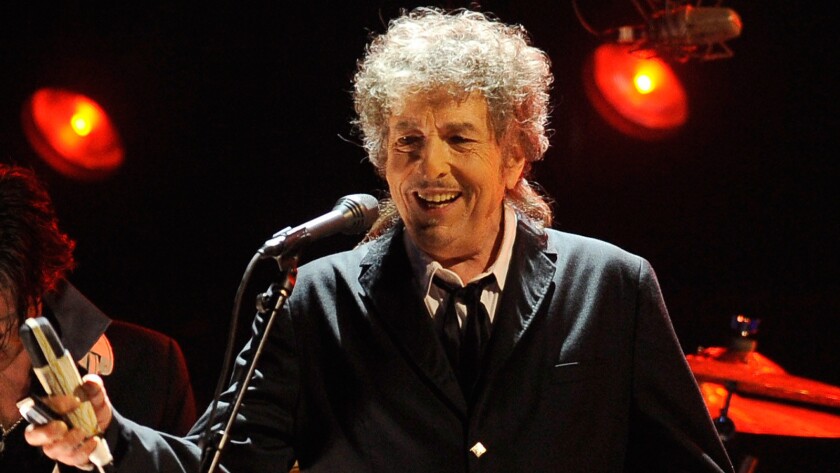 Among all the other groundbreaking aspects of this week's Desert Trip festival, the concert can now add a Nobel Prize-winning headliner to its pedigree.
The news of Dylan earning literature's highest honor came as a surprise to many.
"We hoped the news would be received with joy, but you never know," Sara Danius, the permanent secretary of the Swedish Academy, which grants the Nobels, was quoted as saying in the British newspaper the Guardian.
"I came to realize that we still read Homer and Sappho from ancient Greece, and they were writing 2,500 years ago. They were meant to be performed, often together with instruments, but they have survived, and survived incredibly well, on the book page. We enjoy [their] poetry, and I think Bob Dylan deserves to be read as a poet."
The news instantly re-frames Desert Trip as not just the high-grossing festival ever, or as an unprecedented communion of classic rock greats — it's also now a world-class literary event. How will that affect the way its 75,000 fans see this concert?
Representatives for Goldenvoice, the promoter producing the Desert Trip festival, did not immediately have an official comment on the news.
The Nobel win doesn't seem to have dramatically affected the secondary ticket market for Desert Trip. Dylan opens for the Rolling Stones on Friday night, and Friday-only ticket prices are still going for as little as $219 on the re-seller StubHub.
That's compared to $240 for Sunday's bill of Roger Waters and the Who, and $149 for Saturday's double bill of Paul McCartney and Neil Young. Full-weekend general admission tickets are still hovering around $233, slightly higher than they were earlier this week.
There's no precedent for a pop musician winning a literary award of this caliber. The singer-songwriter — who received a Pulitzer Prize in 2008 for his overall accomplishments, including his 2004 memoir, "Chronicles" — had been mentioned as a dark-horse candidate for the Nobel for years.
Reaction from the literary world has been mixed, with some figures like New Yorker editor David Remnick, Eileen Miles and Salman Rushdie praising the unconventional pick, while others like Hari Kunzru and the Paris Review had more acerbic takes.
But if any singer is likely to be unimpressed by the news, it's probably Dylan.
The Times' Randy Lewis described his previous set at Desert Trip: "[Dylan's] craggy voice and ever idiosyncratic phrasing, pushing lyrics to the finish line early, and drawing out others leisurely, surely had some in the crowd of 75,000 playing "Name That Tune," at least during the first few moments of each… Nevertheless, the timelessness and power of his metaphor-laden lyrics make them seem ever relevant, no matter the political climate or social setting."
For those who can't wait to see a Nobel winner perform live, Dylan has a set tonight in Las Vegas, at the Cosmopolitan on the Strip.
For breaking music news, follow @augustbrown on Twitter.
ALSO:
In a 'radical' choice, Bob Dylan wins the Nobel Prize in literature
Critics wonder if Bob Dylan really needs a Nobel Prize
Bob Dylan, interpreter: Seven of the artist's greatest covers
Celebrating Dylan's late career work, when he started getting obsessed with death
Nobel Prize winner Bob Dylan on life, love, idiots, war mongers, religion, self-esteem, desire, fashion and insufferable people
---