Nobel Prize winner Bob Dylan on life, love, idiots, war mongers, religion, self-esteem, desire, fashion and insufferable people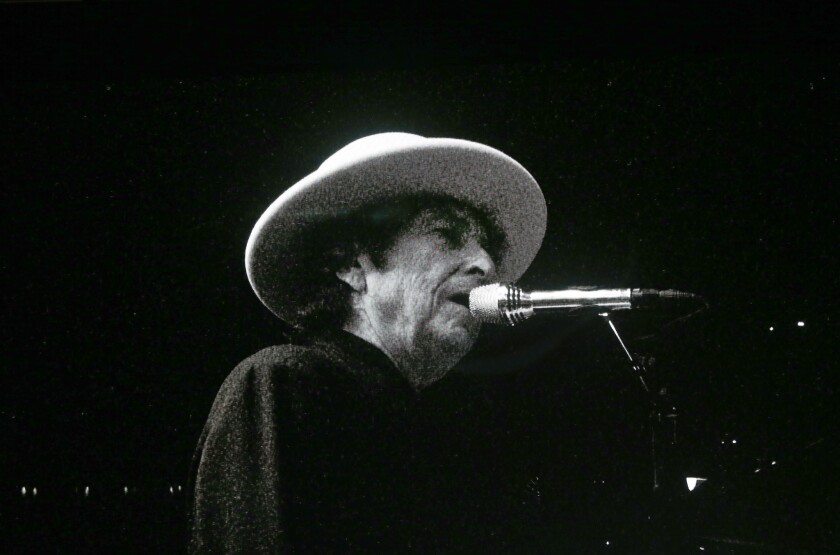 Bob Dylan has penned thousands of couplets that touch on countless themes.
Below, a sampling of lyrics that earned him the Nobel Prize for literature.
On love: "Love is all there is, it makes the world go 'round/ Love and only love, it can't be denied/ No matter what you think about it/ You just won't be able to do without it/ Take a tip from one who's tried." — "I Threw It All Away"
On war mongers: "And I hope that you die/ And your death'll come soon/ I will follow your casket/ By the pale afternoon." — "Masters of War"
On generational shifts: "Come mothers and fathers throughout the land/ And don't criticize what you can't understand/ Your sons and your daughters are beyond your command/ Your old road is rapidly aging." — "The Times They Are a-Changin'"
On idiots: "Idiot wind, blowing every time you move your teeth/ You're an idiot, babe/ It's a wonder that you still know how to breathe." — "Idiot Wind"
On self-esteem: "Don't trust me to show you beauty/ When beauty may only turn to rust/ If you need somebody you can trust, trust yourself." — "Trust Yourself"
On religion: "Well, it may be the devil or it may be the Lord/ But you're gonna have to serve somebody." — "Gotta Serve Somebody"
On grace: "May you grow up to be righteous/ May you grow up to be true/ May you always know the truth/ And see the lights surrounding you." — "Forever Young"
On desire: "I'd go hungry, I'd go black and blue/ I'd go crawling down the avenue/ There's nothing that I wouldn't do/ To make you feel my love." — "To Make You Feel My Love"
On fashion: "You know it balances on your head/ Just like a mattress balances on a bottle of wine/ Your brand new leopard-skin pill-box hat." — "Leopard Skin Pill-Box Hat"
On insufferable people: "They chirp and they chatter/ What does it matter?/ They lie and dine in their blood/ Two timing Slim/ Who's ever heard of him? I'll drag his corpse through the mud." — "Soon After Midnight"
On life: "He not busy being born is busy dying." — "It's Alright Ma (I'm Only Bleeding)."
On the afterlife: "When the cities are on fire/ With the burning flesh of men/ Just remember that death is not the end." — "Death Is Not the End"
On God: "In the fury of the moment I can see the master's hand/ In every leaf that trembles, in every grain of sand." — "Every Grain of Sand"
Random advice: Light yourself a candle/ Don't wear sandals/ Try to avoid the scandals/ Don't wanna be a bum/ You better chew gum." — "Subterranean Homesick Blues"
ALSO
Critics wonder if Bob Dylan really needs a Nobel Prize
Bob Dylan, interpreter: Seven of the artist's greatest covers
Celebrating Dylan's late career work, when he started getting obsessed with death
'He's a historical magician': Two professors on why Bob Dylan deserves the Nobel Prize
---
The complete guide to home viewing
Get Screen Gab for weekly recommendations, analysis, interviews and irreverent discussion of the TV and streaming movies everyone's talking about.
You may occasionally receive promotional content from the Los Angeles Times.