Review: Eminem was not the right man to close out Coachella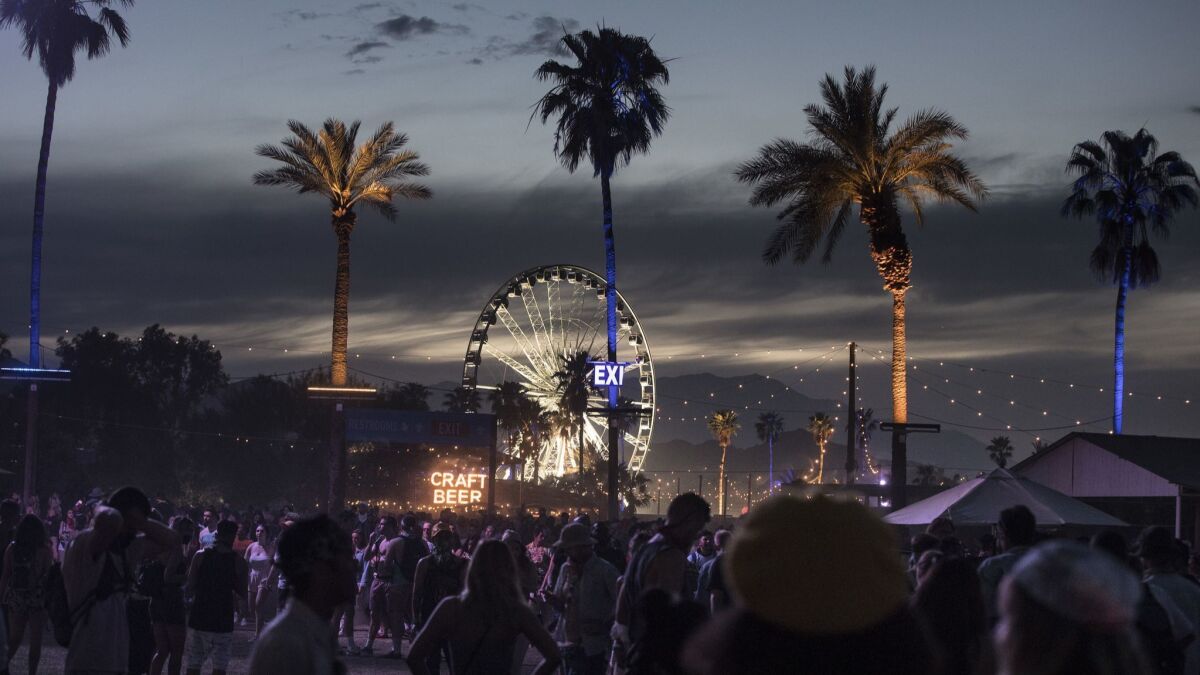 Pop Music Critic
"How many of y'all remember this?" Eminem asked not long into his performance Sunday at the Coachella Valley Music and Arts Festival.
The rapper was introducing "Soldier," a vintage cut about how tough he is from his 2002 album, "The Eminem Show."
But he might have been quizzing folks more generally — unsure if Coachella's young audience recognized his old-fashioned idea of hip-hop on a day when the festival's other rap acts included the thoroughly modern likes of Migos (whose jumpy electronic rhythms put them in the Sahara tent) and Cardi B (who was celebrating the well-deserved No. 1 debut of an album she'd never had made if she hadn't first found stardom on Instagram).
As has been mentioned many times, the once-rock-friendly Coachella turned largely away from guys with guitars this year, filling its most coveted slots instead with the MCs and R&B singers who dominate charts in the streaming era.
But where Friday's and Saturday's headliners — the Weeknd and Beyoncé, respectively — are as culturally relevant as they've ever been, Eminem on the event's closing night represented something of a throwback: a dogged lyricist in an age defined by ad libs, a pop provocateur no longer able to shock, an angry white dude at a moment when Donald Trump has turned off many to just such a figure.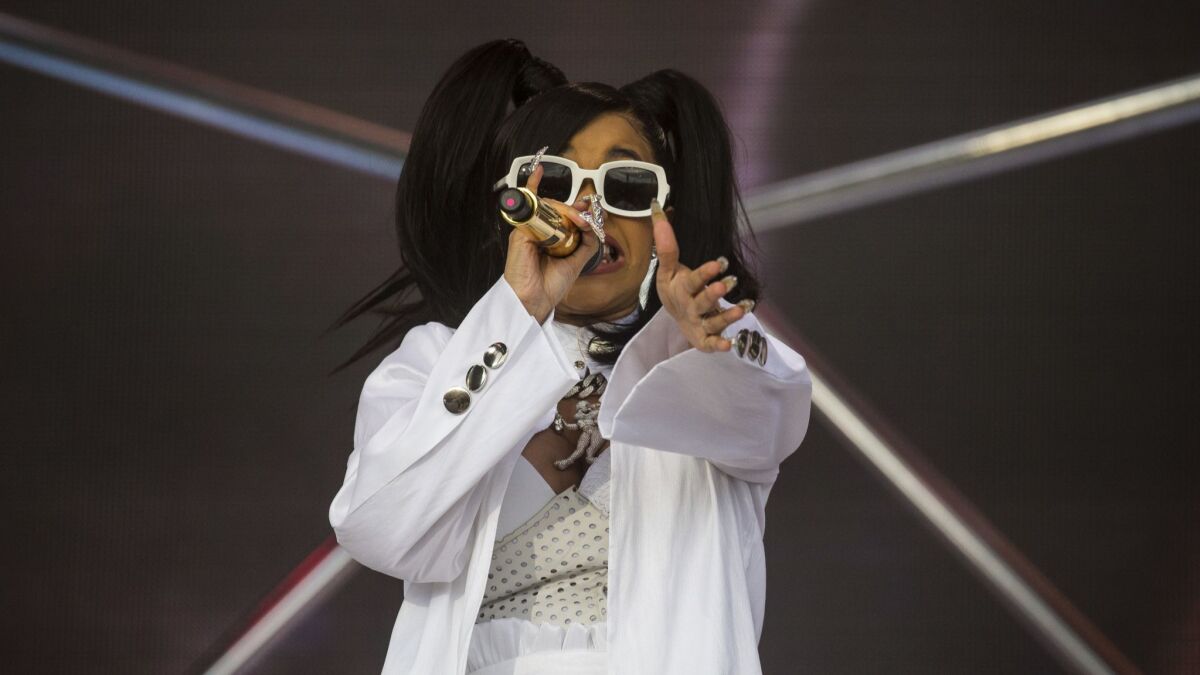 It's not that Eminem exerts no influence; Tyler, the Creator, who preceded him on Coachella's main stage Saturday, channels some of the same twisted rage.
Nor has he lost his audience: Last year, his very dodgy "Revival" topped the Billboard 200, just like the seven albums before it, and Sunday the field at Indio's Empire Polo Club was as packed as I saw it all weekend. (Eminem wouldn't allow The Times to photograph the performance without agreeing to restrictions on the images, which is why you don't see a picture of his large live band or his impressive video display at the top of this article.)
Yet for all the intensity he was bringing — pacing the stage and spitting out long torrents of words — little about the concert made you think about Eminem in a way you haven't in the last decade or so.
Even his obligatory guests, including Dr. Dre (who did "Still D.R.E.") and 50 Cent ("In Da Club"), felt beamed in from the turn of the millennium; ditto Eminem's self-deprecating jokes about how much more he used to matter.
Clearly, the rapper wasn't helped by the fact that he was following Beyoncé's stunning Saturday-night spectacle.
Maybe another reason he asked fans to dig into their memories was to transport the crowd to a pre-Beychella state of mind — you know, back when a superstar could get away with presenting a mere stage show as opposed to a complete emotional and intellectual experience.
Still, it's not as though Eminem lacked for potential deep moments of his own.
At one point, he mentioned that he'd been touring overseas recently and said it felt great to be back in America, which cued his crew to send up a volley of fireworks and to fill the video screens with an enormous digitized flag.
This was Eminem's preamble to "White America," another old song that's pretty alert to the realities of institutional racism.
So the Lee Greenwood routine was a bit of sarcasm, you figured — except maybe it wasn't.
There's a clumsy but fascinating tune on "Revival" called "Like Home" in which Eminem voices his deep love for a country he feels is being damaged by a "chump" of a president who's "trying to divide us."
I'm very interested in Eminem's patriotism; I'd like to hear more about it, especially as it pertains to his background, rare in hip-hop, as a proud Michigan native.
But that's not what we got Sunday.
What we got Sunday was "The Monster" with Bebe Rexha.
Ask anyone a year from now — they won't remember that.
Twitter: @mikaelwood
---
Get our L.A. Goes Out newsletter, with the week's best events, to help you explore and experience our city.
You may occasionally receive promotional content from the Los Angeles Times.