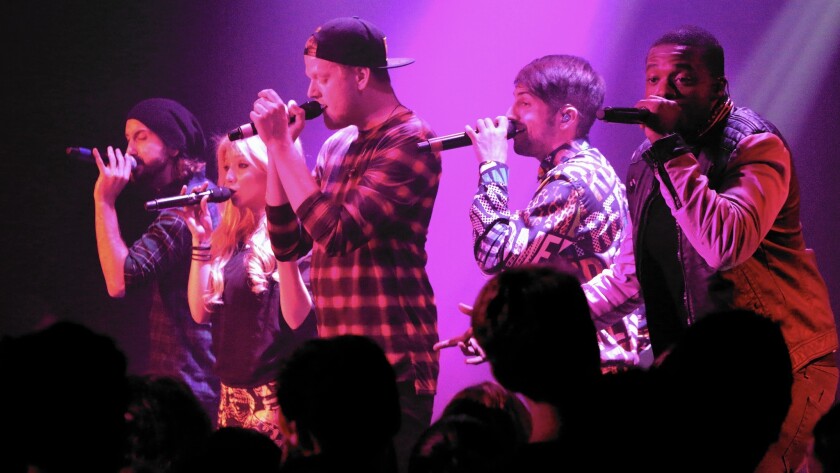 The a cappella group Pentatonix is built on the unaccompanied interplay of its five members' voices. But the most remarkable moment in the quintet's concert Monday night — and the most vivid demonstration of its improbable accomplishment — involved only one of those voices, in harmony with itself.
The instrument in question belonged to Avi Kaplan, the group's resident bass as well as a man capable of producing two pitches at the same time. He showed off the technique (known as overtone singing) in a solo performance of a composition he called "The Dragon's Lullaby."
A guttural drone accented by ghostly higher notes, the piece itself wasn't anything to freak out about. After falling completely silent to take in Kaplan's rendition, though, freak out is precisely what the audience did — to the point that someone walking past the Roxy on Sunset Boulevard might've thought Justin Bieber or Miley Cyrus was on stage.
Such reactions have grown commonplace for Kaplan and his bandmates, who won NBC's "The Sing-Off" in 2011 and have gone on to experience a level of success rare in a cappella music, that traditionally uncool form favored by high school and college ensembles. This month their "PTX Vol. III" EP entered the Billboard 200 chart at No. 5, ahead of records by Jennifer Hudson and Lenny Kravitz, and their videos have racked up millions of views on YouTube.
At least a portion of that renown is attributable, of course, to their reliance on proven hits, not unlike the success of "Glee" several years ago. "PTX Vol. III" includes versions of Ariana Grande's "Problem" and "Latch" by Disclosure and Sam Smith, both of which Pentatonix performed to enthusiastic cheers at the Roxy. But the EP also has several originals, an indication of what appears to be the group's ambition to transition from a glorified covers band to a real-deal pop act.
Monday's show, the first of two gigs timed to the release this week of a new holiday album, suggested that might be tricky.
There was no doubting the singers' vocal abilities, as precise as any star's in a sprightly take on Clean Bandit's "Rather Be" and a breakneck run through Lady Gaga's "Telephone." Their flair for arrangement was also impressive in lengthy, cleverly plotted medleys of tunes by Beyoncé and Daft Punk; here they were sharp-eared curators, drawing unexpected connections between various aspects of each artist's work.
But enough about Lady Gaga and Sam Smith. Who are the members of Pentatonix, and what specifically does their work mean?
Those questions — the ones pop fans routinely ask of their favorite stars — went largely unanswered at the Roxy, where the singers' banter mostly concerned how far they'd come since Scott Hoying formed the group while at USC. "See Through," a ho-hum original full of familiar Top 40 gestures, didn't help; the tune only flattened out the differences between Pentatonix and everything on the radio.
A moment of distinction, similar to Kaplan's goofy yet heartfelt dragon song, came near the end of the concert when the musicians lowered their microphones to do the stirring title track from "That's Christmas to Me" minus any amplification.
But then the volume — and those borrowed show-biz smiles — cranked back up.
---