On Alice Bag's new album, 'Blueprint,' an original L.A. punk sets out to correct the historical record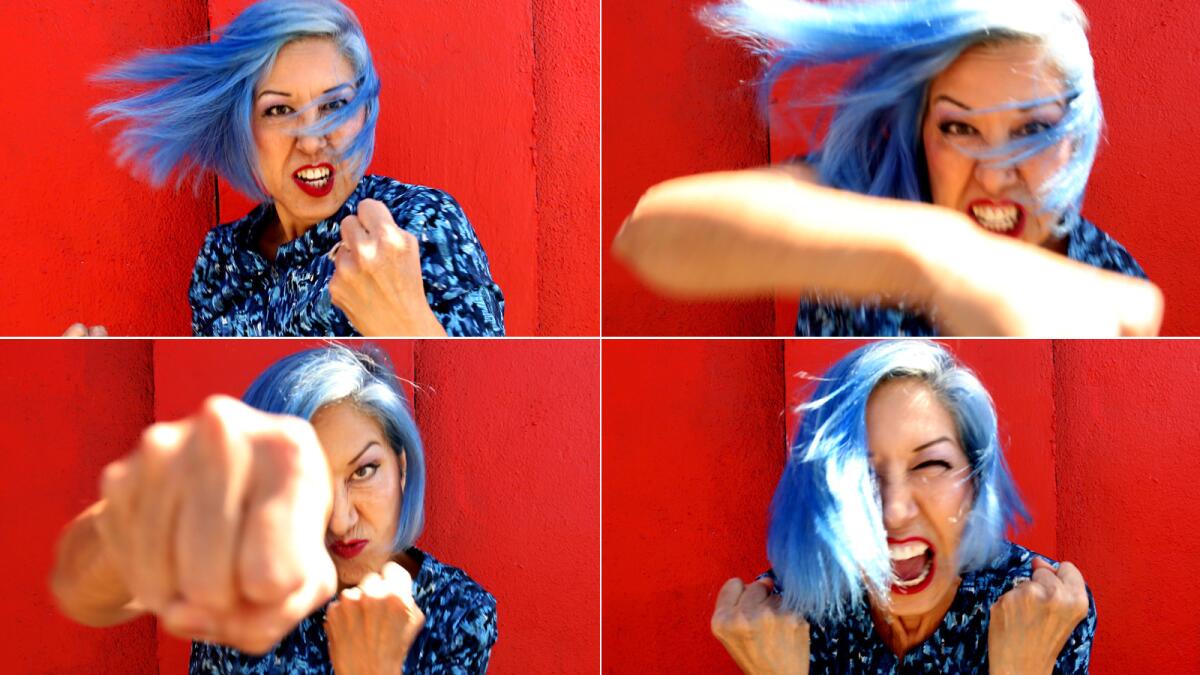 It's hard not to notice Alice Bag as she enters Astro Family Restaurant at the eastern edge of Silver Lake. Her blue hair glows against the orange booths inside the Googie-designed 24-hour diner as if she's entering a self-created set.
The lifelong singer, writer, educator and LGBTQ activist has been creating art since she was a teenage glam queen in 1973, experiences that led her to found one of the first Los Angeles punk bands, the Bags, in the late '70s.
Unlike the many punk dudes whose careers continued, though, Bag and other female artists' trailblazing work has been treated by many a Black Flag- and Germs-loving fan as an afterthought.
This month, Bag released "Blueprint," the follow-up to a 2016 self-titled solo effort. A powerhouse production about, says Bag, "how you build within," the politicized songs are presented through the lens of a Chicana rebel in love with music and voice and the ways they can combine to create a movement.
Though hardly as celebrated as poet and writer Patti Smith, Bag on "Blueprint" is as assured a voice, and works through universal themes within verses and choruses driven by guitar-powered rock and roll. In a more just world, Bruce Springsteen would be buying scalped tickets to Bag's career-spanning Broadway residency.
We created the punk scene. We said what it had to be.
— Alice Bag
Constructed with guitar, bass, drums and a throat that seems to grow more intense with each decade, the 11-song "Blueprint" comes a few years after Bag, 59, issued her first solo album.
That record ended an extended period out of the musical spotlight after stints in punk bands including Castration Squad, Cholita (with Vaginal Davis) and Las Tres, and took unflinching looks at immigration rights and presaged the #MeToo and Time's Up era with the explosive "No Means No."
One of the singles for "Blueprint," "77" expands on that conversation by taking aim at the gender pay gap. It features vocals by Allison Wolfe (Bratmobile) and Kathleen Hanna (Bikini Kill, Le Tigre), both of whom Bag says redirected her approach to delivering her lyrics in the studio.
"After I heard Kathleen and Allison do their takes, I was like, 'Oh, I can't sing it the way I've been singing it.' They were really tearing it up." Bag went back into the vocal booth, thinking to herself, 'No way, I'm going to sing it differently.' I'm screeching, yes, but I'm happy because I really feel like it fit better."
She was right. "I make 77 cents on the dollar — it's not fair and it makes me want to holler," bellows Bag. "Yeah you work hard but I work harder / To catch where you are I gotta push myself farther." She then adds a wry line that echoes rockabilly legend Eddie Cochran's line in "Summertime Blues": "I asked my landlord for discount rent / He said 'Oh no little lady — pay 100 percent.' "
Between bites of a fruit bowl, the artist, who was born Alicia Armendariz, compared the decision to make "Blueprint" to that of having a second cookie: "Once you have something that's really satisfying and delicious — that feels good and right — then you want to do it again."
The craving, however, couldn't immediately be satisfied due to her bandmates' schedules. Frustrated, she harnessed "all this creative energy that had to be released somehow." Building the skeleton of the album on her own, she plotted sketches that became "Blueprint."
She wrote songs about inequality, white-washed history, shame, time, self-respect, loneliness, white justice — "doesn't work for me!" — and addiction.
Then, Bag says, like a superhero summoning energy from beyond, "I decided to call up my forces." They included kindred musicians including Wolfe, Hanna, Teri Gender Bender (Le Butcherettes) and Eva Gardner (Mars Volta, Pink), the last of whom was in the band Stay at Home Mom with Bag.
As with her self-titled album, Bag shared production duties with the musician Lysa Flores, and worked at Station House studios in Echo Park. The result is an album as sonically accomplished as it is powerful.
One of the best songs, "Shame Game," harnesses a maracas-accented dance beat worthy of LCD Soundsystem to explore ideas about body image and celebrating differences. "The Sparkling Path" is an unflinching look at the allure of financial security. She attacks the title track with Joe Strummer-esque conviction as she sings of self-examination and the importance of collective, organized action.
Bag says that the opening song, "Turn It Up," was written as a response to being in a constant state of anger at American politics. "I've spent a year with this administration feeling frustrated, feeling angry, marching, signing petitions, donating money," she says.
"When you spend your life being angry, you feel like you're living with your own poison." It's important to resist, Bag adds, "but it's also good to focus on your advances and the things that are good in your life. To draw strength from those things that maybe when you're angry you're ignoring."
It's up to to us to keep things on track and moving in the direction we want to see them go. Otherwise, we end up with an idiot in charge.
— Alice Bag
"We're all constantly building structures of many different kinds," explains Bag. "So, it's up to to us to keep things on track and moving in the direction we want to see them go. Otherwise, we end up with an idiot in charge."
Across the songs, Bag delivers work that confirms her work ethic and dedication to self-examination.
It's actually incorrect, Bag stresses, to say she stepped away from the music scene.
"I don't feel like I took time off," says Bag, who also worked as an elementary school teacher for more than 20 years and has credited her role as an educator in providing clarity in her songs. "I've always made music. I wasn't always in the most popular bands. Some of us would play little coffeehouses and 20 people would show up."
That started to change when independent punk bands such as Bikini Kill, Bratmobile, Babes in Toyland and L7 started citing the Bags' explosive punk single "Survive." Though the crowds were still small, her influence was starting to be acknowledged.
"Society doesn't leave much space for women, and especially for older women, and so we do have to carve out our own spaces as we age," says Wolfe, formerly of Bratmobile and Sex Stains and an important voice in the Riot Grrrl movement. "Especially women as they age are turned invisible or irrelevant or whatever, and we have to fight back against that. Alice definitely contradicts that narrative, and fights that by example."
[Warning: The video below includes graphic scenes of violence.]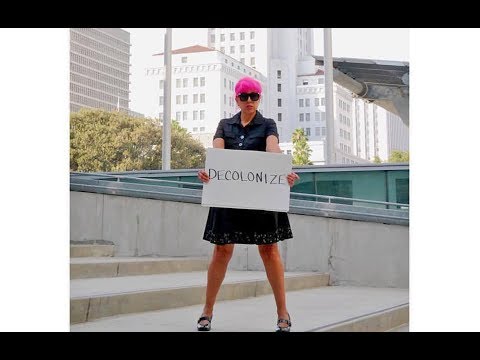 Sitting in the booth at Astro, Bag pulls out an LP of her debut album, a 45 and a copy of Razorcake, a music zine in which she penned her recollections on the birth of the L.A. punk scene. They're crucial stories, she says, because they go against the commonly told white-male narrative of testosterone-fueled aggression in the Hollywood punk scene.
Asked whether she and Bags co-founder Pat Bag (a.k.a. Patricia Morrison) ever had issues with the sexual dynamics of the punk scene, Bag laughs dismissively. "No. Never. We created the punk scene. We said what it had to be."
An author of two books, Bag also maintains a crucial archive on her website (alicebag.com) of women who were instrumental in the development of the Los Angeles punk scene.
Stressing that she knew everybody who was there at the beginning, Bag continued, "The L.A. scene was very inclusive. It couldn't be any other way, because the people who created it were from all backgrounds. If we had somebody who came in and tried to impose any kind of fascist views, we'd knock them down."
Bag has no regrets about not being in the limelight, even if during those wild years she confessed to chasing label deals alongside the Go-Gos and the Germs.
"People have asked me, 'Why do you feel you're not as successful as someone else?' I don't know, but it doesn't matter to me because I don't define success by how many records I sell or how much money I make," Bag says. "Success is doing the kind of music I want to do, and finding someone who connects to it. To me, that's the ultimate gift."
♦ ♦ ♦ ♦ ♦ ♦ ♦ ♦ ♦ ♦
Alice Bag's "Blueprint" record release party
When: Saturday, April 7, 5:30 p.m.
Where: The Echo, 1822 Sunset Blvd.
Tickets: $10
Info: attheecho.com
For tips, records, snapshots and stories on Los Angeles music culture, follow Randall Roberts on Twitter and Instagram: @liledit. Email: randall.roberts@latimes.com.
ALSO
Producer and DJ Matt Dike defined rap and underground in the 1980s. Then he walked away
California Sounds: Five must-hear spring releases from L.A.-area artists
California Sounds: A new video from Jonathan Wilson, DJDS remixes St. Vincent and SSION teams with Ariel Pink
Get our L.A. Goes Out newsletter, with the week's best events, to help you explore and experience our city.
You may occasionally receive promotional content from the Los Angeles Times.