Alicia Keys unveils 'crazy powerful' new album at the Troubadour: 'The best music I've made'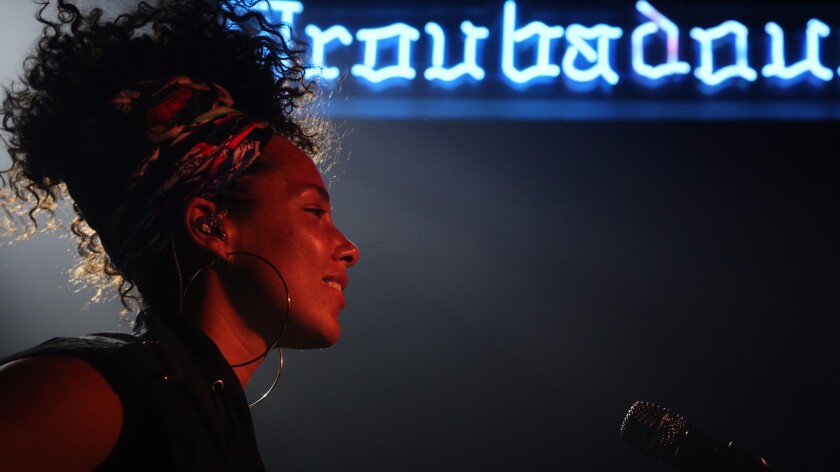 The line outside the Troubadour was wrapped around the block as fans waited to get in to a special show from Alicia Keys.
It's not rare that a superstar act books a gig at the cozy, 500-capacity West Hollywood haunt, but part of the hold-up to enter was the extra step required of fans to lock up their phones in soft pouches that can be unlocked if they step outside the club.
Keys' phone-free policy for Wednesday's gig served two purposes: For fans it offered an unobstructed view of the R&B star, while Keys was able to try out material from her upcoming album without the worry of it popping up on the Internet.
"I just want us to have this time together," she later explained, noting the amount of coverage her no-phone policy has received.
See the most-read stories in Entertainment this hour »
Backed by a six-piece band — including prolific hip-hop engineer Young Guru, who DJ'd alongside — Keys packed the one-hour set with plenty of new material from her upcoming, as-yet-untitled album.
"Everybody got a past, but you can't go back," Keys chanted, asking the crowd to join, as she pounded on the piano for the night's thumping, politically charged opening number (she didn't reveal the title).
"I need to bring this back to make sure you're hearing every word — this is important," Keys said, restarting the song. "This is life, true life."
Keys said she wanted the vibe of the Troubadour show to be like a basement party — which explained the tiny stage being crammed with crates of records, unused band equipment and lit in warm purple and blue hues.
The party atmosphere that she created with Wednesday's electric showing helped cushion the blunt message behind her "crazy powerful" record.
While recent singles from the album she's been working on since 2014 have presented a more low-key Keys, the new material popped with urgency.
Mortality seemed to be a major thread of the upcoming album, spawned by a constant news cycle of brutality, terrorism and division.
After opening with the politically charged thumper, Keys tore through the horn-blasting "28 Thousand Days" — a motivational carpe-diem jam she wrote last year after doing the grim calculation of the number of days in the average human life. (It's 76 years, or 28,000 days, except "with this crazy world, you really don't know," she cautioned.)
"The world has lost it's … mind," she declared at one point in the show, albeit with more passionate language that's not appropriate here.
"It's the most important thing in the world to be who we are — no matter what we look like, or what we believe in and who we love," she said. "I celebrate individuality, diversity, and you just how you are, and me just how I am."
Beyond being some of the most political and emotional music she's issued, the new material also largely delivered a throwback to her early work that gleaned its inspiration from early New York hip-hop and classical music.
This album has been, without question, the best music I've made — yet. Because there's more.
Alicia Keys
She built one foot stomper around a sample of Nas' classic "One Love," another celebrated her beloved New York while reminding herself that she's a "queen," and on a slow-burning piano ballad titled "Pawn It All," she sang about all she would give up "to start my life over again."
"I'm sick of being judged … I'm sick of being high, I'm sick of being low," she sang on "Illusion of Bliss."
Keys said she approached the new album, due to be released in the fall, with "so much intent" and "conversation about what is going on and happening to us."
Although she's previewed tracks from the album since late 2014, the singer officially launched her comeback in May with the release of the groovy Latin-inspired "In Common" and emotional gospel ballad "Hallelujah."
Both singles were performed to rousing response on Wednesday and she briefly looked at her back catalog with new spins of her Grammy-award winning hits "You Don't Know My Name," "Fallin'" and "No One."
"This album has been, without question, the best music I've made — yet. Because there's more," she told the crowd. "Even with everything as it is and as it seems, the thing that brings us together is this good music."
After years of battling insecurities, PJ steps out of the shadows with 'Rare'
Britney Spears' smooth 'Make Me' sees the pop star exploring a new, mature sound
---
The complete guide to home viewing
Get Screen Gab for weekly recommendations, analysis, interviews and irreverent discussion of the TV and streaming movies everyone's talking about.
You may occasionally receive promotional content from the Los Angeles Times.