How the American Music Awards tried to combat toxic masculinity
Pop Music Critic
At least this thing had its heart in the right place.
In an age of widespread awards-show overload, nobody looks to the annual American Music Awards — broadcast live Sunday night on ABC from the Microsoft Theater in downtown Los Angeles — for an authoritative diagnosis of what matters in pop music, never mind the larger culture that pop is supposed to reflect.
Unlike the Grammy Awards, the AMAs presents itself as a fan-voted event that recognizes the "favorite" over the "best" — which would be fine (maybe even preferable!) if those favorites didn't seem more often than not to overlap with whoever was willing to show up and perform.
Yet as the last major awards production of the calendar year, the AMAs also command an enviable platform, one that sometimes leads it to luck into significance.
In 2016 the show took place days after the election of Donald Trump, which led acts as diverse as Green Day and Idina Menzel to seize the opportunity to talk politics before an audience of millions.
This year's AMAs came amid unprecedented revelations of sexual harassment in the entertainment industry — a situation the show's host, actor Tracee Ellis Ross, grappled with straightaway in her welcoming monologue by describing a movement started by "brave women" to "own our experiences, our bodies and our lives."
And with performances by Pink, Kelly Clarkson, Christina Aguilera, Selena Gomez, Demi Lovato and the evening's lifetime-achievement honoree, Diana Ross, the 2017 AMAs promised an effective antidote to Hollywood's toxic masculinity.
"There's gonna be some men singing, too," Ellis Ross warned slyly at the top of the three-hour event. "Gotta get them in there, you know what I mean?"
Unfortunately, the performances themselves were too weak for the show to hit its target.
After a cold open that had Jamie Foxx musing on the "power of music to help us heal," the AMAs launched with Pink and Clarkson teaming for the first time to sing R.E.M.'s folky "Everybody Hurts." It was an intriguing choice for these two pop-soul blasters, but one they handled way too respectfully; the result was more dreary than moving.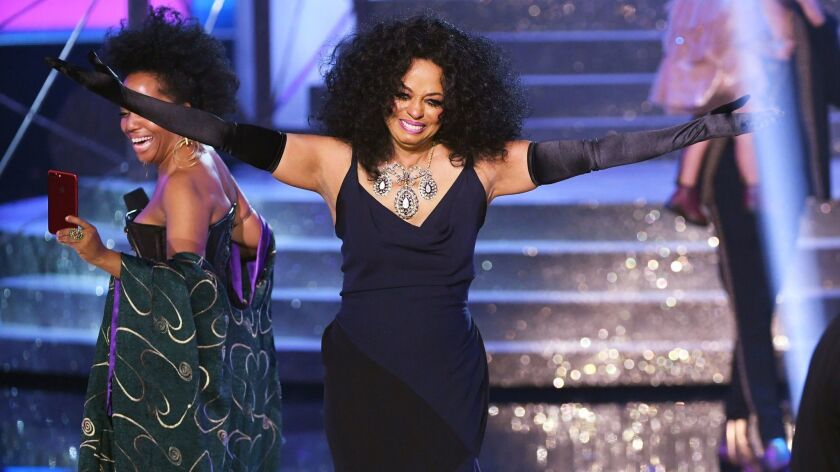 Aguilera looked more alive in a lengthy tribute to Whitney Houston on the (rather lightweight) occasion of the 25th anniversary of "The Bodyguard." Yet her vocals were extremely wobbly as she sang a medley that included "I Will Always Love You," "I Have Nothing" and "I'm Every Woman" — songs so big you could practically see the fear in her eyes as she approached their peaks.
Perhaps that's why Gomez appeared to be lip-syncing in a rendition of her appealingly goth-y new single, "Wolves," that had her writhing in an elaborate forest scene.
Speaking of elaborate, Pink turned up for a second performance in which she sang her song "Beautiful Trauma" while suspended by cables on the side of the nearby JW Marriott hotel.
The idea was undeniably cool — a kind of doubling-down on the aerial choreography Pink regularly does in concert. But the focus required to pull off the stunt took away from her ability to emote in the song.
And it didn't actually photograph that well, which made you wonder if all the trouble was really worth it.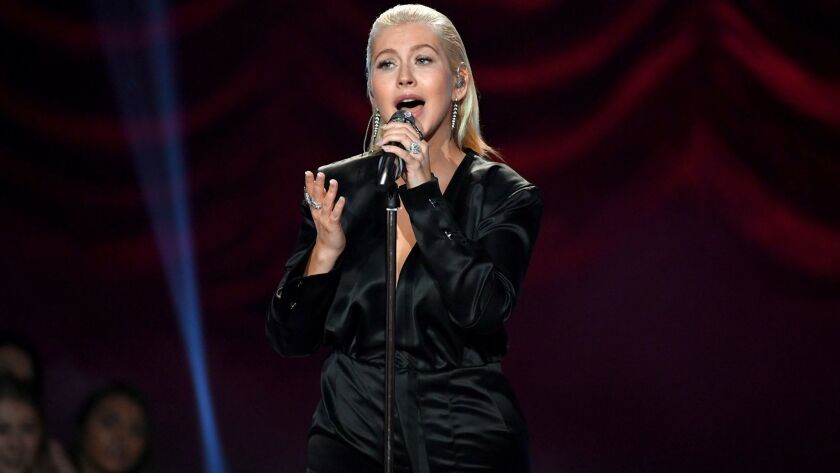 Other middling performances came from Alessia Cara and Zedd, who inexplicably retooled their EDM jam "Stay" as an acoustic dirge, and Lady Gaga, who beamed in via satellite from a concert in Washington D.C. to do "The Cure," the 7-month-old bomb of a single she's still trying to ignite.
A few of those dreaded men indeed made appearances, including Niall Horan and Macklemore, who did a weirdly enthusiastic Pitbull impression, complete with tight-fitting suit, in the very grim "Glorious." (Horan was named new artist of the year, while Gaga won favorite female pop artist and Bruno Mars took home artist of the year.)
That left Diana Ross to clean up, which certainly seems like a job this pop icon would be up to.
But if her so-so performance — another medley, of course, with hits like "I'm Coming Out" and "Take Me Higher" — left some vocal precision to be desired, you couldn't help but smile as she invited more than a dozen members of her family (including Tracee, her daughter) onstage to … well, it wasn't quite clear.
Were these excited folks presenting their mother/grandmother/aunt with her award? Were they saying a heartfelt thank you on her behalf?
Whatever was happening, the moment felt warm and true and good.
In this climate, that was almost enough.
Twitter: @mikaelwood
---
The complete guide to home viewing
Get Screen Gab for weekly recommendations, analysis, interviews and irreverent discussion of the TV and streaming movies everyone's talking about.
You may occasionally receive promotional content from the Los Angeles Times.