'Are You Serious' composer and performer Andrew Bird finally catches a little sunshine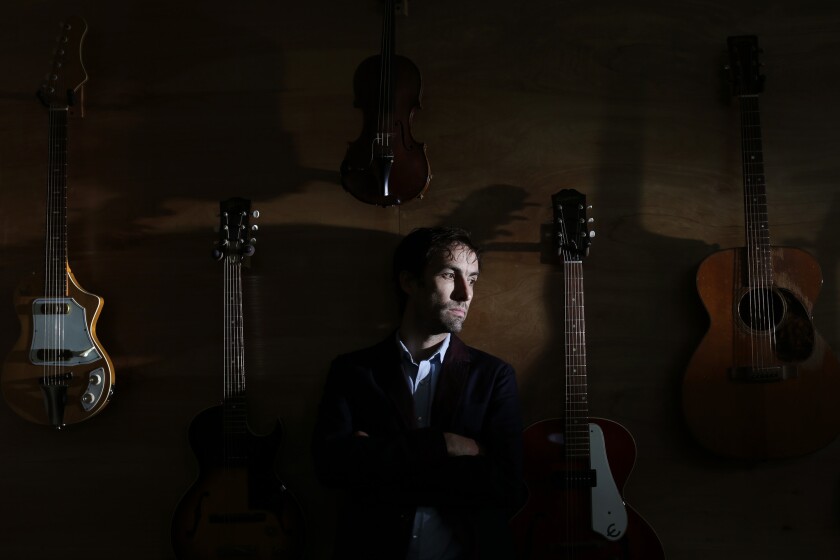 Over the last three years, the composer, violinist and singer Andrew Bird, his wife and their 4-year-old son have endured their share of trials. The experiences in part prompted Bird and his family to retreat to Los Angeles from New York a few years ago, he said while sitting at the kitchen table of their Los Feliz house.
Gruff with five-day stubble and wearing a tattered cardigan, Bird recounted a harrowing series of events that rose out of his wife's cancer diagnosis.
"She went through two surgeries and radiation treatment for which I had to take my son away from her when he was 1 for two weeks to keep him from getting exposed," he said. "Then we got kicked out of our apartment and moved up to the Upper West Side temporarily. Then we were just waiting until Obamacare kicked in so there wouldn't be the preexisting clause so she could move to L.A."
"Are You Serious," Bird's new album, tackles these travails with a notable directness. Recorded with producer Tony Berg and featuring contributions from guitarist Blake Mills, Fiona Apple and others, Bird's new record succeeds by injecting heavier tones and textures into the music without sacrificing the composer's personality.
Since his rise in 1997 fronting Andrew Bird's Bowl of Fire in Chicago, Bird has documented his experiences through albums that team sophisticated melodies with smart, often-biting lyrics. In 2014, he issued an excellent tribute to the country duo the Handsome Family, and his work can be heard as the theme for Zach Galifianakis' FX comedy "Baskets." Here is more from our conversation.
Can you describe the experiences that drove the creation of "Are You Serious"?
We had a patch of bad luck, just a run of probably the same bad luck that most people get at some point in their lives, but it went from having a baby right into my wife having thyroid cancer. It was this one long bout of New York City hospitals — like three or four years of triage. She's OK, but you know how just being pregnant can feel like a normal, natural thing that human beings do but also this scary, traumatic thing? That all kind of flowed — not really knowing what we're doing as young parents — then into this scary …
Worst-case scenario?
Something wasn't right. We were in this building in the West Village paying exorbitant rent, but it wasn't enough to keep the developers from trying to push us out so they could flip it for $5-million apartments. They had asbestos signs all over the building just to scare people out. So she got her diagnosis, we're trying to figure out what it means and we're getting forced out of our apartment. Then we had to evacuate for Hurricane Sandy. It was just a run of, "Holy …, we're being tested here," you know?
Did you write the album during this time?
We moved across country, and stopped at my family's farm in western Illinois for a week, just to catch our breath on our way out west. Visiting my folks at the family farm, that's when I spent every morning writing about 80% of the lyrics to this record. Every morning from 9 to 1, I would go into this sun room. I don't usually do it that way. Usually it's this long chipping away at something, but this was that sort of cliche of the emptying out all the stuff that's been backed up over the years.
Had you been writing about the experiences while they were going on, as well?
Yeah. The song "Puma" addresses a lot of that stuff fairly bluntly, for me. "She was radioactive for seven days," that's the chorus. That was based on something she said early on during the travails. We were walking through Central Park on the way to get these test results, and she said, "I'm afraid they're going to tell me that I'm a girl and not a puma," which I thought was a really odd but awesome thing to say.
It's hard to explain, but she's got a feline fixation, and she herself thinks she's part — we thought we were going to have a half-cat child. It was a running joke with us, but that was her way of dealing with the fear. When someone says something like that to you at a time like that, you remember it.
Have you gravitated toward a community of musicians in Los Angeles since you moved?
Yeah, and a lot of people from Chicago and New York have moved here in the last couple years, mostly to Altadena and those parts. Everyone was kind of an expat when we came here and were starting a family. Everyone was kind of in the same boat, so we found people to be more open. It was a pretty pleasant transition.
But mostly what I was enticed by was what I saw years ago, which was people like Tony, and Mitchell Froom: the producer-slash-musician that has the house with the studio in the back, and the family, and working normal hours and having dinner with their family. First, I was suspicious of it, years ago, because I'm used to Chicago, where "everything's got to be a struggle or I'm going to lose my edge."
I guess I was afraid of change so I was just telling myself, "Something's wrong with L.A. The plants aren't indigenous — there's something wrong with this." Everyone that I was meeting like Tony and his family seemed so — it all seemed kind of rosy, so I was suspicious of it. Now I've been through so much that I'm like, "Bring on the green lawns."
---
Inside the business of entertainment
The Wide Shot brings you news, analysis and insights on everything from streaming wars to production — and what it all means for the future.
You may occasionally receive promotional content from the Los Angeles Times.