As 'Yellow Submarine' returns to theaters, a closer look at the Beatles film that 'crossed generations'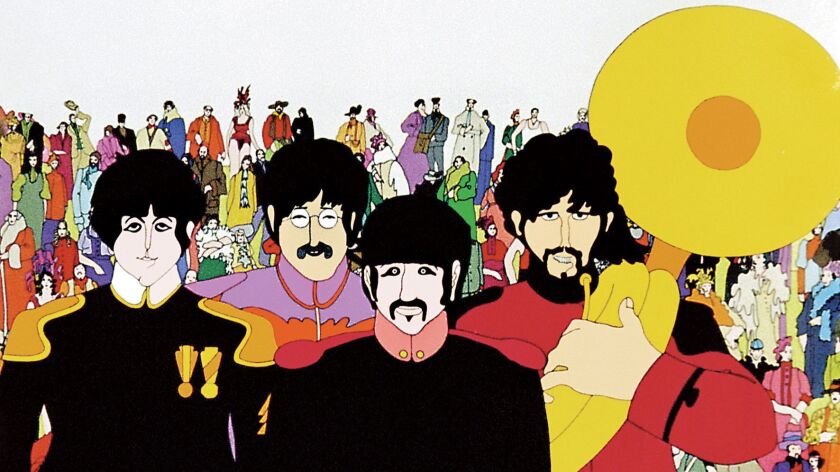 There aren't a lot of people who are handed the key to one of music's most beloved properties and told, essentially, to go have fun with it.
But that's pretty much what happened to audio engineer Peter Cobbin when he was given access to the Beatles' original master tapes to create new mixes of songs for an anniversary reissue of the band's colorfully inventive 1968 film "Yellow Submarine," the animation classic that will embark on a 50th-anniversary theatrical run with its recent 4K restoration on July 8.
"What a thrill to be listening to the material on the original tapes," said Cobbin, an Abbey Road Studio engineer who first got involved remixing more than a dozen Beatles songs for the 1999 re-release of "Yellow Submarine."
"I'm also a musician," he said by phone from London recently, "and there aren't many people in music who wouldn't like to engage in the world of the Beatles."
Two decades ago, Cobbin recalled, the world of surround sound audio for film was relatively young. Yet he was charged not only with creating a stereo mix for the film's soundtrack, which originally was in mono, but he also had the task of coming up with a 5.1-multichannel version that could be shown in theaters as well as enjoyed by the relative few consumers who had surround sound systems at home at that time.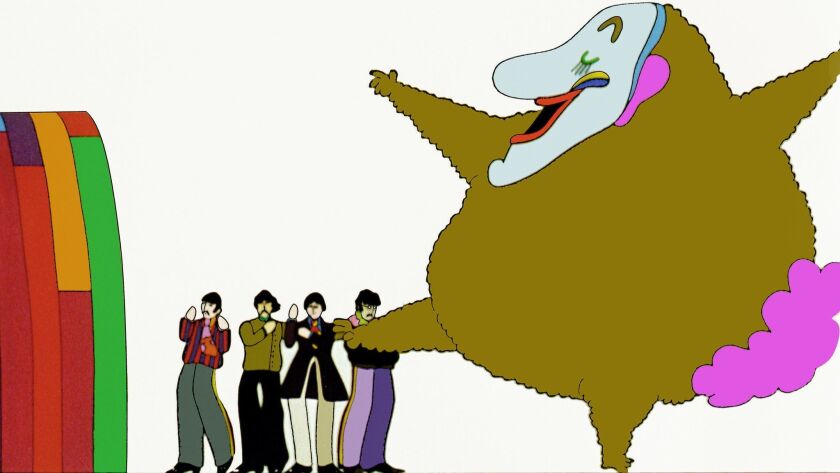 The rights to the film, created by members of the same team that made the Beatles TV cartoon series that aired for three seasons on ABC-TV from 1965 to '67, belonged then to MGM/UA, which was interested in celebrating the movie's 30th anniversary.
The group members were voiced by actors rather than the Beatles themselves, as also is the case for the "Yellow Submarine" film. The movie was directed by George Dunning, who also had worked on the TV show.
Tinkering in the late '90s with the sound of cherished Beatles recordings was a potentially daunting assignment, especially since Cobbin knew that final approval would come down to Paul McCartney, Ringo Starr, George Harrison, who died in 2001, and John Lennon's widow, Yoko Ono.
"Finally when everyone [at MGM/UA and Apple Corps, the Beatles's company] were feeling pretty good about it, the big day came when the Beatles came in to listen to it," Cobbin recalled. "That happened in the early stages of 1998.
"Despite some trepidation — we were all a little nervous about it — it was a wonderful afternoon," he said. "Ringo was there, Paul and Linda were there, George was there, and Yoko was there.
"It was one of those days I'll just never forget," he said. "The amount of enthusiasm they all had was just unbelievable. Ringo just couldn't get over the detail of hearing things he'd never heard in the old recordings…. They'd never heard things remixed before, let alone in a surround sound format. We got the big thumbs-up, the validation by the people who had created it."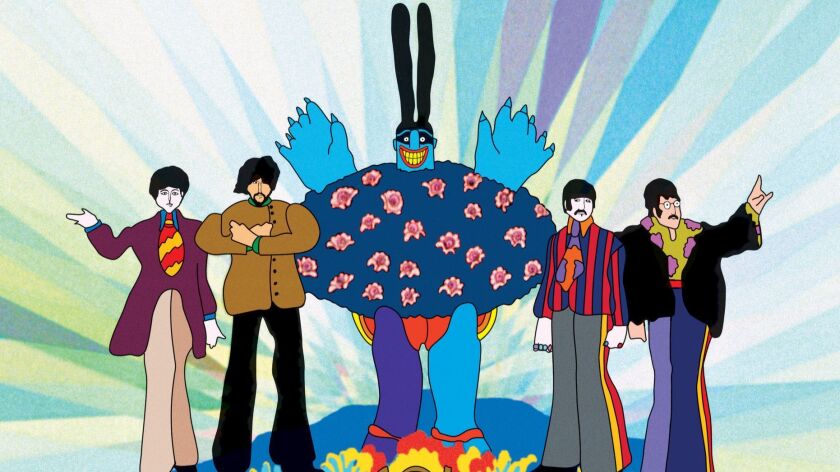 Contemporary audiences will have the chance to experience the remixed music as well as the 4K digital restoration of the film itself that was done in 2012 for the DVD/Blu-ray home video release. The original was restored by hand, frame by frame, rather than using automated software.
The success of the 2016 Ron Howard documentary "Eight Days A Week" helped whet theater owners' appetite for Beatles-related content, according to Richard Abramowitz, whose Abramorama distribution firm is handling the "Yellow Submarine" engagement as it did with Howard's film.
In that case, what started as one- or two-week engagements in several dozen theaters was extended several times and expanded to hundreds more theaters as enthusiasm spread for the well-regarded look at the group's legacy as the world's most popular live act in the mid-1960s.
Abramowitz isn't necessarily expecting the same level public response to this 50-year-old film but nevertheless said, "There is huge demand for it.
"Part of our job — as with all the music films, even more so because it's the Beatles — is to curate the theaters. Our motto is 'No empty seats.' We're not about saturating the marketplace, but we are giving interested people many options. We want it to be accessible and available without being omnipresent."
"We're counting on an audience of at least three generations who are going to want to experience it in theaters," Abramowitz said.
For Cobbin, the mission with the sound of "Yellow Submarine" songs — a roster that includes not only the title track but "Sgt. Pepper's Lonely Hearts Club Band," "Eleanor Rigby," "Lucy In the Sky With Diamonds" and "All You Need Is love," among the 15 cuts used in the film — was to channel the same sense of experimentation that went into the inventive animation.
"The big question was can we make it sound like the Beatles," he said. "Let's not deviate [from existing mixes] so much that we alienate hardcore fans; at the same time it's an opportunity to really push the boat and experiment. That middle ground was something we just always felt like we were trying to negotiate."
In fact, the balancing act required more time than anyone originally thought and pushed the 30th-anniversary release from 1998 into 1999.
"As I recall, even the word 'playful' was definitely mentioned," Cobbin said. "We tried to imagine that if they had access to some of the technology we have today, what would they do? That was the hallmark of their recording career, and you can hear it wonderfully from album to album, their sense of experimentation, their willingness to try new things."
A half century after "Yellow Submarine" had its premiere, Cobbin suggests that "I think it's one of those films that crossed generations. I'm still surprised at how many young people today show an interest in it. With all the things that have been written about the music, the ideas, the animation, the colors, the psychedelic aspect, it's something that holds up incredibly well. Probably even more so now that there's a genuinely good restoration of the animation."
He's referring to a painstaking process in which the film was restored by hand for the 4K restoration to retain the original character of the animation.
"It's really quite a simple story," he said, "but it is told using a really rich cloth, this tapestry of wonderful almost surrealist pop animation. It's definitely something from the '60s, but it feels no less interesting today."
Follow @RandyLewis2 on Twitter.com
For Classic Rock coverage, join us on Facebook
---
The complete guide to home viewing
Get Screen Gab for weekly recommendations, analysis, interviews and irreverent discussion of the TV and streaming movies everyone's talking about.
You may occasionally receive promotional content from the Los Angeles Times.