Review: Hollywood Bowl's 'Beauty and the Beast' highlights the enduring power of the film's music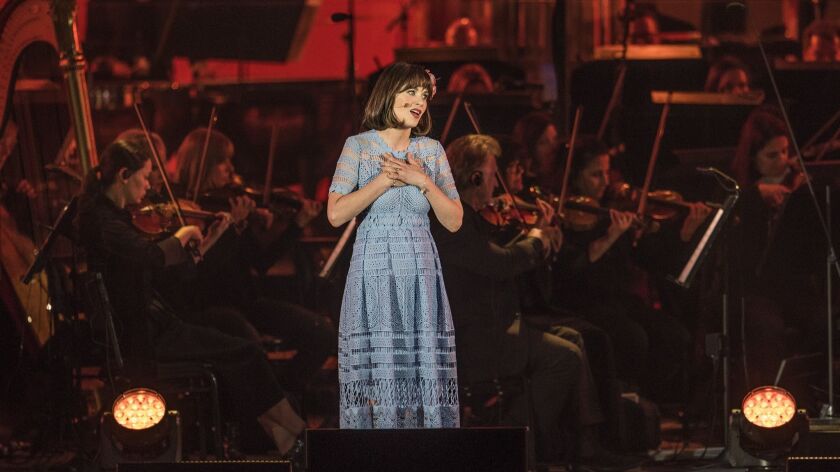 Considering the fairy tale is only a year removed from a live-action update, a Hollywood Bowl restaging of Disney's animated "Beauty and the Beast" could have come off as nostalgia overkill. Or worse, it could have shined a light on some of the 1991 film's more unsavory aspects — plot points that would surely crumble under 2018's long overdue, more progressive mode of criticism.
And yet neither happened.
Sure, the Instagram-ready photo ops at the front of the Hollywood Bowl, such as a giant inflatable rose, were designed to evoke warm feelings by simple association, and no doubt modern audiences may cringe at just how vicious the Beast treats Belle in the first half of the film, but the Richard Kraft-directed Hollywood Bowl production ultimately highlighted how this peculiar woman-beast romance endures.
That credit largely goes to composer Alan Menken and the late lyricist Howard Ashman. Menken's restrained, elegant score and Ashman's pointed, efficient words provide a lesson in economical and emotional storytelling. With just six core songs in the original film — a pair of additions were made for the Bowl performance — the music manages to not only propel the story forward with a deftly light touch but also make this whole fairy tale seem plausible.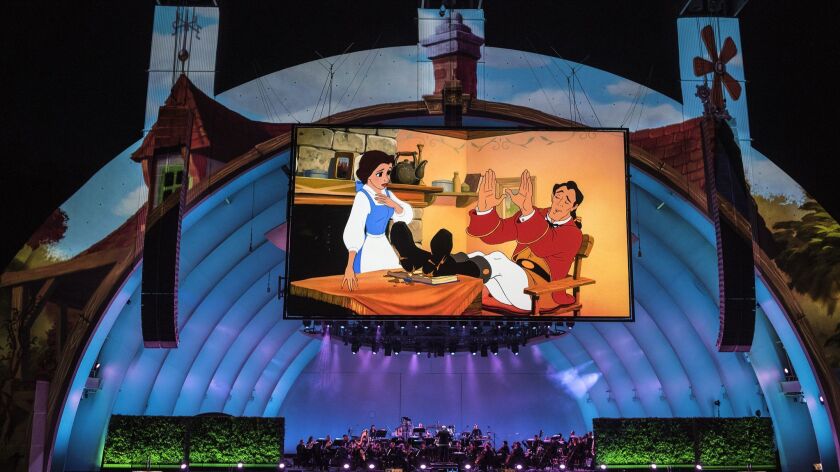 Ashman's lyrics in particular had an ability to hint at an entire universe with rather direct simplicity. Belle's closing statement of "I want so much more than they've got planned" in the film's spryly ambitious and classical-leaning opening number immediately turned her into a generational heroine by establishing her steadfastness and independence. If Ariel of 1989's "The Little Mermaid" was reckless in her acts of rebellion, Belle was more reasoned and determined in her ambitions.
Later, via the film's powerful ballroom waltz and namesake number, Ashman managed to articulate practically the entirety of the film's themes — and those of life — with a simple phrase, "Bittersweet and strange / Finding you can change / Learning you were wrong."
The orchestra, conducted by Michael Kosarin, stayed close to the original arrangements, but the casting allowed for some character embellishments. Zooey Deschanel is a lovingly understated vocalist, possessing a casual confidence that leant a sense of optimism to Belle — a handy trait in furthering to articulate Belle's curiosity into the history of her captor. She's also well-suited for the world of Disney, owning a classically timeless approach that wouldn't be out of place if she were heard singing on Main Street, U.S.A.
A trickier role fell to Anthony Evans, who as Beast had to use song to illustrate that there's a decent human hidden inside. Though Beast only has a few lines to sing in the animated film during the excited and inquisitive "Something There," in which Belle and Beast attempt to sort out their confusion at their budding crush, the Bowl show resurrected "Evermore" by Menken and Tim Rice, from last year's film.
In that live-action retelling it's given a stately and orchestral reading, which overly emphasizes the Beast's existential crisis. But Evans, known to many in the audience for going deep on "The Voice," has a long background in gospel music and thus his intrepretaiton felt far less overbearing.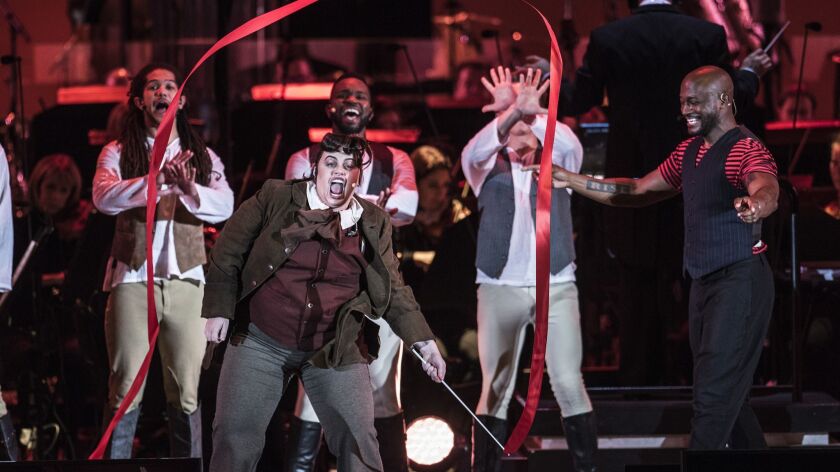 The success of "Beauty and the Beast" lies in the music's ability to allow the audience to believe Beast isn't just a selfish, horrible monster — simply the opposite end on the villain spectrum of Belle's would-be suitor Gaston, a pompous bully with regressive views of femininity. Evans succeeded, as his earnestly passionate take gave the Beast some soul.
While the Bowl's takes on Disney classics aren't necessarily overly refined affairs — Kraft and his producing partner Laura Engel helped bring "The Little Mermaid" and "Tim Burton's the Nightmare Before Christmas" to the Hollywood venue — what they lack in Broadway finesse they make up with in personality.
Witness Stephen Van Dorn whistling the tune from "Steamboat Willie" that introduces Disney's animated films, or Broadway veteran Marissa Jaret Winokur bringing some self-referential humor to her role as a talking wardrobe. Her song, "Human Again," was cut from the original animated release, but later resurfaced in a special edition and on Broadway. Here it was a goofy solo number about what life would be like to not be constructed of drawers.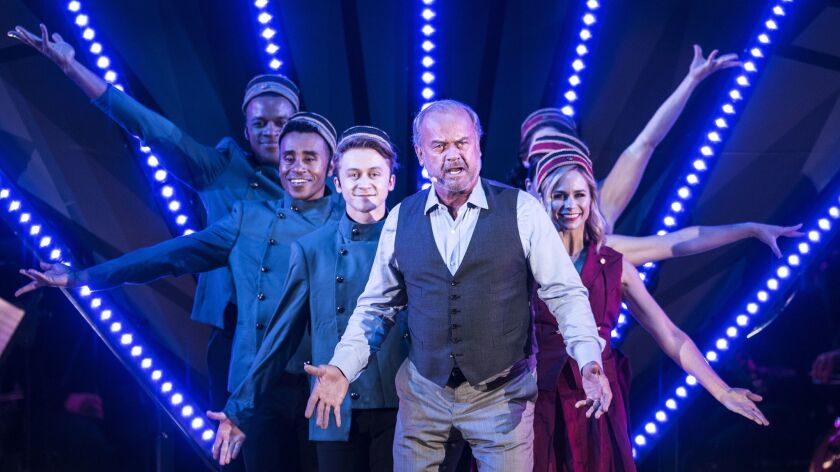 Kelsey Grammer was having fun with the exaggerated French accent of Lumiere, and Jane Krakowski brought a content, it-will-all-work-out knowingness to Mrs. Potts. Rebel Wilson, of "Pitch Perfect" fame, was a hoot as a cross-dressing LeFou, who turned the bumbling of the male character in the film into sarcastic comic relief.
Though she still played LeFou as a goofy friend of Taye Diggs' sternly overconfident Gaston, her natural hyperbolic rancor implied she knew he was something of a buffoon.
The unsung hero, however, of all the Bowl's takes on Disney films remains the newly created animation, projected around the venue's shell to add a tinge of theme-park immersion to the proceedings.
The newly created scenes — Kraft has said about 90 minutes were cooked up for this performance — gave viewers a deeper look at Belle's home, the town tavern adorned with tributes to Gaston and the stonework of Beast's castle, among others. They also provided some light screwball action during scenes of commotion. Fans of old-school Disney animation would be forgiven for never taking their eyes off the projections.
Menken closed the night with a brief rendition of "Beauty and the Beast" and the live-action film's "How Does a Moment Last Forever." Yet a question in the latter — "How can a story never die?" — had already been answered. Disney will never let it, of course, but a good showtune doesn't hurt, either.
Follow me on Twitter: @toddmartens
---
Your essential guide to the arts in L.A.
Get Carolina A. Miranda's weekly newsletter for what's happening, plus openings, critics' picks and more.
You may occasionally receive promotional content from the Los Angeles Times.