Brent Faiyaz on Sonder's origins, album 'Sonder Son' and why he only spent 20 minutes at the Grammys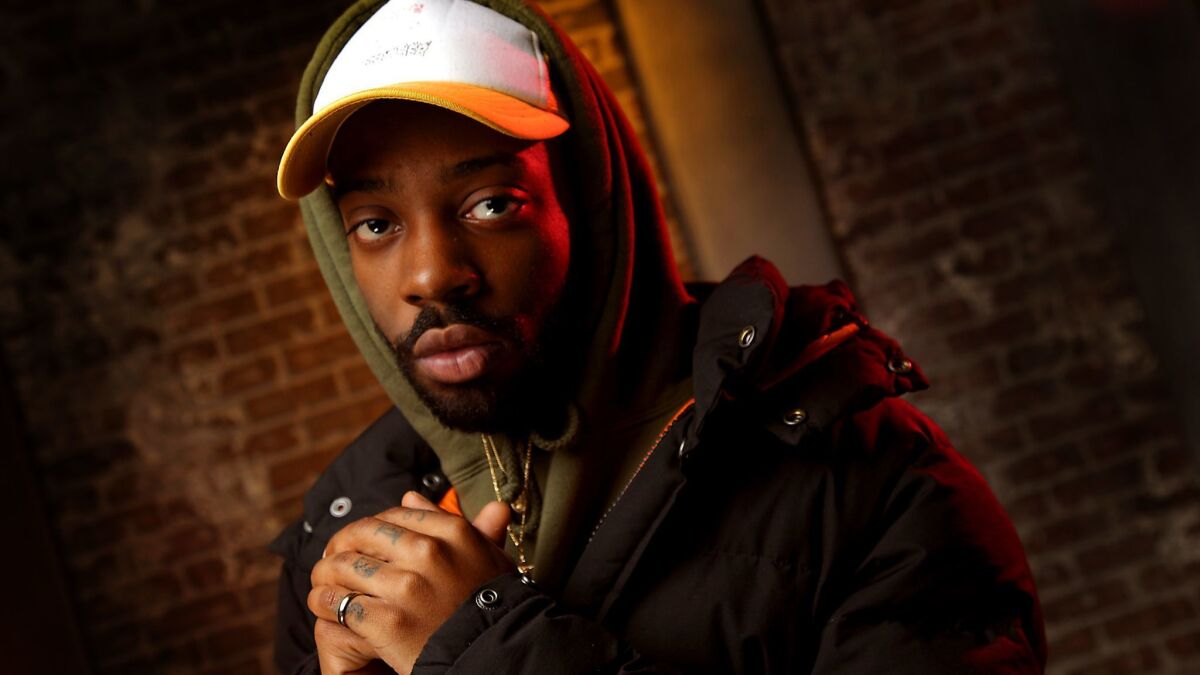 It's not an uncommon practice for musicians to get tattooed to mark the completion of a new album — a trend embraced by the likes of Justin Bieber and Lady Gaga, among others. But for R&B singer Brent Faiyaz, inspiration for his 2017 debut "Sonder Son" came from ink that he already had.
The neologism "sonder" is tattooed above his right eyebrow, and it would become the name of the R&B trio he'd lead with producers Dpat and Atu as well as part of the title of his debut album.
"The main reason we started Sonder and released it under that name was because if we were to say 'Dpat and Atu with Brent' it just wouldn't sound as good," Faiyaz explained recently over lunch in downtown L.A.
But why the tattoo?
The word represents the realization that each random passerby is living a vivid and complex life, and it resonated with the now 22-year-old enough to inspire the spontaneous face tat. "I was like, 'Damn, that ... hard,' so I got it tatted," Faiyaz said.
"We were thinking of names for the longest time. I think it was Dpat who was like, 'Hey man, me and Atu were thinking that we kind of want to use 'Sonder.'"
That plan did not sit well at first.
"I was like, 'Nah man, get the hell out of here,'" he recalled. "'I got this tatted on me … I just met ya'll. If we start beefing or something then I'm stuck with this forever!'"
Eventually, the lack of a better option would force him to give in. Hence the birth of Sonder, a collective that combines Dpat and Atu's atmospheric production with Faiyaz's buttery smooth vocals.
Last October, fresh on the heels of the first Sonder tour, Faiyaz released his solo debut: the critically acclaimed "Sonder Son," a sonic testament to his struggles in school ("Gang Over Luv"), the rat race ("First World Problemz/Nobody Carez") and aspirations of making it in the industry ("L.A.").
"It's one of those albums that take a whole lifetime to write," he said. "I mean, we did it fast, but I think it's because a lot of inspiration for the album was from a long time ago. So it was easy to put together a project so quickly when it's a record about your whole introduction."
Faiyaz and his team decamped to the Dominican Republic in summer 2017 to work on it.
Faiyaz, whose father is part Dominican, chose Puerto Plata in an attempt to get acquainted with his roots. "I'm mad disconnected. I don't speak no Spanish, none of that," he admitted.
"Prior to me going there, no lie, I thought it was going to be some vacation," he said. "But I get there and fresh off the plane we see kids walking around barefoot and people getting around on mopeds. And I'm seeing what kind of trip this is going to be."
The rampant poverty Faiyaz witnessed was a culture shock.
"It kind of affected the whole concept of the album," he said. "There's a lot of ideas that I had prior to the trip that I scrapped once I got there. The [stuff] I thought was important to me really wasn't important no more."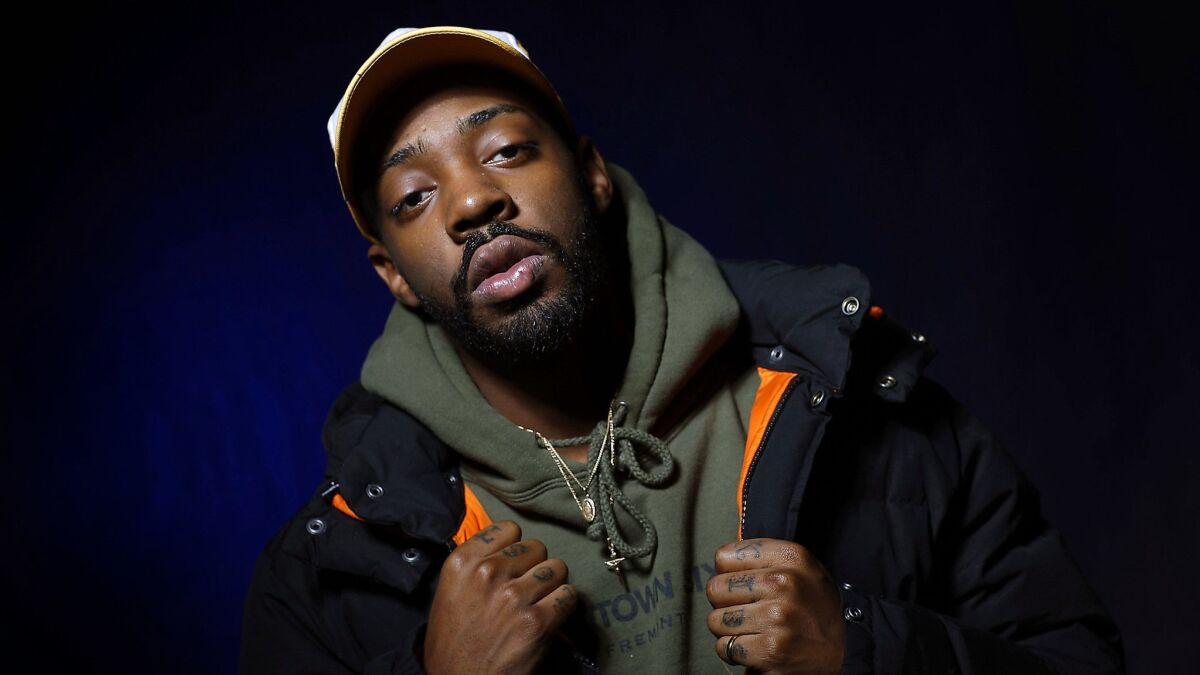 Born Christopher Brent Wood, he took the name Faiyaz from a "Muslim homie" who told him the word means "artist" in Arabic. He lived briefly in Baltimore before relocating to Columbia, a city in the Baltimore area where he grew up. "There's not much to do [there]," he said. "It was a lot of riding around, smoking. Posting up places."
In high school, the notoriously bad student found a creative outlet in music. Though he was initially drawn to rap, Faiyaz soon realized he had a knack for singing.
"I could always sing just playing around, but I ain't want to be no singer," he said. "I thought that was lame. Before anything, I wanted to be a rapper. I used to make beats and I would start singing to layer my beats and that's kind of how I realized I could sing."
It was a game-changing revelation. "Rapping was kind of hard. It's so many words. When you sing you can kind of stretch the words out. I didn't have to write as much as everybody else."
Plus, people are less inclined to take you seriously if you introduce yourself as a rapper, said Faiyaz.
"Everybody raps now," he said with a shrug. "If you tell somebody that you make music they're all interested. But when you say you rap, they just start rolling their eyes at you. It would've taken me a lot longer to get my foot in the door if I'd continued rapping all the way.
"Now that I think about it, the whole reason I was so bad in school was probably because I always knew I was going to do music. I didn't want to do schoolwork but I was like, I can do this."
The artist had his first taste of commercial success with a feature on rapper Goldlink's hit "Crew," which earned a Grammy nomination for rap/sung performance.
"Me and Goldlink knew of each other because we come from the same area," said Faiyaz of the D.C. rapper. "Initially when we got in the studio and did it, I didn't think it was going to be that."
The song went platinum and spent 21 weeks on Billboard's Hot 100 singles chart. It also earned Faiyaz an invite to this year's Grammy Awards, though he only stayed at the ceremony for 20 minutes.
"I feel like a nomination or anything like that is like a plus," he said nonchalantly. "It's cool, that's press. But as far as actually winning anything, I don't care."
One of the ways Faiyaz hopes to make an impact is by remaining completely independent, at the behest of more experienced people in his corner.
"I like the control," he said of his independent status. "I like being able to put [music] out when I want to put [music] out. Not have to go through a million and one people when I got some things that I want to get signed off on. I can look in the mirror and be like 'This is what we are going to do' and that's just how it gets done. But I think long term it's going to mean so much more."
follow me on twitter @sonaiyak
---
Get our L.A. Goes Out newsletter, with the week's best events, to help you explore and experience our city.
You may occasionally receive promotional content from the Los Angeles Times.