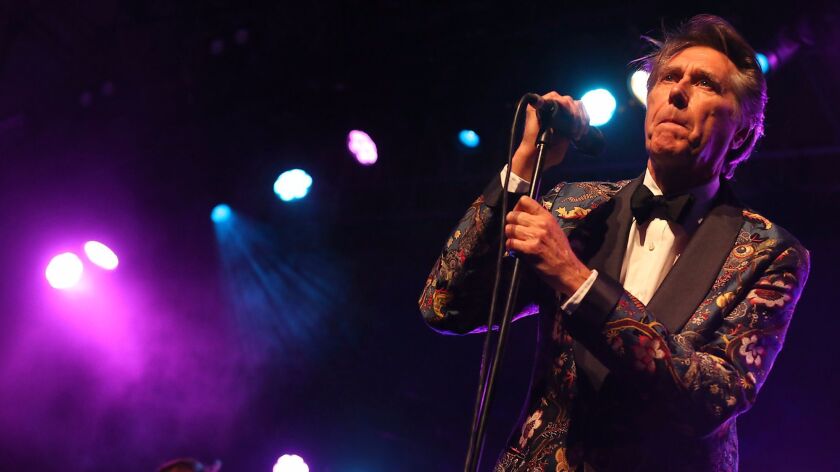 The Hollywood Bowl has long been a place to see what are now called legacy acts — often a term that's a polite way of saying old and critic-proof.
But in the case of Bryan Ferry, who this weekend is making his Cahuenga Pass debut, the Los Angeles Philharmonic has invited not only a major artist but also a wildly protean one: While there are better and worse periods in the man's career, the good to great chapters in his story outweigh the forgettable ones.
From his early years as the leopard skin-clad leader of Roxy Music — the glam-rock band he founded with the shape-shifting Brian Eno — through his mellower, dance-driven work in the '80s and '90s, to recent one-off LPs devoted to the songs of Bob Dylan or 1920s jazz, Ferry says his stylistic restlessness has kept him alive.
"It made my career interesting to me," he says via phone. "I guess I like lots of different kinds of music: not only jazz but the Beatles, all those English groups. And I loved the stuff that was influencing the English groups — all the R&B."
And while Ferry can name nearly every member of Duke Ellington's front line, his favorite Charlie Parker record (the often-scorned "With Strings") and what he likes in a bass player, he's nearly as motivated by visual art as he is by music.
Art rock has produced some tiresome hybrids, but Ferry — a laborer's son from the mining country of England's northeast — has employed his art training more fruitfully. He credits his Newcastle University mentor — English Pop-art pioneer Richard Hamilton, who designed the Beatles' "White Album" — with some of his musical restlessness.
"The fact that he sort of stylistically jumped around was very interesting to me," he says. "It was ideas art as well."
Though he's best known for a kind of smooth, ironic, world-weary croon, Ferry, who turns 72 next month, should also be recognized as one of the most catholic and complex artist the rock era — whatever that is — has produced.
Speaking with Ferry is a bit like meeting a distinguished, slightly shy, septuagenarian theater actor relaxing backstage and trying to rest his voice. Any touch of working-class or Newcastle accent is gone; he now sounds like the countryside-loving, Bloomsbury Group-fancying Tory he's become.
His decision to become a professional singer came after seeing Otis Redding at a Stax/Volt show in London: "That was a bit of a turning point for me — the first really powerful R&B concert I'd ever seen. He had such an incredible band — they'd take you through all the emotions, which is quite a challenging thing to do."
Ferry's most famous band, though, had little in common with '60 soul or the Beatles.
When Roxy Music began releasing albums in 1972, the act seemed to be visiting from another planet. "Science-fiction images came up a lot when Roxy Music arrived on the scene," music historian Simon Reynolds writes in "Shock and Awe," his recent glam-rock chronicle. "But so did images of bygone glamour."
Even as David Bowie was entering his most inventive phase, Roxy songs like "Virginia Plain," "Editions of You" and "Mother of Pearl" sounded bracing and strange in their combination of louche nostalgia and sleek futurism.
Ferry describes the initial stage of the band as "a kind of shared adventure that we could explore." Guitarist Phil Manzanera would "find all these weird sounds, and then Brian Eno would sort of treat those sounds."
Saxophonist Andy Mackay, meanwhile, imported a style from classical music. That incarnation of the group wouldn't last long. Despite his reputation for dating models, Ferry got tired and jealous of the gangly Eno getting more girls than he did. He fired Eno in 1973.
But the band got even stronger afterward with its "Country Life" and "Siren" records, which explored love and sex more explicitly, through both cover art and songs like "All I Want Is You" and "Love Is the Drug."
After Roxy broke up with 1982's "Avalon" — perhaps the decade's preeminent make-out record — Ferry returned to a solo career that had actually begun a decade earlier with the strange and wonderful "These Foolish Things" album.
The work, like several of his solo records, was a collection of covers — Lesley Gore's "It's My Party," Smokey Robinson and the Miracles' "The Tracks of My Tears," along with the 1936 title track. (A recording of a 1970s London concert in support of the solo debut will be released next year.)
Despite his biggest chart hit with 1985s smooth, dancey "Boys and Girls" LP, his efforts as an interpreter of others' songs may mark Ferry's most enduring post-Roxy work.
"It can sometimes be quite fun to do a cover song," he says. "If it's a new song that you're doing — of your own — for the first time, it can be quite pressured. But if it's a song you've loved for years, it can be quite interesting to approach it from a new angle, in the way jazz players do. They put their own artistry into it."
In addition to Roxy's sole No. 1 single — a cover of John Lennon's "Jealous Guy," released shortly after the Beatle's murder — Ferry has sung prewar standards (the entire "As Times Goes By" LP), the Rolling Stones ("Sympathy for the Devil"), Willie Nelson ("Funny How Time Slips Away") and an entire disc of Dylan.
In 2012, inspired by his love for both early Louis Armstrong and F. Scott Fitzgerald — whose collection of lost stories he's brought with him on tour — he recorded an album, "The Jazz Age," covering himself, giving old Roxy songs an instrumental treatment as bandleader of the Bryan Ferry Orchestra.
Most recently, he has recorded some still-unreleased songs for a German television series about Weimar Berlin. For a musician who has always been part pop artist, part actor, all these excursions make a strange kind of sense.
Saturday's show, during which Ferry will be accompanied by the Hollywood Bowl Orchestra, will allow him to range across his career, with some emphasis on the music from "Avalon," now marking its 35th anniversary.
Overall, says Ferry, a lot of what's happened in his career has been an accident.
"One album would lead to another," he says. "You'd always try to do something a little different. So you'd find yourself going down some unexpected avenues you didn't know were there. I don't know, it was making it up as you go along. 'Well, this will add something to my body of work, I hope.'"
♦ ♦ ♦ ♦ ♦ ♦ ♦ ♦ ♦ ♦
Bryan Ferry with Cécile McLorin Salvant
Where: Hollywood Bowl, 2301 N. Highland Ave.
When: 8 p.m. Saturday
Cost: $17-$196
Info: www.hollywoodbowl.com
Follow me on Twitter: @toddmartens
---