Review: In its tour opener, BTS disrupted the whole idea of boy-band masculinity
Pop Music Critic
The seven dreamboats of BTS hit the stage at Staples Center on Wednesday night with some serious wind in their sails.
In May the boy band from Seoul topped Billboard's album chart with "Love Yourself: Tear" — a first for an act from Korea's busy K-pop scene. Then BTS quickly did it again: This week the group is back at No. 1 with another record, "Love Yourself: Answer," which repackages previously released material with new tracks including a boisterous collaboration with Nicki Minaj.
Wednesday's concert, the first of four sold-out dates here, kicked off a North American tour set to run through Oct. 6, when BTS will play a baseball stadium in New York.
So you could understand why these guys took a moment not long into the show just to stand there and quietly soak in the adulation of their extremely unquiet audience.
When you're moving as fast as BTS is, you have to seize stillness wherever you can.
Part of the frenzy over this group — a carefully managed product of one of K-pop's most powerful entertainment companies, Big Hit — is indistinguishable from reactions to earlier boy bands like 'N Sync and the Jonas Brothers (not to mention the Beatles and the Jackson 5).
Catchy, genre-hopping tunes — songs that move from swinging R&B to surging club music to rowdy hip-hop to moody emo — and handsome faces are baked into the enterprise; ditto the expensive merch that makes fans feel like they're buying into an exclusive club.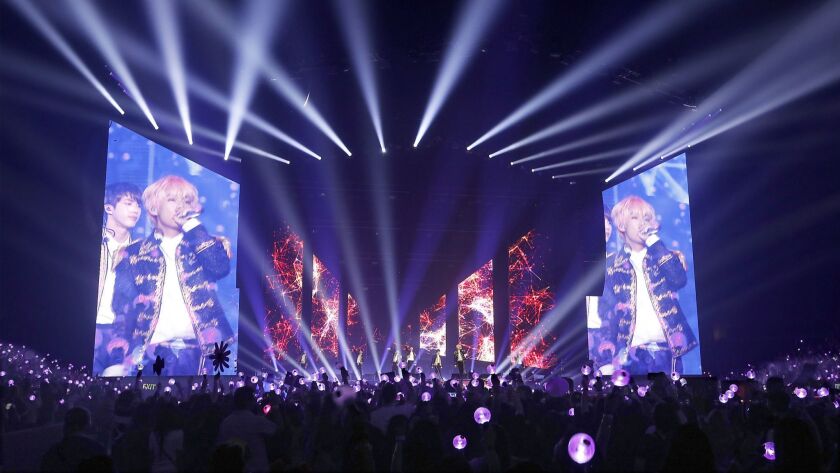 At Staples, Bluetooth-equipped light sticks were going for $55 each — a small price to pay for the sense of inclusion the device provided when it blinked in time to the music.
Yet the success of BTS — and many of the group's savvy aesthetic decisions — are also tied indelibly to the shifting social mores of the current moment.
For starters, there's no discounting the space that "Despacito" cleared in the American mainstream last year for pop songs not sung in English.
BTS, with sleekly textured songs mostly in Korean, hasn't yet established a meaningful presence on American radio. Like "Despacito" at the beginning of its historic run, though, the group is connecting on social media and on streaming services, where traditional gatekeepers wield less control.
Just as important is BTS' thrillingly evolved presentation of gender, which was on full display Wednesday along with its liberated approach to genre.
Boy bands have long toyed with ideas about masculinity, of course. You don't get to Harry Styles waving a rainbow flag onstage as a solo artist without the years he spent enacting various dude-ly behaviors in One Direction.
But in concert BTS, whose members never talk about sex (when they talk about their personal lives at all), seemed entirely unshackled by the old ways of thinking.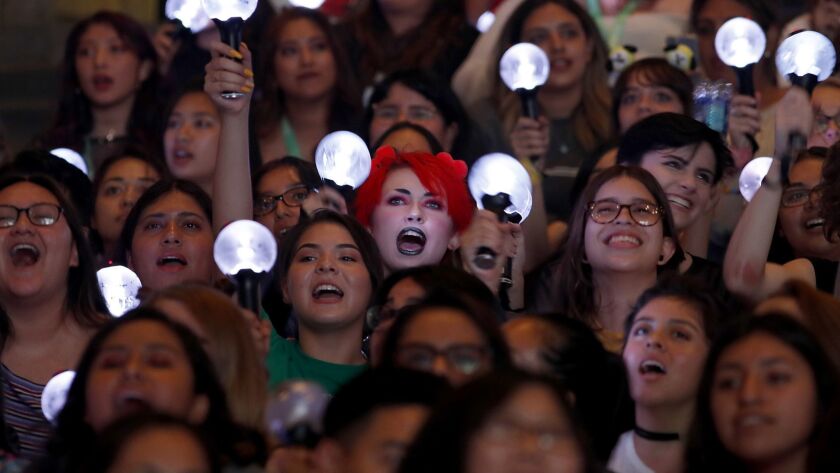 The singers — RM, J-Hope, Suga, Jin, V, Jimin and Jungkook — started the show in black-and-gold matador outfits and later changed into frilly white blouses; they appeared in interstitial videos that had them sniffing pieces of fruit and jumping on beds and sizing up one another's muscles.
But they also wore baggy tracksuits and struck tough-guy poses like blustering MCs from the early 1980s.
And though they performed plenty of luscious ballads — "Singularity," a showcase for the pink-haired V, was almost impossibly breathy — the concert had moments that could recall the Chainsmokers' bro-friendly EDM or the crunching rap-rock of Linkin Park.
The effect was a welcome disruption of what we expect a male heartthrob to look and sound like — a radical cultural act made only more encouraging by how enthusiastically it was received by the diverse crowd inside Staples Center.
Indeed, as altruistic as BTS may be in its ambition to open minds, the executives at Big Hit probably wouldn't mount this kind of production if its message weren't in keeping with a growing embrace of gender nonconformity.
But that attentiveness to fashion is a crucial principle in show business, as these hard-working idols know better than most.
Wednesday's gig ended, after a highly aerobic encore in which BTS sang the thumping "So What" (about being "young and wild and free"), with another moment of stillness as the members stood onstage panting and waving goodbye to their fans practically one by one.
Only this time the admiration seemed to be flowing in both directions — an exchange of pride both personified and commodified.
Twitter: @mikaelwood
---
The complete guide to home viewing
Get Screen Gab for weekly recommendations, analysis, interviews and irreverent discussion of the TV and streaming movies everyone's talking about.
You may occasionally receive promotional content from the Los Angeles Times.