Review: Cardi B, off-the-cuff as always, proclaims: 'I ain't going to jail' at Staples Center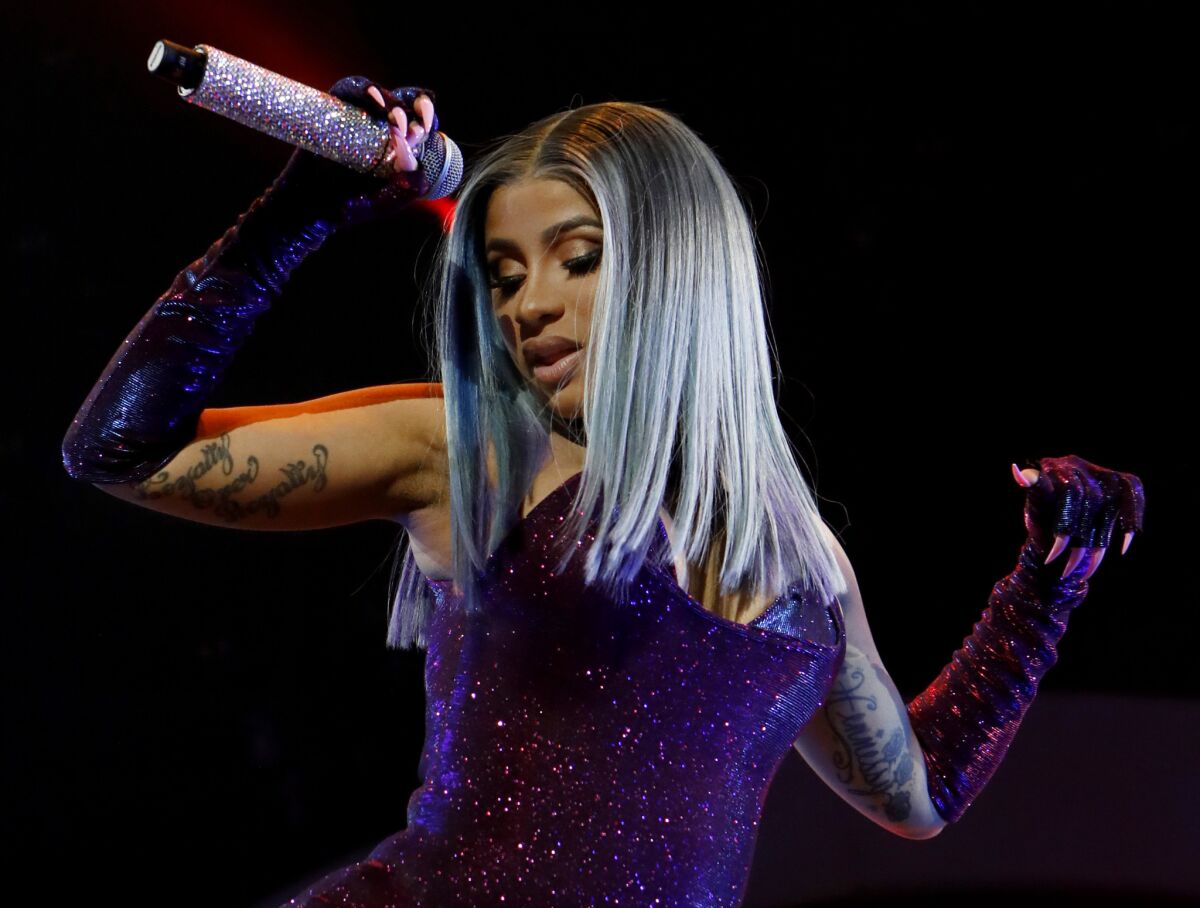 Pop Music Critic
Cardi B makes clear in her latest single how she's feeling these days about engaging with the professional news media.
The song is called "Press," and its chorus finds this wildly popular rapper — an object of intense scrutiny since she broke into the pop mainstream two years ago — repeating that word over and over, each time more irritated than the last: "Press, press, press, press, press," she growls, "Cardi don't need more press."
So it shouldn't have surprised anybody that when she was ready to publicly address her indictment last week on felony criminal charges, Cardi B didn't sit down with Gayle King in a carefully lighted hotel room. Instead, she took up the matter onstage at Staples Center.
"I ain't going to jail," she declared near the end of her sold-out concert Saturday night. Then, as in "Press," she tried out the optimistic phrase a few more times, only here with increasing exuberance; soon, much of the capacity crowd was chanting along with her.
It wasn't the way many of her peers would respond to charges of attempted assault in relation a 2018 brawl at a strip club in New York. But the outburst was perfectly on-brand for pop's most off-the-cuff superstar, a naturally skilled communicator whose success might have less to do with her music than with her ability to make her fans feel as though she's speaking directly to them.
She was essentially doing just that in her early days, when the former stripper from the Bronx began building an audience by posting charming and hilarious videos on Instagram. As her fame has quickly grown, though — fueled in part by chart-topping tunes like the menacing "Bodak Yellow" and the thoroughly festive "I Like It" — Cardi B, now 26, has held on to that feeling of intimate spontaneity.
At February's Grammy Awards, where she became the first woman to win rap album as a solo act, she admitted her nerves were getting the best of her. "Maybe I need to start smoking weed," she added — another example of her flair for undercutting the formality of an important moment.
Indeed, for all the anger she summons in "Press," you get the sense that Cardi B isn't mad that folks are curious about her newly rarefied celebrity existence, including her rocky marriage to Offset of the rap trio Migos. What annoys her are the reporters she thinks are trying to tell her story for her.
Her typically frank handling of the news of her indictment wasn't the only such pronouncement in Saturday's show, which also featured unremarkable performances by Migos, Lil Yachty and Trippie Redd, among other acts, and was part of the weekend-long BET Experience festival set to culminate in Sunday night's televised BET Awards.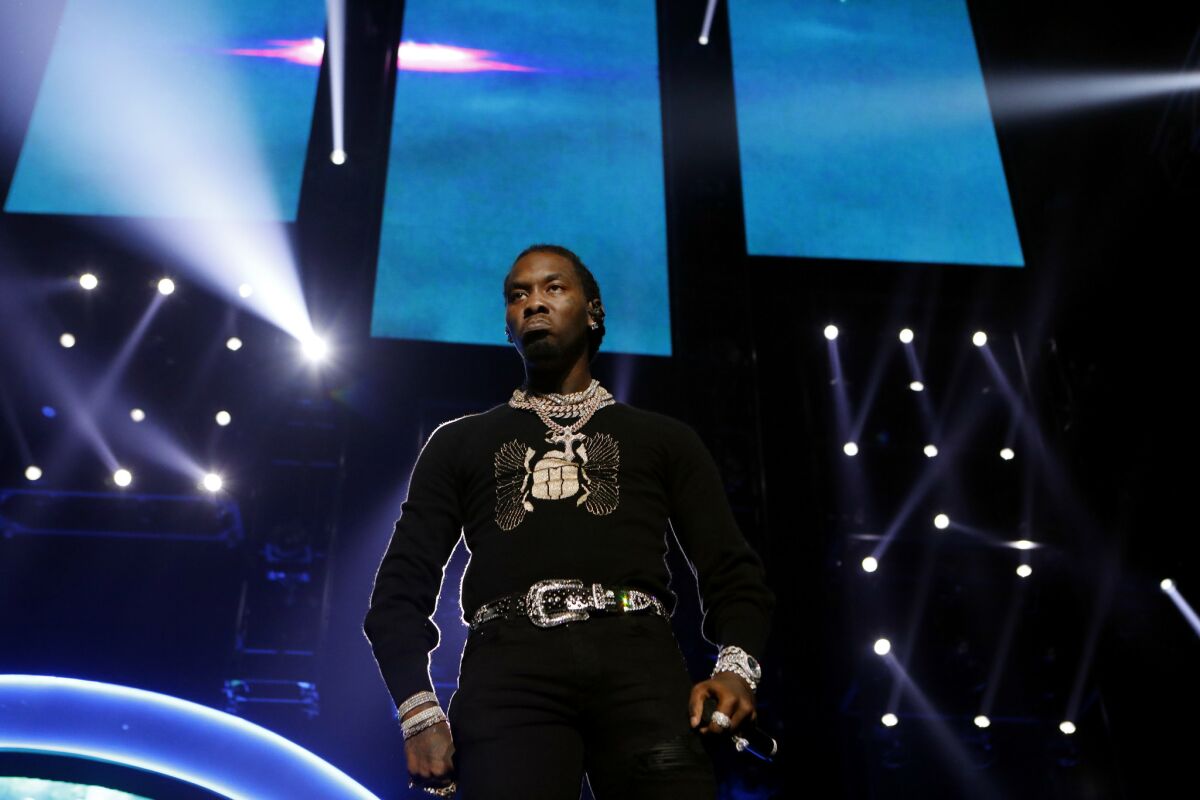 After she did "Press," she cheerfully told the audience, "My underarms are sweaty," then dumped a bottle of water on her head. Introducing "Ring" — a pulsing R&B number that features vocals from Kehlani on Cardi B's smash debut, "Invasion of Privacy" — she asked for help on the song's hook, "'cause I can't sing."
And when her DJ teed up Offset's "Clout" by describing Cardi B's contribution to the song as "the most honest verse of 2019" — it's about the jealousy of her haters — she held up her hand and brushed her violet-colored hair from her eyes. "OK, but lemme take a sip of water," she told him, breathing hard. "I got asthma."
Dressed in a sparkly leotard and matching gloves, Cardi B wasn't quite as winning in her songs as she was between them. On record, she's an undeniably forceful rapper, with attitude and energy to burn. But her delivery can be as blunt as her comedy; she's far less nimble than Nicki Minaj, with whom she's feuded, or Megan Thee Stallion, to name one talented newcomer making use of the space Cardi B has helped create for women at the center of hip-hop.
At Staples, she sounded more rigid still as she shouted to be heard above the beats booming through the arena's sound system. (One exception was "I Like It," in which her flow had some welcome bounce.)
Yet Cardi B understands that rapping is just one component of an entertainer's presentation that she's expertly honed on social media; at least as crucial here, in a set that made the men on the bill appear to be sleepwalking, were her spirited dancing, particularly in a swaggering remix of Blueface's "Thotiana," and the unvarnished conviction with which she dedicated "Wish Wish" to a certain population in the house.
"I was one ratchet-ass bitch like some of you out there," Cardi B said without a drop of regret in her voice. Then she went on describe the regularity with which people — critics, enemies, perhaps the State Supreme Court in Queens — keep telling her, despite the ample evidence to the contrary, that her 15 minutes are nearly up.
You almost hope she'll livestream her arraignment hearing.
Twitter: @mikaelwood
---
Get our L.A. Goes Out newsletter, with the week's best events, to help you explore and experience our city.
You may occasionally receive promotional content from the Los Angeles Times.