Meet Carly Rose: Child prodigy, reality TV flameout and your next indie-pop queen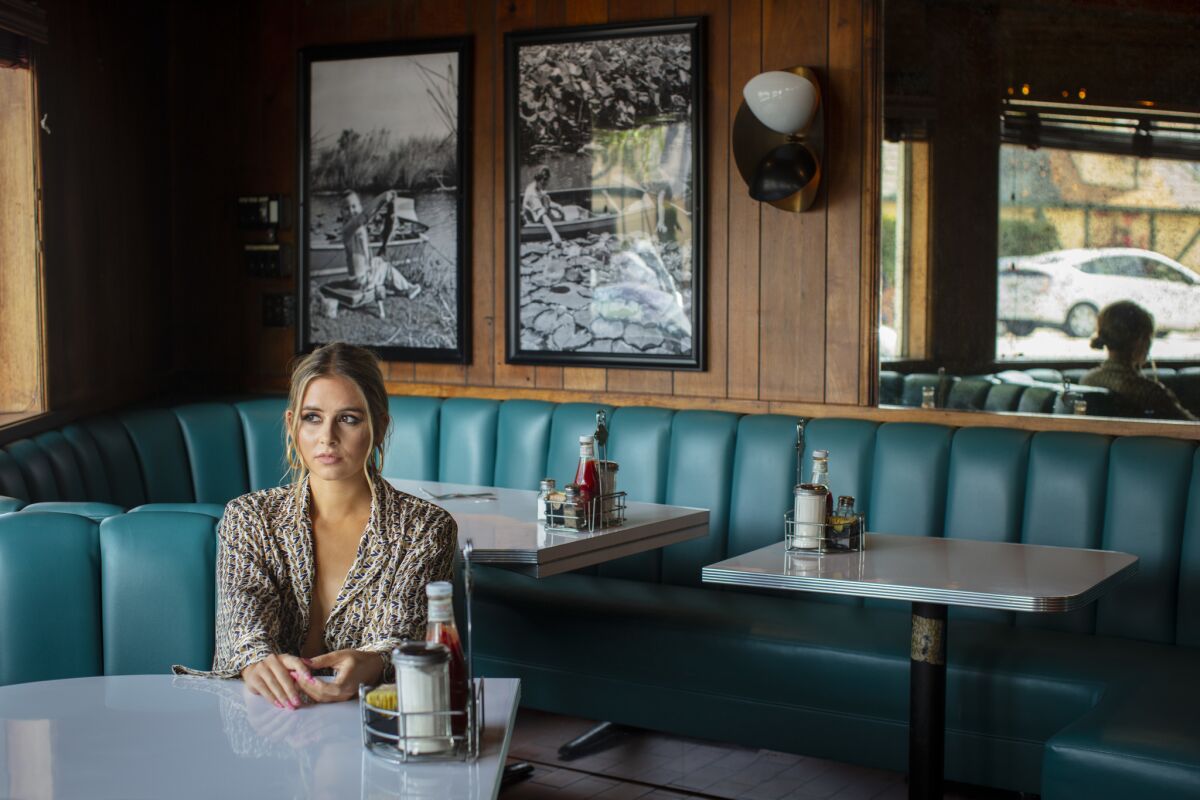 Pop Music Critic
In Carly Rose's knockout of a debut single, this sly young pop singer describes her burning desire to disappear with somebody from an overcrowded gathering.
"I don't want to dance, so just finish your Bacardi," she moans over the creeping, bottom-heavy groove of "Birds & Bees," which came out last month and quickly racked up nearly a quarter-million streams on Spotify and YouTube. And just before she rhymes "party" with the name-brand rum, she drops an unprintable modifier — two syllables, starts with F — to show how serious she is about leaving.
Rose, who's 20, delivers the lyric in "Birds & Bees" with palpable irritation; you can practically see her rolling her eyes at the shallow merrymaking that can't compare with the prospect of going outside "like animals — to do just what we please underneath the leaves."
A provocation? Sure. But Rose also knows what she's talking about: Though "Birds & Bees" marks her debut as a recording artist, the song arrives years after she abandoned her first crack at a pop career. In 2012, Rose — then all of 13 and using her surname, Sonenclar — finished in second place on "The X Factor," the televised singing competition on which she was mentored by Britney Spears. Her success on the show led to plenty of high-level attention, including a development deal with "X Factor" honcho Simon Cowell's Syco company.
"I had all these big managers telling me, 'We're gonna make you a star' — really the most cliche 'A Star Is Born'-type scenario," Rose recalled recently with a bit more of that over-it attitude.
Yet none of the music she went on to record — dozens of slick but flavorless tracks shaped by writers and producers known for their work with the likes of Spears and Leona Lewis — had the kind of spark that Rose understands a great pop song needs. So like an adolescent version of the woman in "Birds & Bees," she split, in this case to go back to high school in suburban Westchester County, New York.
Now a student in USC's music-industry program, Rose is making her return with an impressive batch of songs teeming with the hooks and personality lacking last time. In "Birds & Bees" and several unreleased tunes she plans to put out between now and the end of 2019, Rose layers her slurred vocals over clever arrangements that blend moody guitars and post-hip-hop beats; the result, with lots of Gen Z slang (and a few more four-letter words), is a rare instance of credibly modern pop from a veteran of a TV singing show.
Behind the scenes, too, Rose — who writes her songs and isn't signed to a record label — puts across a certain right-now quality; for "Birds & Bees," Rose and her team used a digital distributor to get the song on the streaming platforms where young audiences are increasingly listening.
"I woke up this morning kind of freaking out a little bit," the singer said a few hours before the song was due to go live online. Squeezed into a booth at a diner in Echo Park, Rose wore jeans and gold hoop earrings; her hair was knotted behind her head in a low bun. "Making the art that I want to make — it's just been such a long time coming. And now it's actually coming out?" She laughed. "I'm having some feelings."
She's not exaggerating her experience in the trenches. Though she had the fresh-faced vibe of a show-biz newcomer on "The X Factor," Rose was already an experienced pro by the time of her on-screen audition, having played the role of Cosette in "Les Misérables" on Broadway when she was 7. With the support of her parents, who both work in marketing, she acted steadily after that, booking parts in "The Sisterhood of the Traveling Pants 2" and on "The Electric Company."
Still, Rose acknowledged that "X Factor" clarified her drive to be a singer — and satisfied it for a while. "At first it was so exciting: 'Whatever you want me to do, I'll do it,'" she remembered telling the show's producers. "But as you go on, it starts to feel like less of a privilege to be there." As a small girl with a big voice, she said she was often assigned to sing power ballads from before she was born. And though she recognized that Spears' name "carried some weight," the teen-pop superstar who broke out in the late '90s "was definitely less of a significant figure to me than she was to a lot of the people I spoke to about it."
After the show, Rose felt herself being pushed onto "the Britney path," she said, which "just wasn't for me." As part of her relationship with Syco, she'd signed to Columbia Records, but the label "struggled to get anything going," according to Red Light Management's Peter Leak, one of several managers Rose worked with during this time. Leak attributed the trouble to the fact that Rose wanted to be more involved in songwriting, which "wasn't something the label necessarily thought was the right approach." (A representative for Cowell, who prides himself on matching artists and repertoire, didn't respond to a request for comment.)
Whatever the reason, everyone involved agreed that Rose's unfinished music wasn't working, said the singer, who figured that going home to Westchester and "growing up a little bit" would only help her figure out what she wanted to say. She began recording again, more casually than before, when she got to USC; "Birds & Bees," produced by Hank Solo (a former collaborator of the late Lil Peep), was born out of what she called the freshman-year "party mind-set."
Describing her new music, Rose uses words like "authentic" and "conversational" and talks about being inspired by scruffy rock bands such as Arctic Monkeys and Queens of the Stone Age. Yet her songs have sturdy structures that point to her background in the efficiency-minded pop machine. Zach Nicita, who produced what will likely be Rose's next single, the throbbing "Getaway Car," said balancing those two instincts is key to staying "competitive" at a moment when Billie Eilish and Lana Del Rey are redefining the idea of the female pop star.
Of course, those two singers also have the muscle of a major label behind them — still an effective means of reaching a mass audience disinclined to thumb through Spotify's New Music Friday playlist, where "Birds & Bees" recently made the cut. Asked about their decision to go it alone for now, Sean Lewow, one of Rose's current managers at the Revels Group (which also oversees the career of rapper G-Eazy), said their plan is to build a following on their own before possibly seeking the kind of multiplying force that a major can provide.
"I was on a label after 'X Factor,' and there was no clear vision for me," Rose said. Better, she figures, to nail down what precisely she wants to do, "then go to those people with this full-fledged thing." Indeed, one need only look to the case of Bea Miller — another talented "X Factor" alum whose incoherent major-label output has prevented her from accumulating any real momentum — to wonder if Rose's failure to release a single until now was a blessing in disguise.
At the very least, her independence — and her reliance on streaming over traditional Top 40 radio — made it easier to deploy that attention-getting F-bomb in "Birds & Bees."
"My mom texted me recently and asked if we made a clean version," Rose said with a laugh. "I was like, 'Mom, I don't need to. That's the game right now.'"
Twitter: @mikaelwood
---
Get our L.A. Goes Out newsletter, with the week's best events, to help you explore and experience our city.
You may occasionally receive promotional content from the Los Angeles Times.