Coachella at 20: For two decades, the real headliner has been the location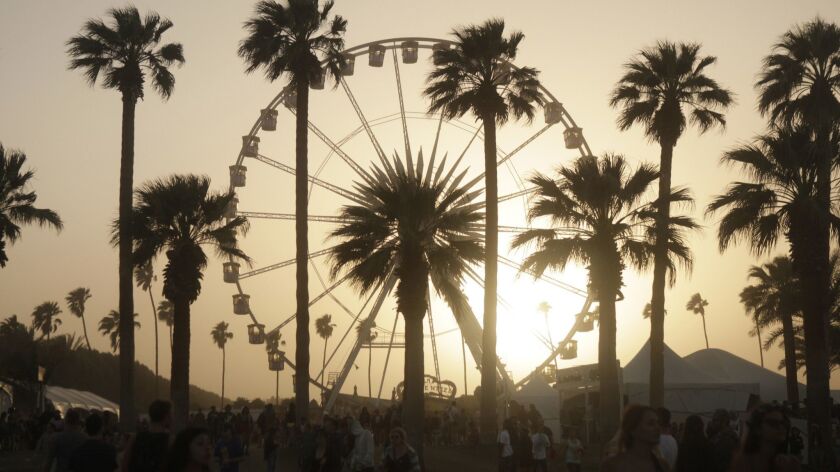 Paul Tollett is not a polo player. For two decades, the president of Goldenvoice Productions has hosted his annual Coachella music festival at Empire Polo Club in Indio, but he's made few attempts at the demanding horseback sport.
"I scored a goal once for fun," he says, adding that this isolated incident was definitely not during competition. "What a crazy sport that is."
His attachment to the place is based on something larger, which he first got a taste of in 1993, when Pearl Jam performed on the grassy oasis. Tollett and Coachella co-founder Rick Van Santen noted the wide-open spaces, the surrounding palm trees and mountains, the vivid shades of orange and blue in the early evening sky.
Whenever they discussed their plans for creating a world-class music festival, rooted in Goldenvoice's history with alternative rock and EDM, they knew Empire was where it had to happen.
FULL COVERAGE: Coachella 2019 »
Since its debut on a sweltering weekend in October 1999, Coachella has been acclaimed for a carefully curated mix of musical genres, but the desert landscape has additional emotional resonance for Tollett, artists and fans. From its earliest days, when a huge Tesla coil fired bolts of electricity into the night air, to the rise of its Ferris wheel and large-scale art pieces, the festival is as much about a location as it is music.
"It's timeless in that we're selling mountains and sunsets. That never gets old," says Tollett. "It's the openness that's different. It's so big and there is a special feeling when you walk in that place, even when the concert is not on. It's pretty great."
The concert promoter goes to the site most every Thursday of the year, he says, "just to make sure it's still there. Things grow so fast. There's a team out there keeping up the place. Plants grow so fast and things get cut down. I've got to make sure things don't change too much."
Many of the musicians passing through take note of a distinctive atmosphere. "One gig goes into the next gig, and a few years later you don't remember much, but this was one of those things where it's, 'OK, this was a unique one,'" says Sharam Tayebi, one-half of the DJ duo Deep Dish, who first performed there in 2003 and are back this weekend.
"It was fantastic and had a great vibe. After playing there I realized what a big deal it was."
The rise of a world-famous music festival on the polo fields of Indio had special meaning for Jesse Hughes, singer-guitarist of Eagles of Death Metal, who performed there in 2006. He grew up in the local desert communities, along with musical partner and mentor Joshua Homme (also the leader of Queens of the Stone Age).
"Suddenly, it's your town that's got this thing happening," says Hughes, who attended that first Pearl Jam show in 1993, and grew up believing the polo fields of the Coachella Valley were reserved for the very rich and visiting royalty. "It feels like suddenly your town is no longer this anti-cosmopolitan hole in the middle of the desert."
On the night of their Coachella set, Hughes and EODM were introduced onstage by actor Danny DeVito, and the singer has vivid memories of two things: seeing all his old high school bullies there to applaud him, and "this swirl of dust that hung over the crowd. As the sun set, it glowed."
Tollett, who retained half-ownership of the festival after Anschutz Entertainment Group purchased Goldenvoice in 2001, is selective in the musical events held at Empire. In 2007, Goldenvoice introduced the annual all-country Stagecoach Festival, and Metallica brought its Big Four thrash-metal summit in 2011.
Tollett also created a classic-rock dream lineup (Rolling Stones, Paul McCartney, Bob Dylan, etc.) for Desert Trip in 2016.
"You want to give artists a platform. It's about them," says Tollett. "They're the ones who have to make the music and be entertaining. But if you can give them great sound and lights and stages and operations, then they can do their thing."
At Coachella, the large vistas are a gift and a challenge where other kinds of artists have created a lasting connection.
"We have creative freedom, and they've never come back and said, 'Oh, we don't like this," says Vanessa Bonet, one-half of the Dedo Vabo art installation duo, who produced the 2015's surreal Corporate Headquarter piece – a three-story glass tower (with helipad) filled with hippos in business attire.
To help cope with the scale of the property, Dedo Vabo is back at this year's festival with their largest piece to date. "It's so big out here and it's so vast and so open," says partner Derek Doublin. "Every installation we've made has gotten bigger in the subsequent year. You look at it out on the field and you're like, 'Man, it still looks small!'"
---
The complete guide to home viewing
Get Screen Gab for weekly recommendations, analysis, interviews and irreverent discussion of the TV and streaming movies everyone's talking about.
You may occasionally receive promotional content from the Los Angeles Times.