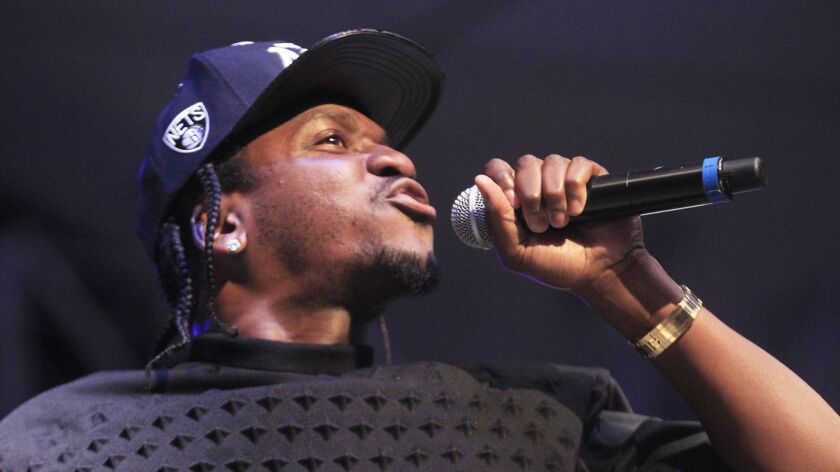 No Coachella tickets? No problem. Let the mega-fest lineup come to you via a slate of Coachella spillover shows hitting venues across the city between the two weeks of the festival's 20th edition.
Blood Orange
Blood Orange is oft hailed as the heir to Prince's throne. Its 2018 opus "Negro Swan" cemented that comparison and Dev Hynes' singular place in the contemporary pop milieu. The acclaimed singer-producer will bring his smoldering tracks and incisive lyrics to the Roxy stage for a set that promises to be infectious and unfamiliar.. Sold out, but tickets run about $100 on secondary markets. The Roxy, 9009 Sunset Blvd., 9 p.m. Thursday.
Tame Impala
The psychedelic pop maestros will make for a fitting soundtrack to Coachella's neon-lighted expanse as Saturday night's headliner. But if you're keen on catching the Aussie heroes in a more personal setting, the trek to Pomona will be well worth it for the group's revered, jam-heavy live show. Tickets are sold out, but can still be nabbed for around $300 on the secondary market. The Fox Theater, 301 S. Garey Ave., 8 p.m. Thursday.
FULL COVERAGE: Coachella 2019 »
Clairo
The lo-fi bedroom pop star joins forces with Montreal indie outfit Men I Trust for a special charity show at the El Rey. The young Bostonite went viral after uploading her dreamy self-produced tracks to YouTube, and she has since shared bills with the likes of SZA and Brockhampton. Now, before making her Coachella debut, she'll host an intimate celebration fit for all the dancing and swooning you'll need to head into the weekend, whether that's home in bed or out on the Polo Field. Tickets are sold out but can be found starting at $55 on the secondary market. . El Rey Theatre, 5515 Wilshire Blvd., 8 p.m. Thursday.
Iceage and Shame
Not for the faint of heart, this double bill from two of Europe's most galvanizing exports promises to be a thrilling live set. Both post-punk acts have spent the better part of the last year honing their reckless live chops behind respective acclaimed 2018 albums. Count this intimate night at the Roxy as a visceral, sweat-soaked victory lap for U.S. crowds that you won't want to miss. $20. The Roxy, 9009 Sunset Blvd., 8 p.m. Monday.
Pusha T
Pusha T was among the hip-hop artists dominating the 2018 conversation. King Push kept his acclaimed record "Daytona" on the tips of everyone's tongues, in part due to controversial album art depicting a drug-filled bathroom of Whitney Houston to his much-ogled feud with Drake. But the album itself proved it was more than just hype, and if the mysterious countdown clock on his G.O.O.D Music website at press time is any indication, "Daytona" was just the beginning. Tickets start at $34.50. The Novo, 800 W. Olympic Blvd., 8 p.m. Monday.
Yellow Days
The Manchester, England, artist, whose real name is George van den Broek, took the internet by storm at age 17 with his moody, layered instrumentation and all-too-wise lyrics tackling everything from isolation to his rise to fame. A few years later, he's a bit less lonely, with a big-draw slot at Coachella and a sold-out show at Santa Ana's Yost theater. You can still get in on the buzz with tickets starting at $35 on secondary markets. The Yost, 307 N. Spurgeon St., 8 p.m. Monday.
---