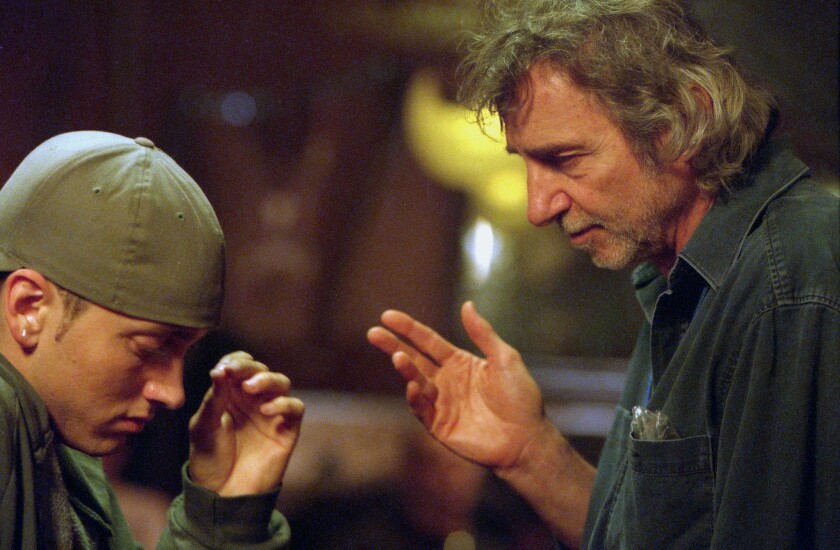 Along with his lifelong passion for the art of filmmaking, writer and director Curtis Hanson also had a deep understanding and affinity for pop music. Songs took center stage during his career with his stewardship of the Eminem-starring hip-hop drama "8 Mile" in 2002 and his midlife-crisis exploration "Wonder Boys" two years earlier.
More than a decade before Ice Cube and Dr. Dre brought the story of Compton rap group N.W.A to the big screen with their hit feature "Straight Outta Compton," Hanson captured the zeitgeist of another pocket of rap culture by casting Eminem to play a lightly fictionalized version of himself in the tale of a white rapper from Detroit who rises to the top of a predominantly African American art form.
It became a critical and commercial hit for the "L.A. Confidential" screenwriter, who died Tuesday at 71, and the rapper who at the time had become king of the hip-hop hill.
"Just as '8 Mile's' story is book-ended by battles, one-on-one gladiatorial rap contests in which the audience picks a winner," Times film critic Kenneth Turan wrote in his 2002 review, "so the film itself is a battle between God's angry man, this creature of insatiable rage and the boa constrictor Hollywood system, willing and able to swallow anything whole and make it fit a predigested mold.
See the most-read stories in Entertainment this hour »
"Even an artist whose justifiable boast is 'I just say whatever I want to whoever I want whenever I want wherever I want however I want' could disappear without a trace," Turan wrote. "Remarkably, however, that did not happen with '8 Mile,' a fascinating, surprisingly entertaining stand-off that has adroitly managed to satisfy both of its constituencies, allowing all sides to legitimately claim victory."
"8 Mile" producer Brian Grazer told The Times in 2002 that of all the potential candidates under consideration to direct, he chose Hanson because he was "an American director who can tell an American story, and that's what this is."
Hanson had something considerably more ambitious in mind than just putting the electrifying rapper on screen for two hours in what in other hands might have been a two-hour extended music video — a concept that helped him connect with the notoriously suspicious rapper born Marshall Mathers.
"He saw that I was going to demand of him a performance that felt sufficiently and emotionally true to carry a movie without the crutch of the hit tunes, a high bar for someone their first time out," Hanson told The Times in 2002.
"Working with Curtis was like going into film boot camp," Eminem told The Times. "It was long, grueling and difficult. But I think the end product speaks for itself."
The rapper even composed a new song for the film during shooting, one that gave him yet another runaway hit, "Lose Yourself," further testimony to the bond Hanson had forged with Eminem.
"Has there ever been a movie where the star wrote the song on the set and recorded it for the movie's ending?" Hanson asked. "It's like everything was heading toward that song, the character ends up in that place."
By that time, however, Hanson crucially had logged quality time working with another famously elusive and prickly figure in pop music: Bob Dylan, whose music played a critical role in Hanson's previous theatrical feature, "Wonder Boys."
In addition to incorporating Dylan's 1997 song "Not Dark Yet" from his career-rejuvenating album "Time Out of Mind" in "Wonder Boys," Hanson also elicited from Dylan a new song, "Things Have Changed," for the film's soundtrack, which earned rock's poet laureate the Academy Award that year for best original song.
That film's soundtrack also included smartly curated songs from other members of pop music's artistic elite including John Lennon, Leonard Cohen, Neil Young, Van Morrison, Buffalo Springfield, Tom Rush, Little Willie John and Clarence Carter.
Hanson also directed the spin-off music video for "Things Have Changed," using new footage of the esteemed singer-songwriter mixed with scenes from the "Wonder Boys" film for a noir-ish addition to Dylan's considerable legacy.
When Dylan launched a new tour in 2000, Hanson was seated at a ringside table in a relatively intimate 1,200-seat theater in Anaheim on opening night, watching in delight as Dylan served up both songs during his performance.
"Things Have Changed" embodied the air of mystery and existential restlessness that characterized much of Hanson's own work: "Lotta water under the bridge, lotta other stuff too/Don't get up gentlemen, I'm only passing through."
Follow @RandyLewis2 on Twitter.com
For Classic Rock coverage, join us on Facebook
ALSO
Curtis Hanson dead at 71; 'L.A. Confidential' thrust him to the forefont of American directors
---