Curtis Hanson dead at 71; 'L.A. Confidential' thrust him to the forefront of American directors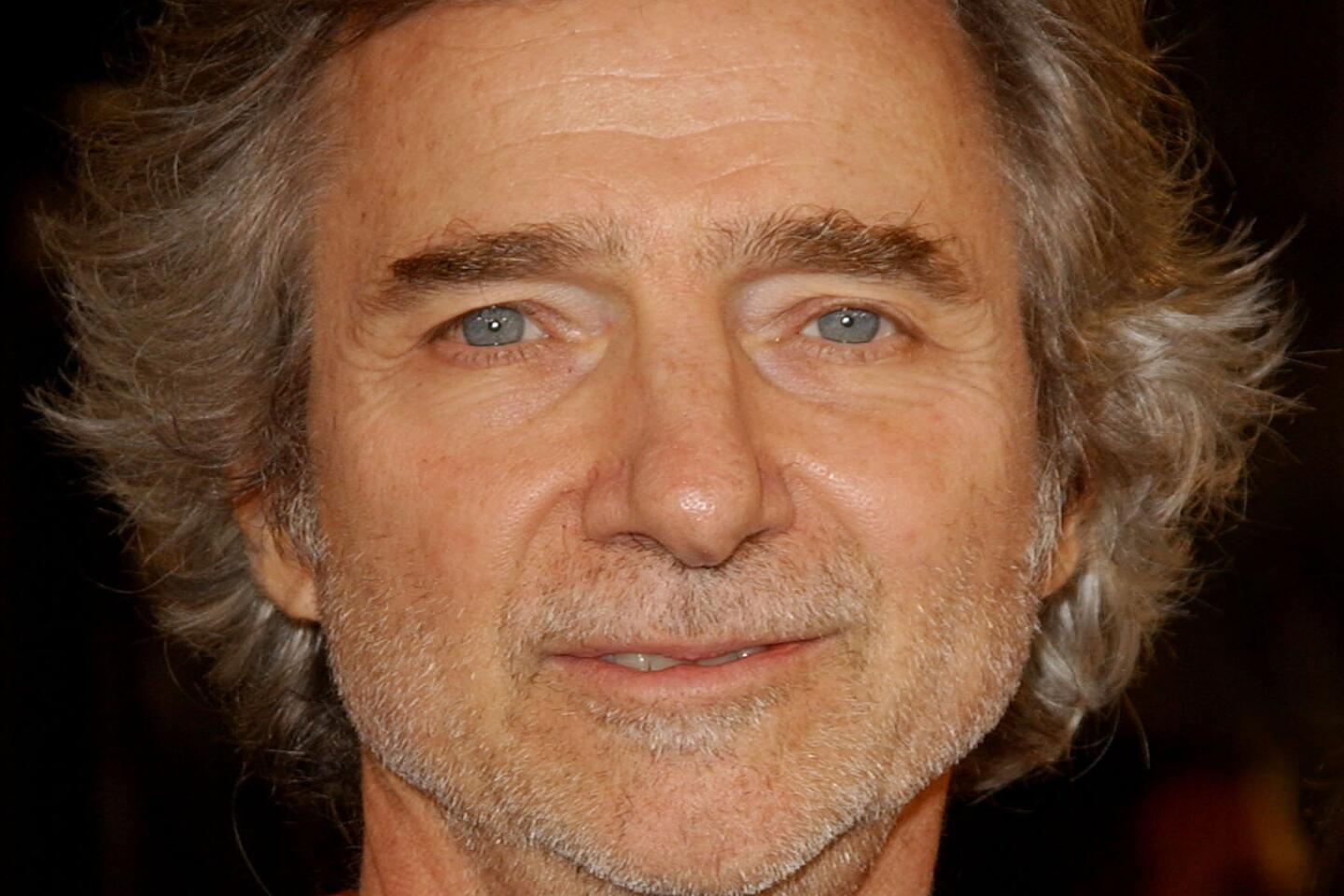 Curtis Hanson, who directed films such as "L.A. Confidential," "The River Wild" and "8 Mile," has died. He was 71.
(Jon Kopaloff / Getty Images)
Legendary director Billy Wilder, left, is accompanied by Curtis Hanson at a tribute for Wilder at the Academy of Motion Pictures Arts and Sciences in Beverly Hills in 2000. Hanson served as moderator for the evening's discussions.
(Kevork Djansezian / Associated Press)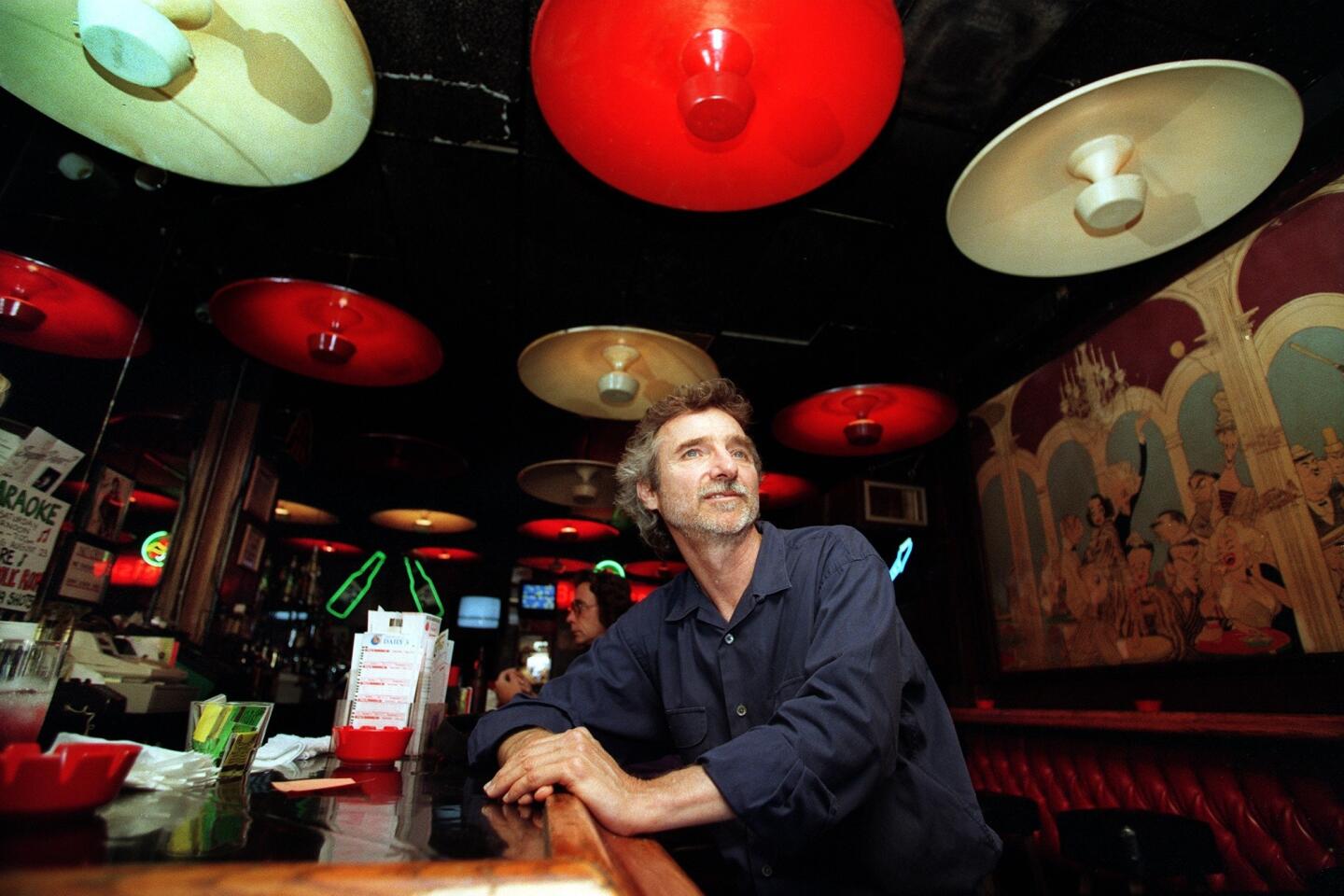 Curtis Hanson pauses at the Frolic Room on Hollywood Boulevard in 1997, as he drove around to various locations for his film "L.A. Confidential" from that year. He won an Oscar with Brian Helgeland for writing the movie.
(Ken Hively / Los Angeles Times)
Meryl Streep, who starred in Curtis Hanson's "The River Wild" in 1994, is interviewed with the director that year.
(Elena Seibert / For The Times)
Curtis Hanson, the director and Oscar-winning screenwriter whose eclectic body of work included the film noir "L.A. Confidential," the rap-music drama "8 Mile" and the offbeat comedy "Wonder Boys," died Tuesday in Los Angeles. He was 71.
Los Angeles police were called to a home in the Hollywood Hills just before 5 p.m. on reports of a medical emergency, LAPD Officer Tony Im said.
Hanson was pronounced dead at the scene, and police say he died of natural causes. His family was notified of his death, police said.
Hanson fell gravely ill in November 2011 while directing the Northern California surfing drama "Chasing Mavericks," starring Jonny Weston, Gerard Butler and Elisabeth Shue.
Director Michael Apted reportedly completed the final 15 days of principal photography on the film, which was released in October 2012.
"L.A. Confidential" was the film that thrust Hanson into the forefront of American filmmakers in 1997. His critically acclaimed adaptation of James Ellroy's intricately plotted novel about police corruption in 1950s Los Angeles earned him and co-writer Brian Helgeland an Oscar for adapted screenplay. Kim Basinger also won the supporting actress Oscar.
In all, the film received seven other Oscar nominations, including best picture and director for Hanson.
"L.A. Confidential," Hanson told The Times in 1997, was his most personal movie because Ellroy is "telling a story set in the same city that I grew up in and dovetails with certain ambitions that I've had in terms of telling an L.A. story."
For Hanson, "L.A. Confidential" was a high-profile milestone in what he called "a long, long, uphill struggle" as a filmmaker.
"I spent so long trying to get to a place where I could just be able to direct a movie, and then struggled so long to be able to direct movies that I felt had some potential," he told Canada's Globe and Mail in 2000.
"By the time 'L.A. Confidential' came around I was, naturally, extraordinarily gratified by the acceptance the picture received," he said. "But to me, there was no mystery about what the picture was. It was a labor of love that, for the first time, I was able to do."
A one-time film journalist, Hanson began his Hollywood career as a screenwriter on a 1970 low-budget horror movie and made his debut as a director on "Sweet Kill," a 1972 thriller that he wrote starring Tab Hunter as a psychopathic killer.
He directed only two other films and a TV movie before writing and directing "The Bedroom Window," a 1987 romantic thriller that Hanson once described as being "my first professional debut in terms of being on the map."
But it was the clout he earned from directing the commercially successful thriller "The Hand That Rocks the Cradle" and "The River Wild" with Meryl Streep in the early `90s, Hanson later said, that allowed him to make "L.A. Confidential."
Hanson, whose films as a director include the 1990 suspense thriller "Bad Influence" with Rob Lowe and James Spader, went on to direct "Wonder Boys," "8 Mile," "In Her Shoes," "Lucky You" and the HBO drama "Too Big to Fail."
You never got the feeling you were watching a retread. He was able to transform all that into something very much his own.
— Peter Rainer, film critic for the Christian Science Monitor
Peter Rainer, film critic for the Christian Science Monitor, said Hanson "was a student of film who worked his knowledge into his own movies in a really dynamic way. He had a real grasp of genre, not only of crime films but also of comedy with 'Wonder Boys.' He was extremely versatile.
"But there was nothing slavish about the movies that he made in their connection with older movies. You never got the feeling you were watching a retread. He was able to transform all that into something very much his own."
Los Angeles Times film critic Kenneth Turan remembered Hanson having "a great and abiding passion for the history of film, a gift for making genre come alive for modern audiences and a restless and wide-ranging curiosity that meant that each of his films was a new adventure both for viewers and for himself."
Indeed, Hanson's filmography as a writer, director and producer extended across a diverse spectrum of genres.
"I have deliberately tried to mix it up in my movies, because I enjoy visiting different worlds," Hanson told London's Guardian newspaper in 2005. "However, thematically, I find that things keep coming up.
"Self-examination, to begin with. You know, who am I, how did I get here and how do I become a better version of myself. Self-destructiveness, because that is the beginning or negation of self-examination.… What I like doing is considering how a very binary, black-and-white vision of the world is overly simplistic. Contradictions are often no such thing."
Hanson was born March 24, 1945, in Reno, where his schoolteacher father, a conscientious objector during World War II, was working on a construction crew doing road repair. Both of his parents were Angelenos, and they eventually settled in Reseda after returning to Los Angeles when the war ended.
Hanson dropped out of high school in his senior year. "My parents thought it was a phase, that I'd come to my senses," he told the New York Times in 1994.
With a passion for films, Hanson offered to become the movie critic for the Cal State L.A. campus newspaper — despite not attending classes there — and soon was asked to become the paper's entertainment editor.
But it was his uncle in Beverly Hills who brought him into what Hanson once described as the "periphery of show business."
His uncle was Jack Hanson, owner of the popular Jax women's clothing shops who launched the exclusive Beverly Hills nightclub the Daisy in the `60s. The businessman also bought a magazine called Cinema, for which his nephew worked first as a go-fer and eventually became editor and art director.
"The old greats were still around, and not that many people were interested in them," Curtis Hanson told the Boston Globe in 2002, recalling interviewing directors John Ford, William Wellman, Vincente Minnelli, William Wyler and screenwriter Dalton Trumbo.
He also became friends with directors such as John Cassavetes, Don Siegel and Sam Fuller, with whom he co-wrote Fuller's 1982 film "White Dog."
As Hanson put it, the magazine "was my film school."
During this time, he also took pictures that helped get Faye Dunaway cast in the landmark 1967 film "Bonnie and Clyde."
"I took them as a favor to her press agent; Warren [Beatty] heard about my enthusiasm for her and called me," Hanson told the Globe. "He offered to have the studio buy my pictures, but I said I'd rather get a ticket to Texas when they made the movie.
"Good to his word, he called me up a few months later, and I went down there, hung out, and took pictures on the set, and interviewed [director] Arthur Penn and [cinematographer] Burnett Guffey and [editor] Dede Allen. That was a pivotal learning experience for me."
Hanson's first produced script was a co-written 1970 adaptation of an H.P. Lovecraft short story "The Dunwich Horror," starring Sandra Dee and Dean Stockwell.
Roger Corman, a producer on the film, executive produced "Sweet Kill" (re-titled "The Arousers" when it was reissued), which marked Hanson's debut as both a director and a producer.
Over the next decade and a half, his work included writing the screenplay for "The Silent Partner," a 1978 crime drama with Elliott Gould and Christopher Plummer; and directing the 1983 coming-of-age comedy "Losin' It," starring Tom Cruise.
Hanson maintained a passion and respect for the golden age of cinema — he was a powerful and articulate advocate for film restoration and served as honorary chairman of the UCLA Film & Television Archive for more than a decade — and his films often made insider references to this era.
A particular favorite of his was the 1950 film noir "In a Lonely Place," starring Humphrey Bogart and directed by Nicholas Ray. Before shooting "L.A. Confidential," Hanson screened the movie for two of its stars, Russell Crowe and Guy Pearce.
Throughout his career, Hanson strived to re-create the level of actor-director intimacy and trust that he felt Bogart and Ray enjoyed, and which produced such raw on-screen emotion. As a result, Hanson developed a reputation among actors as a director who was particularly intuitive.
"Curtis has this great ability to see what makes you tick and find the appropriate things to say," Pearce told the New York Times in 2007. "I don't mean in a politically correct way, but as in terms of inspiring you and getting you to do what he wants. To me, that's the job description of what directing is all about."
McLellan is a former Times staff writer.
Staff writer Matt Hamilton also contributed to this story.
MORE OBITUARIES
Prince Buster, Jamaican music legend who pioneered ska music, dies at 78
'Sound of Music' actress Charmian Carr, who played Liesl von Trapp, dies at 73
Edward Albee, three-time Pulitzer-winning playwright and 'Who's Afraid of Virginia Woolf?' author, dies at 88
Sign up for Essential California for the L.A. Times biggest news, features and recommendations in your inbox six days a week.
You may occasionally receive promotional content from the Los Angeles Times.