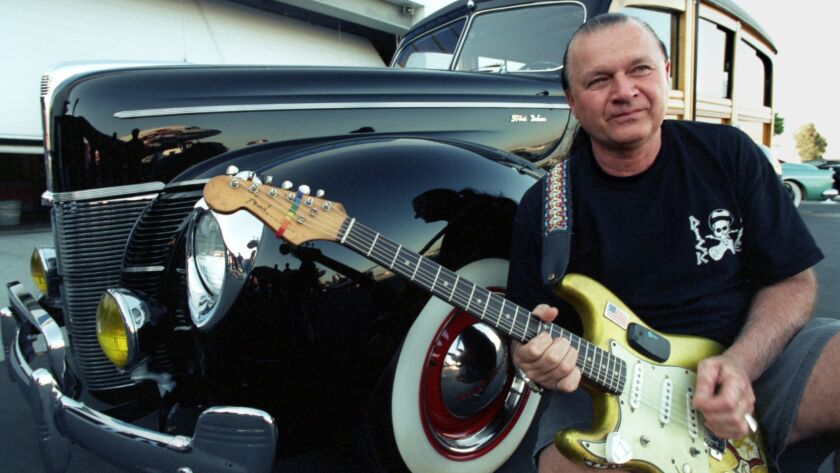 One of the things that defined surf rocker Dick Dale's music, career and his life was that he never held anything back.
It was true of his quest for a thundering sound that could replicate the exhilarating feeling he experienced surfing the powerful waves off beaches in Southern California, it was true of his take-no-prisoners live performances during which he would literally shred guitar picks as he unleashed flurries of machine-gun-like melodic runs on his Fender Stratocaster, and it was true of his immersion in the world of martial arts and Eastern philosophy.
It also was true of his rapport with music writers who followed and documented his career, myself included. A phone call with Dick Dale was never simply, "Hey Randy, I'm playing the Coach House next month, please come out and see what I'm doing now."
More often than not, it turned into an expansive dissertation on everything he'd been through since we last spoke, often in mind-boggling detail.
I recall reaching out to him about a decade ago when I was trying confirm reports about his health, given that he had battled cancer for years. When there was no answer at his home number, I tried his cellphone. He promptly answered — from his hospital bed, and proceeded to fill me in on every nuance of the treatment he'd been undergoing lately for rectal cancer.
"I'm in the middle of having a catheter inserted," Dale said when he picked up the phone. I assured him I would be more than happy to call back at a more convenient moment. For Dick Dale, it was always: "No time like the present."
As he pressed on, I pondered the notion of a musician being too generous with his time and personal information. But I had to smile at the utter openness he felt in discussing what he was going through.
It's indisputable that Dale was a wizard with the electric guitar and a musical innovator who helped birth the distinctive rock subgenre of surf music in the early 1960s. (For the uninitiated, I'm among those who consider "surf music" — an instrumental form as practiced by Dale, the Ventures, the Belairs, the Chantays, the Surfaris and others — to be distinct from instrumentals-plus-vocals records of the Beach Boys, Jan & Dean and other groups.)
How much credit belongs to Dale and how much should be shared with his contemporaries, such as the Belairs' lead guitarist Paul Johnson and the Ventures' Nokie Edwards, has been the subject of considerable debate over the years.
But not to Dale.
It wasn't unusual to hear Dale cite earlier and earlier dates for his contributions and influence.
That caused some skepticism of other claims Dale made in the past, such as his occasional suggestion that he helped electric guitar innovator Leo Fender design both the company's influential Telecaster and Stratocaster models. Those guitars were introduced when Dale was 14 and 17, respectively, and living in Quincy, Mass.
Perhaps most notable was his frequent assertion that he had been a major influence on Jimi Hendrix.
The guitarist had claimed that Hendrix was referring to Dale's disappearance from pop music in the mid-'60s, as had been the case for most surf musicians in the wake of the Beatles' arrival, the British Invasion and shifting musical tastes toward Bob Dylan's lyrical sophistication and the mid- '60s sonic explorations that evolved into psychedelic music.
To that end, in 1996, Dale recorded his version of one of Hendrix's signature tracks, "Third Stone From the Sun," the 1966 recording in which Hendrix famously uttered the phrase "And you'll never hear surf music again" — which Dale argued referred specifically to the nosedive Dale's music had taken at that time.
Dale belatedly vocalized his response: "Jimi, I'm still here — wish you were here," as the intro to his 1996 version of the song.
"There wasn't a day didn't go by that Jimi didn't say what he got from Dick Dale," he told me in 2010, referring to himself in the third person as he often did. Never mind that Hendrix biographies are pretty much devoid of quotes from Hendrix to that effect.
Still, Dale argued, when Hendrix was going in to record "Third Stone From the Sun," "He heard I was dying, that doctors had given me three months to live. Because I showed him so many slides on the strings, it was right after that he said that" about audiences never hearing surf music again.
He also liked to tell of meeting Hendrix in the late 1950s during a club gig in Pasadena when Hendrix was playing in Little Richard's band. It's a fascinating anecdote except for the fact that Hendrix didn't join Little Richard's group until 1963.
In the grand scheme of things, perhaps the timing of their initial encounter isn't terribly relevant. Still, the idea was intriguing since Hendrix and Dale both favored Fender Stratocasters, and both played left-handed (although Dale simply flipped a right-handed guitar upside-down to play, while Hendrix restrung his to lefty orientation).
Lo and behold, when one of my former colleagues here at The Times, pop music writer Mike Boehm, was speaking to drummer Buddy Miles two decades ago, he asked him about Hendrix's estimation of Dale.
"He used to talk about Dick Dale all the time," said Miles, a former member of Hendrix's Band of Gypsys, the group he assembled after the Jimi Hendrix Experience disbanded. Beyond that, when Miles jammed with Dale at a gig with both of their current bands on the bill, Miles told the audience that Hendrix had spoken of "getting some of his best [stuff]" from Dale.
The upshot was that Dale expressed genuine humility at any acknowledgement of what he'd been saying for years.
"I got chills up and down my arms," Dale said of hearing what Miles said. "It's the first time somebody of authority said something" on the subject.
Indeed, it was a strange mélange of braggadocio and humility that came through that day when he was regaling me with the ups and downs of his hospitalization.
"I'm a very emotional person — a hopeless romantic," Dale told me that day from his hospital bed, while Lana, the caretaker who later became his wife, was attending to him. Despite the seriousness of his condition, he said "They found the other day that everything is messed up, so they have to go back in, because if it continues that way, I will die."
"I'm not ready to leave my son, not ready to leave Lana, not ready to leave all the Dick Dale music lovers," he continued. "They've been my medicine. I tell them at the end of each show, [my band] and, most of all, you are my medicine. What do you think has kept me going?"
Follow @RandyLewis2 on Twitter.com
For Classic Rock coverage, join us on Facebook
---