Dodgers organist Dieter Ruehle boosts team's hip factor with savvy music
The San Diego Padres batter smacked a line drive, sending the baseball rocketing toward the gap between the Los Angeles Dodgers' third baseman Justin Turner and shortstop Corey Seager. Reflexively, Turner dived to make the catch — and in that instant an important call had to be made.
Dieter Ruehle chose to go with "Charge!" rather than Van Halen's "Jump" as he looked on from his perch at the organ above the infield at one end of the Dodgers press box.
"He didn't really have to jump, so I decided not to play that this time," Ruehle, 49, explained after the moment passed during a late season game.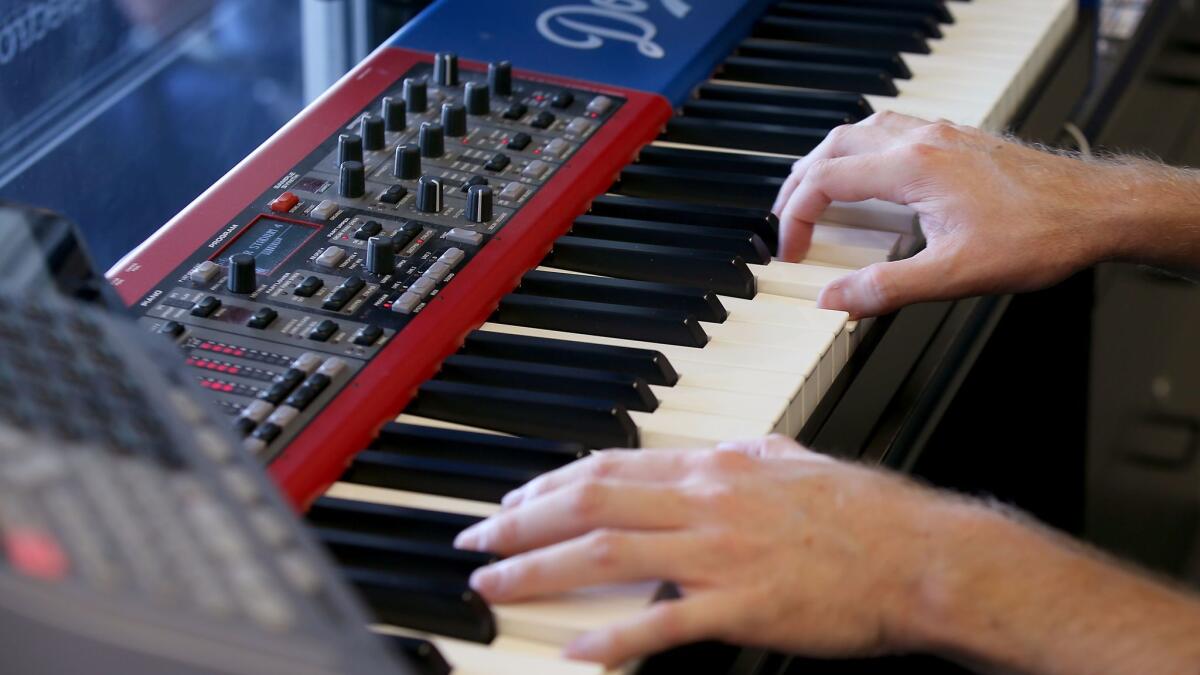 It turns out that not all the split-second decisions that fuel the action at a baseball game are made by players, managers or umpires. Organist Ruehle also makes dozens of such calls each night while seated at his Nord electronic keyboard, choices that entertain tens of thousands of baseball fans each night, help relieve or build tension and sometimes infuriate the opposition.
He's in his second season as the Dodgers team organist, having assumed the mantle for much of the musical entertainment. That includes accompanying sometimes pitch-challenged singers who deliver the national anthem ahead of the first pitch, the traditional seventh inning stretch-playing of "Take Me Out to the Ballgame" and the endless nightly variations on "Charge!" and "Let's go, Dodgers!"
Ruehle took over in 2016 following the retirement of longtime Dodger organist Nancy Bea Hefley, who had held the post for a remarkable run of 28 years. But he has quickly earned the respect of music aficionados among the Chavez Ravine crowds for his savvy use of pop, rock, R&B, hip-hop, classical and other genre song snippets woven in with the boilerplate baseball-organ repertoire.
His musical selections will get national attention starting Friday as the Dodgers begin their playoff run at home against the Arizona Diamondbacks. This season he's had some notable musical moments including:
-- On July 4, he played several Doors songs — to an audience that included that band's lead guitarist, Robby Krieger — when the heralded L.A. rock group was saluted by the team on the 50th anniversary of its debut single, "Light My Fire," reaching No. 1 in Billboard magazine.
-- A couple of weeks later, when Linkin Park singer Chester Bennington died, he filtered in a bit of the group's song "Numb" to acknowledge the grief that the band's fans were going through.
-- And during "X Night at Dodger Stadium" in August honoring the long-running L.A. punk rock quartet, Ruehle, after accompanying singer John Doe during his rendition of "The Star-Spangled Banner," worked up X's song "Blue Spark" as a happy meeting ground for Dodgers and X fans.
It's not just contemporary pop music he's fully versed in either. His Padres game playlist was impressively eclectic, spanning Mozart's "Eine Kleine Nachtmusik" to the Mexican ranchero classic "El Rey" to Drake's pop hit from earlier this year, "Passionfruit."
"He's really good," said Benmont Tench, veteran keyboardist with Tom Petty & the Heartbreakers, who's among Ruehle's 6,500 or so Twitter followers. "He's so smart about what he chooses, and he just does it so effortlessly."
He also does it all from memory. Although he always brings along a list of songs he intends to work with each night, there's no sheet music — it's all in his head, and hands. And if the inspiration strikes, he shows no qualms about veering from the premeditated song list.
"I really like that there's still the freedom to be able to do that," said Ruehle, his reddish blond hair falling down to his collar.
His responsibilities have changed considerably over the last 33 years he's been playing for various franchises including hockey's Los Angeles Kings and basketball's L.A. Clippers. That triumvirate makes Ruehle unique in the world of professional sports.
"When I got into it, there wasn't a lot of structure at all," he said, "especially at the Forum in my early years with the Kings. There was really no what we now call 'game entertainment.' It was just the public address announcer and the organ. There was no video board, no dancers, no people throwing out T-shirts to the crowd — just organ and the game announcer.
"It's evolved now to where we have a producer, we wear these headsets, every inning break and every time out is scripted to where we have a promotional giveaway, a dance cam, a kiss cam, stuff like that."
He said he doesn't get a lot of direct feedback from players, but his Twitter feed (@DieterRuehle) heats up during games and he often hears in real time from fans with requests or kudos.
One of his favorites came from actor Rob Lowe, who tweeted during a game citing "Best use ever of organ music at a baseball game" when he had just peeled off a riff out of the Who's "Won't Get Fooled Again."
An L.A. native who was born in Van Nuys, and raised in Burbank and North Hollywood, Ruehle knows he's working in a formidable shadow.
"Nancy had a lot of fans, and people are still really connected to her," he said a couple of hours before the recent Padres game.
"A short while after she retired, they asked me if I'd be interested in replacing her, and of course I was interested," he said with an "as-if!" tone to his words. "I knew they'd be very big shoes to fill, but I figured I just have to be me, and do what I do."
Not only does he handle all the organ music during each of 81 home games each season, Ruehle has a trigger pad in front of him with 50 buttons, each of which he can punch to unleash a different cheer, chant, clap rhythm or "Charge!" variations. Poised at his left hand is a Roland drum machine with which he can manually tap out rhythms that get fans clapping along in time.
He studied piano privately for about eight years, but never took organ lessons. His formal training extended for a time into community college, where he studied music theory and performance. Mostly, however, it is his lifelong passion for sports that led to his latest gig.
He landed his first official gigs at 15, providing organ music for the Clippers, which had recently moved to L.A. from San Diego, and the now-defunct L.A. Lazers indoor soccer team. Along the way he's also had stints performing for the Lakers and other pro sports teams.
Juggling his current three assignments can create some scheduling challenges for him. As the Dodgers were winding down the regular season in late September, Ruehle had to miss a few games while accompanying the Kings on an international foray to China.
But he won't be missing any of the postseason play for the Boys in Blue.
"Playoffs trump the regular season," he said with a smile.
While he says there's a lot of overlap in what he might play at a baseball, hockey or basketball game, there are some intriguing differences.
Asked whether he ever has the inclination to crank out a few measures of J.S. Bach's famous D minor Toccata, which has been used to convey chills in countless horror-movie scenes, he said, "there's not much opportunity for it here."
"But sometimes I'll use it for the Kings," he said, "when a player gets sent to the penalty box."
And even this far into his career, a bit of boyish baseball fan comes out when he talks about the occasions when what he does catches the ear of one of his team's players.
"Justin Turner once told me he hoped there would be a play to [Enrique] 'Kike' Hernandez that night so that I would play his walk-up music," Ruehle said. "At that time it was [the Luis Fonsi-Daddy Yankee hit] 'Despacito.' He said he really enjoys it when I do that."
Follow @RandyLewis2 on Twitter.com
For Classic Rock coverage, join us on Facebook
Get our L.A. Goes Out newsletter, with the week's best events, to help you explore and experience our city.
You may occasionally receive promotional content from the Los Angeles Times.