Review: Drake keeps making up with his enemies. His latest? Chris Brown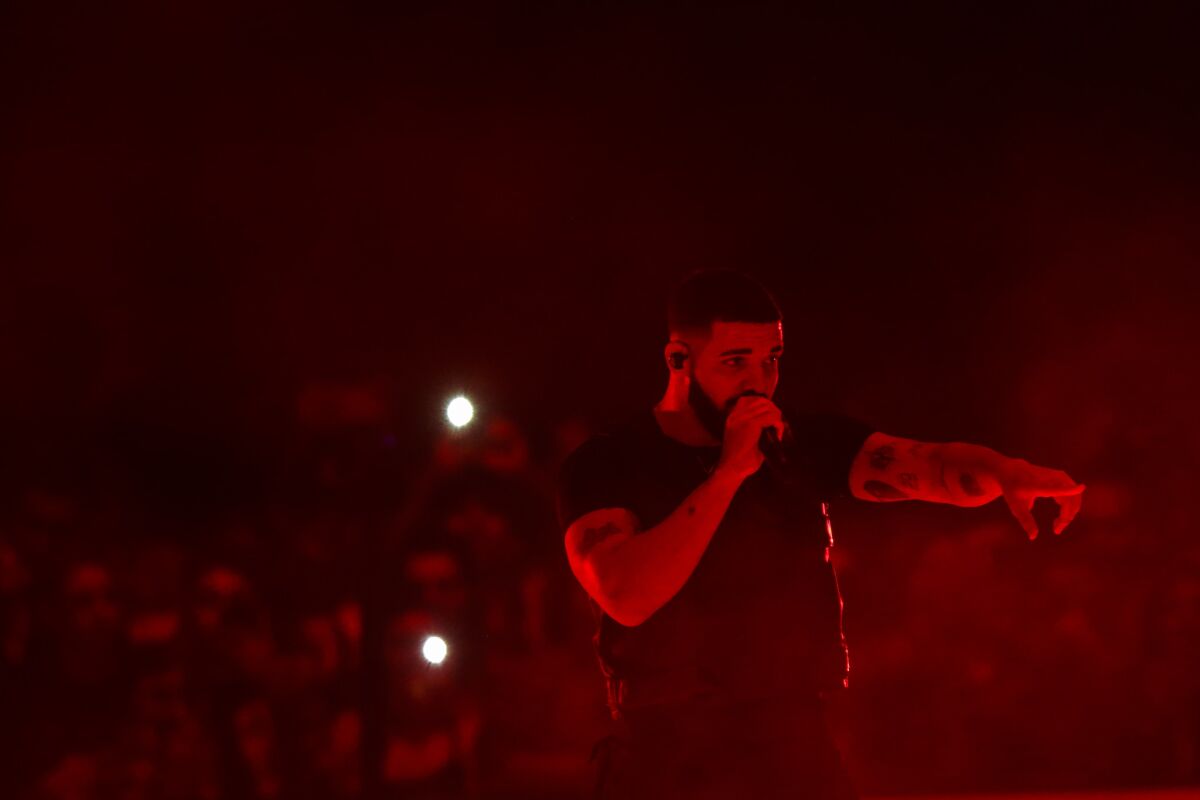 Pop Music Critic
To paraphrase his recent hit with Migos, Drake is walking it like he's been talking it.
On Friday night, the superstar rapper and singer finished his concert at Staples Center — as he's reportedly finished many of the shows on his current tour with the Atlanta hip-hop trio behind "Walk It Talk It" — with a few words about the value of unity.
"We're living in an interesting time, where I feel like every day I pick up my phone or I turn on the TV and you got all these people trying to tell us how divided this country is getting," Drake said, adding that those messages are coming "all the way from the top — even from the President of the United States."
"But I look around Staples Center," he went on, "and I see 18,000 people from all races, from all places, and we having us a good" — here his enthusiasm turned briefly unprintable — "time tonight!"
Hollow grandstanding from a veteran entertainer? Well, consider that Drake's little speech followed an unannounced appearance by Chris Brown, the pugnacious R&B singer with whom Drake has publicly sparred for years.
After describing Brown as "one of the most talented human beings on the planet," Drake danced excitedly as his former nemesis performed his songs "Party" and "Freaky Friday" — a surprising show of reconciliation that drew screams from the capacity crowd.
It wasn't the first time in recent weeks that Drake has sought to squash (or at least walk away from) a longstanding beef.
Last month, he brought Meek Mill, another onetime foe, onstage in Boston, where the two shook hands. And earlier Friday, on LeBron James' HBO talk show, "The Shop," he explained why he didn't respond to a widely publicized diss track by Pusha-T with one of his own.
"'Man, this is not something I ever want to be remembered for,' " Drake recalled thinking to himself. "'This is not even a place that I necessarily want to go.' "
Not long ago, peacemaking would've resembled an unlikely career path for Drake, who after breaking out as hip-hop's great emoter went on to develop his more belligerent side as he climbed toward pop's pinnacle.
Which is definitely where he finds himself today: "Scorpion," Drake's latest album, set records on both Spotify and Apple Music when it came out in June for the most streams in a single day. And Friday's show was the first of seven in Los Angeles on his tour with Migos, including two more Staples dates and an additional four concerts next week at the Forum.
Ahead of opening night, Drake said at one point, he'd been thinking about his lengthy history in Los Angeles, where the Toronto native lives part-time (and where he said he first came professionally for an unfruitful tryout with Dr. Dre). And to honor those fans who'd been with him since Day One, he'd put together a medley of oldies — "Over," "Headlines," "Crew Love" — whose seeming ancient-ness only reminded you how long Drake has been creating hits.
But perhaps the scale of Drake's success has convinced him, not unreasonably, that he has no more natural enemies. Thus, the olive branches.
This show emphasized a kind of benevolent-despot vibe, with Drake onstage by himself for most of the night as he led the audience through rap-along renditions of stuff from "Scorpion" and his albums "Views" and "More Life."
The production was impressive and meticulous: a rectangular stage, positioned in the middle of the arena's floor, that doubled as an enormous high-definition video screen flashing graphics and photos; small illuminated drones that blinked and moved in time to the music; a life-size mock-up of a lemon-colored sports car that flew over fans' heads during "Yes Indeed," Drake's duet with Lil Baby that mentions a "yellow Ferrari like Pikachu."
Writing afterwards on Twitter, the pop singer Adele called it the "best production I've ever seen hands down."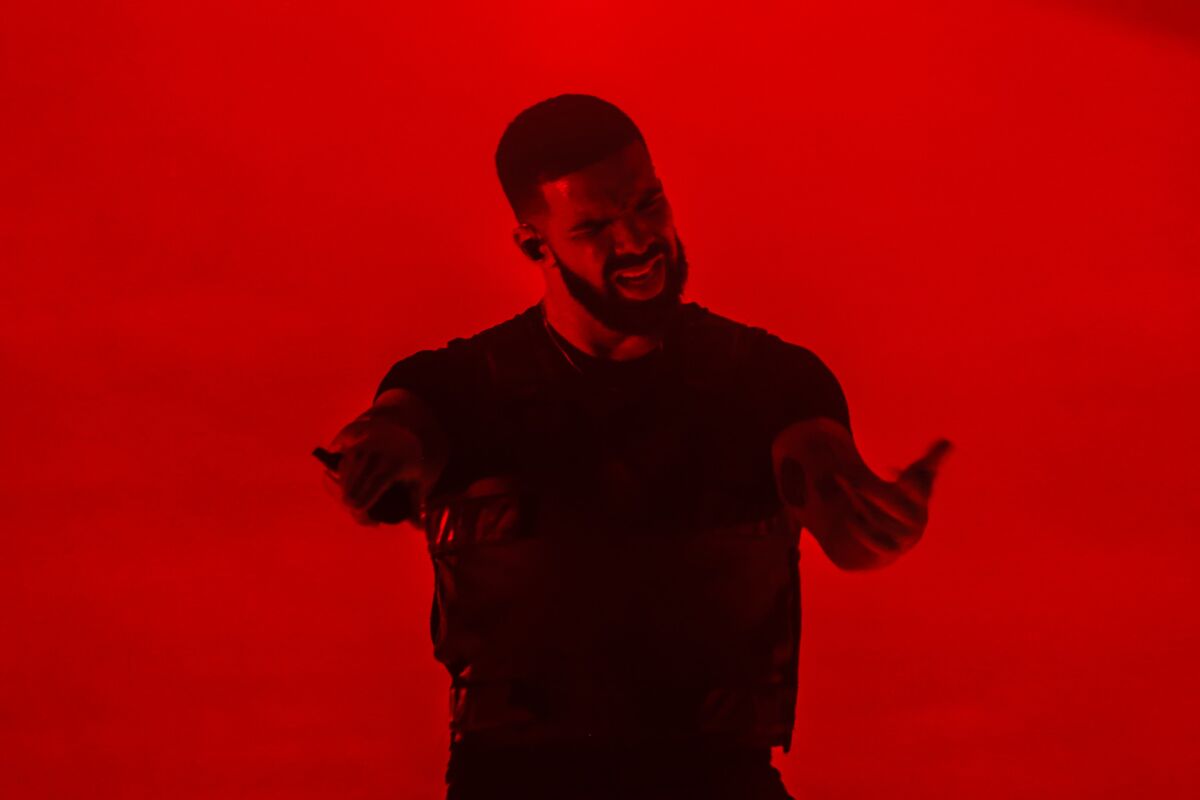 Drake structured the concert like he did "Scorpion," with rowdy rap songs filling the first half and slick R&B tunes dominating the second. (In between, Migos reappeared following its opening slot for a mini-set that included "Walk It Talk It" and a cameo by Tyga.)
"Don't Matter to Me," built around a prominent vocal sample of the late Michael Jackson, led into Drake's rendition of the King of Pop's "Rock with You" — an appealingly audacious selection that nonetheless felt like the rare aesthetic misstep for Drake, who slowed down the song, sacrificing the tender exuberance of Jackson's original.
Fortunately, he kept the tempo up for a string of tracks — "One Dance," "Work," "Controlla" — with irresistible grooves borrowed from Africa and the Caribbean. Ditto "Nice for What" and "In My Feelings," for which he was joined by a half-dozen female dancers whose joyous and self-assured moves embodied this once-callous rapper's lyrics about shutting down disrespectful men.
Of course, Brown's turning up soon after that made it harder to parse the evolution of Drake's sexual politics; the two are thought to have originally fought over something to do with Rihanna, whom Brown was famously convicted of assaulting in 2009.
Anyone watching their improbable bro-down Friday could feel good about the chance for friendship after acrimony.
Looked at another way, though, these were simply two more powerful men setting an agenda yet again.
Twitter: @mikaelwood
Get our L.A. Goes Out newsletter, with the week's best events, to help you explore and experience our city.
You may occasionally receive promotional content from the Los Angeles Times.