At Dusk Campout festival, L.A.'s techno underground heads into the woods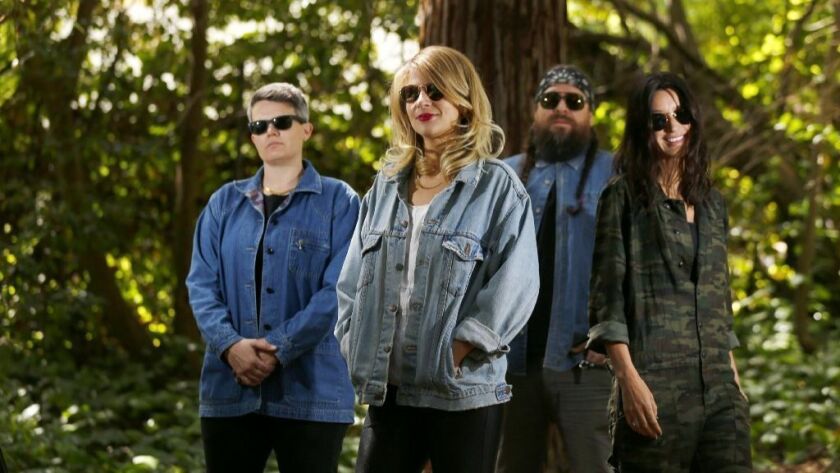 Back in 2014, when club promoter Jeniluv tried to throw the first edition of the Dusk festival, she almost pulled it off. The L.A. DJ, born Jeni Erickson, brought 400 friends and friends-of-friends out to her rural Joshua Tree property, where she set up a stage for a bill of underground techno and let everyone camp out on her stretch of high desert.
But even that far into the wilderness, she still had to deal with the neighbors.
"We got kicked off the land shortly thereafter," Erickson said, laughing ruefully. "It only took one person four miles away who could vaguely hear the music, and he was adamant that he didn't want that happening. The sheriff was forced to be like, 'This one person has ruined this for you.' But it never left our heads that we wanted to do something more legit."
Her second pass at Dusk, now with fellow L.A. DJs Heidi Lawden and Masha Martinovic in tow, will go even deeper into the wild. This weekend's festival is being held on a Native American reservation in Pauma Valley, some 120 miles from downtown, an off-the-grid trek for even the most intrepid underground music fan.
But as L.A. festival culture turns pop and large-scale, and nightlife encounters burdens of rent and government scrutiny after the Ghost Ship fire, both promoters and scene supporters are exploring new terrain for this subculture to thrive in.
"With L.A.'s curfews and the cutoffs, we really needed to get out of L.A. to produce something like this," Martinovic said.
"Everybody is forced to leave or forced to party in some illegal way. You know, 'whose house are we going back to?'," Lawden added. She gestured at the trees behind them in the Ferndell woods in Griffith Park. "With this, you're partying in the trees and going back to someone's tent."
Martinovic, Lawden and Erickson, each in their late 20s to 40s, are veterans of L.A.'s liminal club-music underground. They each throw warehouse events of their own and prop up a local scene that runs parallel to the mainstream dance-music business. They've recently performed at higher-profile festivals: Lawden played at the Coachella Valley Music and Arts Festival in April; Erickson and Martinovic played Chinatown's inaugural Secret Project festival, founded by Electric Daisy Carnival's parent firm, Insomniac.
But they've seen a bifurcation in L.A. electronic music. On one hand, the city's systemic indifference (or even hostility) to independent nightlife means that reliable and affordable venues are hard to come by, stifling new events. On the other, the big players scoop up global talent months in advance and can leave local promoters feeling adrift in their careers — even in L.A., the music-business capital of the U.S.
"Some of the magic has disappeared for sure," Martinovic said. "A lot of [shows] are the same formula over and over again. Some of the same spaces are being used repeatedly. There isn't much of a wow factor. It kind of feels like you're living on a loop."
Their solution? Get way, way out of town.
The star of the 800-capacity show will be the land itself, a mountaintop plot inside the La Jolla Reservation. The site might be vaguely familiar to some L.A. dance music fans (an early installment of the Desert Hearts festival happened elsewhere on the same reservation).
After first scouting the site in June last year, they finally got the green light in January to begin building it out. The far-flung location made logistics complex — the team had to truck in their own generators, sound system and security staff. But the long haul was kind of the point.
"All the shade, the creek that's running through it, it doesn't feel like a festival space," Martinovic said. "It feels like you're on a camping trip with your friends and there's a festival happening in the adjoining woods."
"California is the most beautiful place in the world," Lawden added. "I'm not playing another festival knee-deep in mud when I could create one on my back doorstep."
As idyllic as that sounds though, the completely independent fest is a huge risk for the trio. "There's no sponsorships or brands at this," Martinovic said. "We pooled our savings to put this on with no other financial support."
So they turned to their friends for help. The Dusk festival pulls its lineup from the top tier of local DJ talent, with L.A. scene pals like Chris Cruse, Cooper Saver and many others. There aren't headliners per se, but acts like DJ Harvey, Peaking Lights, DJ Nobu and Jennifer Cardini have played some of the world's best and biggest clubs and festivals.
"Pulling off any party is a challenge," said DJ Harvey, the L.A. club-music scene paterfamilias and one of the most high-profile artists at Dusk. "I threw a New Year's Eve party this year with full production, but you don't really want anyone to think about the work behind it, just to have a good time. Dusk is the same."
The bill lasts almost all weekend (with a few quiet hours for sleeping), but it's spaced out with relaxed morning ambient sets that build to wilder nights. At other wilderness festivals, "I've done the thing where I've rented an RV and been in it to win it and then left on Saturday at 9 p.m. because I can't take it anymore," Lawden said. At Dusk, added Martinovic, "the music will flow with the time of day. It's not going to be go-go-go for 60 hours."
The fest is BYOB (no on-site alcohol sales meant a much-easier permitting process). But anyone expecting "a catering table with some CDJ's set up on it," as Lawden put it, might be pleasantly surprised by the level of production they've trucked out into the middle of nowhere without power lines or WiFi. Fabricator and designer Stephen Rivera built a custom video-mapped hexagonal main stage, one that Erickson promises won't "outshine the nature, but there's a lot of lasers."
But in an Instagram-driven festival economy, Dusk doesn't have any visuals to actually show people yet. The founders have been traveling back and forth to the site over the last few weeks preparing it, but they've kept imagery of the grounds completely under wraps. To get fans out there, they're relying entirely on the trust of their own fan bases.
"As hard as it is to say 'you won't know until you get there,' we want to be able to save that wow factor," Lawden said.
"I moved here from London with the promise of things like this," she continued, "and then rapidly discovered that they don't exist. It's taken this long to find my tribe."
------------
Dusk festival
With DJ Harvey, DJ Nobu, Jennifer Cardini and more
When: May 17-19
Where: La Jolla Reservation, 22000 Hwy 76, Pauma Valley
Tickets: Prices vary, $80 (single day) to $225 (weekend)
Info: theduskcamp.com
For breaking music news, follow @augustbrown on Twitter.
---
The complete guide to home viewing
Get Screen Gab for weekly recommendations, analysis, interviews and irreverent discussion of the TV and streaming movies everyone's talking about.
You may occasionally receive promotional content from the Los Angeles Times.