FYF Fest puts the unexpected together and makes it rock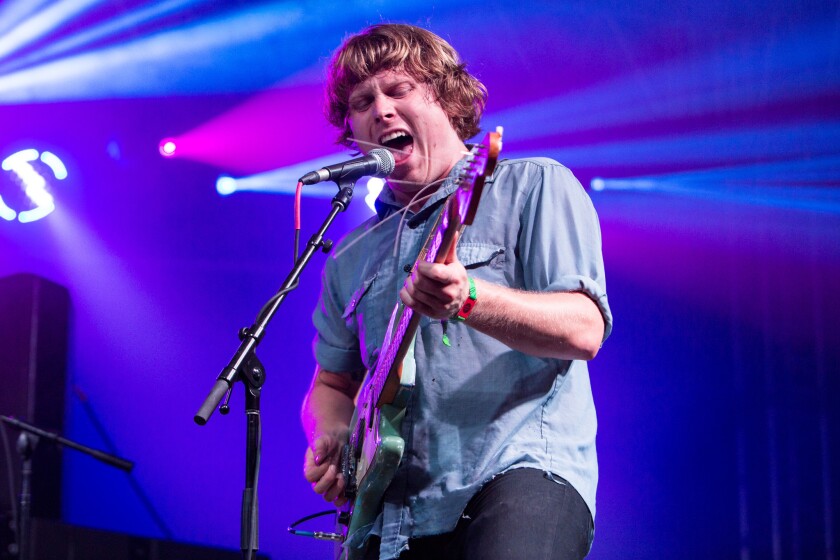 When FYF Fest began in 2004, it was, essentially, a punk rock festival in Echo Park clubs. In the fest's early years, bands like Circle Jerks, No Age and the Bronx established FYF as a safe space for weird, wild and aggressive rock.
More than a decade later, FYF Fest is much bigger. Last year's attendance topped 30,000 and was held at the Los Angeles State Historic Park; this year's sold-out FYF at Exposition Park will likely pull even more for two days of experimental R&B from Kelela, space funk from Blood Orange and volatile rap from Earl Sweatshirt.
But FYF never stopped championing fast, loud and difficult rock music. This year, bands like the reunited Seattle group the Blood Brothers, Against Me! (the acclaimed act of transgender frontwoman Laura Jane Grace), bluesy garage punk artist Benjamin Booker and neo-black-metallers Deafheaven occupy some of FYF's best real estate.
Other large music festivals in the U.S. have increasingly turned to electronic dance music, and FYF has plenty of that as well. The fest's headliners include suave, major-label rock acts like the Strokes and Haim. But it's also the rare contemporary American music fest where being an angry, angsty rock band makes you one of the cool kids (especially at a spacious festival near the Natural History Museum).
"Kids definitely like electronica today, but they also love bands like Balance and Composure, and bands like that don't usually get to play together," said FYF Fest's 29-year-old founder, Sean Carlson. "The reason I put bands on the bill is because I'm inspired by them, and I listen to that La Dispute record all the time."
Carlson, a former teenage intern at the L.A. punk label Epitaph, is quick to stress that he doesn't look at FYF through any particular genre lens. Recent bills reflect his wide-ranging interests, and a 2011 partnership with Coachella Valley Music and Arts Festival promoter Goldenvoice helped FYF establish its eclectic but coherent brand.
Yet while other fests have responded to fans' seemingly bottomless appetite for EDM, this year's FYF proves that punk can peacefully coexist with disco and R&B — and the genres can learn from one another.
"Over the last 10 years, it's been all about electronic music, but there's also been all this garage rock that's just under the surface. It's still about the live show, and people still love a rock 'n' roll performer," said FYF performer Booker, a 25-year-old singer-guitarist who draws his sound from vintage punk such as X and Gun Club and blues like Blind Willie Johnson.
Even though he recently toured with Jack White in huge theaters, he sees FYF as an essential tour stop for punky, progressive acts.
"Oh, yeah, I've been looking forward to this one for a long time," he said. "So many bands I grew up on have played this festival."
That trust in FYF's punkish but catholic tastes is shared at the top of the bill. The Blood Brothers, a beloved Seattle group known for its dual-lead-singer howling and blasts of guitar noise, broke up in 2007 after a decade at punk rock's creative vanguard.
After two and a half years of hopeful hints from Carlson, the quintet will reunite for its first major comeback set at FYF on Sunday. The fest's broad appeal coupled with its longtime commitment to punk acts made it an ideal destination for the Blood Brothers on its limited run of reunion shows.
"This was the one that made sense for us," said Jordan Blilie, the band's co-lead singer. "They do such a great job of curation, and we fit on the lineup. They've always had a lot of aggressive bands — this was something that fans of ours would be going to, anyway."
For a band like Pennsylvania's Balance and Composure — one inspired by much of the same emotional, incendiary late-'90s punk that Carlson grew up on — FYF is a validation that many young fans are looking for something fleshier at music festivals.
After years of watching EDM live sets that are little more than laptop wrangling, Balance and Composure singer Jon Simmons thinks it's no accident that contemporary audiences are coming to FYF in search of something more, well, live.
"It's the most important thing about music, to have chemistry while performing and to have that 'in the moment' feeling," he said. "If you're playing to backing tracks or standing behind a laptop, what are you accomplishing besides proving that you are completely bogus and basic? We've starved ourselves to get to shows and play."
Rather than take sides on that debate, this year's FYF looks to find the spirit of punk — independent, urgent and uncompromising — across a range of genres. In Carlson's world, Todd Terje's droll lounge-lizard dance pop and Flying Lotus' laptop-serrated jazz pair well with La Dispute's wordy hard-core novellas and Against Me!'s unflinching, empathetic vignettes from transgender life.
Yet three nights before FYF kicks off, as Carlson talked about his future plans for the festival on the phone, a swarm of LAPD officers suddenly gathered outside his window.
"Oh, wow, hang on, there are a ton of cops outside right now," he said. "I think they're looking for someone on the roof."
Even when he's running one of L.A.'s biggest festivals, he can't escape the feeling of being at a barely legal punk show.
Twitter: @AugustBrown
------------
FYF Fest
What: With the Strokes, Phoenix, Haim and more.
Where: Exposition Park and the Los Angeles Memorial Sports Arena
When: Gates open at 2 p.m. Saturday and Sunday
Price: Sold out
Info: fyffest.com
---
Inside the business of entertainment
The Wide Shot brings you news, analysis and insights on everything from streaming wars to production — and what it all means for the future.
You may occasionally receive promotional content from the Los Angeles Times.