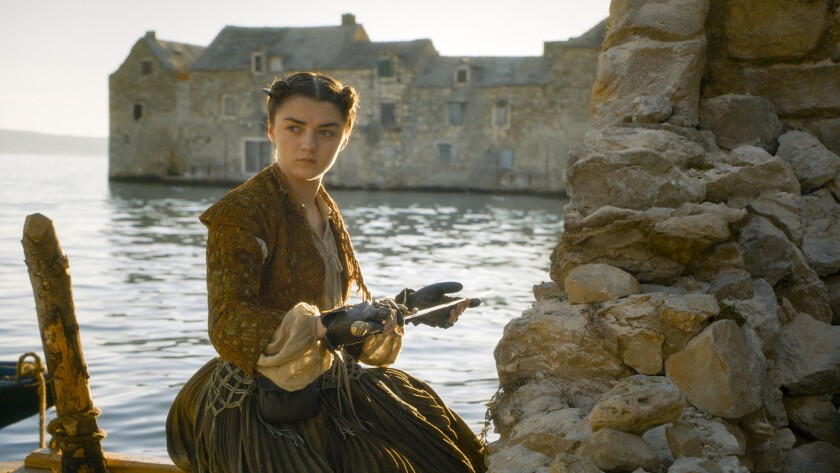 Fans of HBO's series "Game of Thrones" are abuzz about a mysterious upcoming fan event at the Hollywood Palladium. The fete, which will occur on Monday, is in service of a "special live concert announcement" featuring composer Ramin Djawadi, who is responsible for the series' musical score, and actor Isaac Hempstead Wright (a.k.a. Bran Stark).
According to a press notice, the event will feature a full orchestra performance of music from the show, a display of costumes from Season 6, an interactive "Hall of Faces" exhibit, a "holographic experience" involving the character Melisandre and Arya Stark's sword, Needle.
See the most-read stories in Entertainment this hour »
As with the series itself, which HBO recently announced will conclude in 2018 at the end of Season 8, questions remain. Specifically, Djawadi will be revealing "exciting new details surrounding an extension to the 'Game of Thrones' universe.'
Details are so far sketchy, but a 12-second trailer offers clues. "Live in concert. Music is Coming," reads text in the clip, followed by a title card that says, "Game of Thrones Live Concert Experience featuring Ramin Djwadi."
Anyone who has ever had the majestic "Game of Thrones" opening theme song stuck in their head understands Djawadi's skills at musical dramatization.
The German-Iranian composer is best known for his work in the "Thrones" universe, where his emotionally charged orchestral scores augment battles, sex scenes and everything in between. He has also scored films and television shows including "Iron Man," "Person of Interest" and "Prison Break."
The Monday event at the Hollywood Palladium, which will occur at 11:30 a.m., is open to the public, but attendees must RSVP to gain entry.
There's a lot of terrible music out there. For tips on the stuff that's not, follow Randall Roberts on Twitter: @liledit
ALSO
'Game of Thrones' looks to rule the Emmys again
'Game of Thrones' season seven teaser takes you behind the Iron Throne
The 'Game of Thrones' crew's goal for its epic 'Battle of the Bastards': Show films how it's done
The 'Game of Thrones' panel at SDCC had tons of love for Hodor, but no real surprises
---