Music tastemaker Gary Calamar of KCRW makes an EP of his own work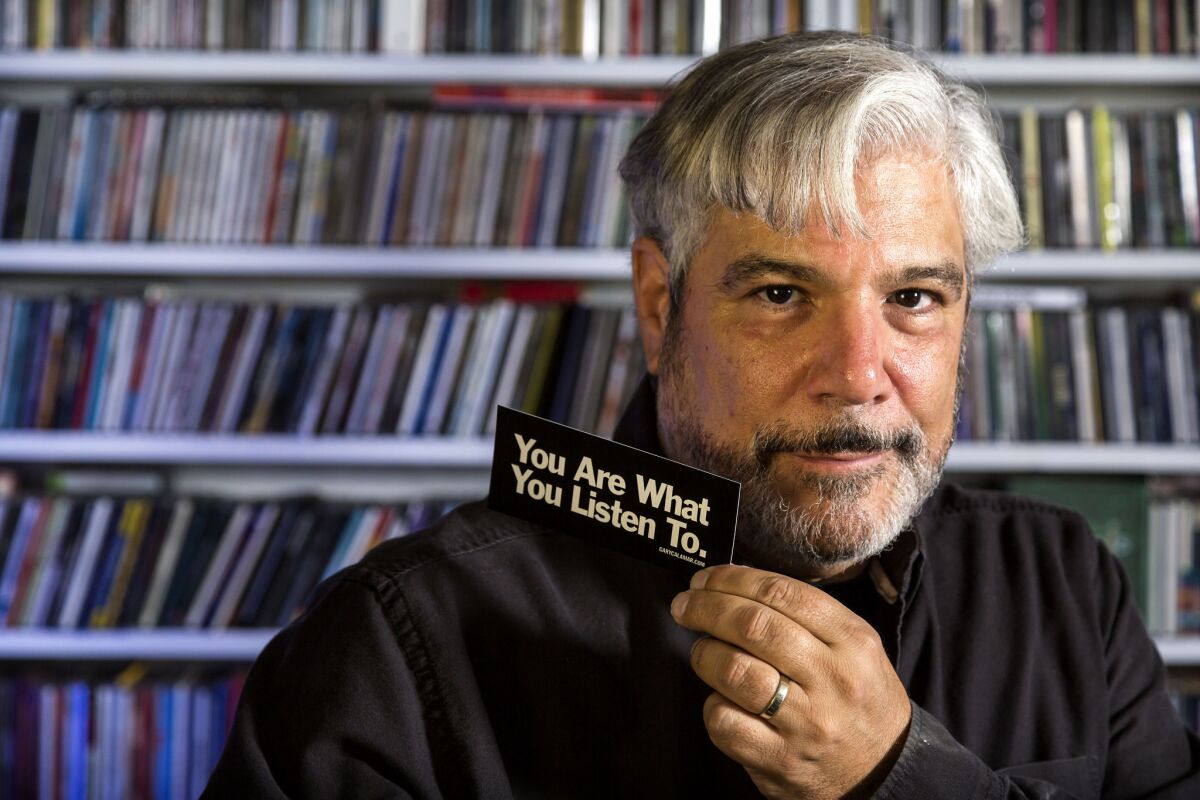 Every aspiring musician needs someone to believe in their songs. KCRW-FM DJ Gary Calamar, who is also one of Hollywood's most respected music supervisors, has been that person for countless bands, placing their tracks in television shows such as "True Blood," "Six Feet Under" and "Dexter."
But it took a nudge from Iggy Pop for him to finally take the mike himself.
Calamar had long been a weekend-warrior songwriter, but when the Stooges' frontman reached out about appearing on the "True Blood" soundtrack, Calamar took a chance and sent him an original tune (co-written with James Combs) called "Let's Boot and Rally." Pop loved it and asked to cover it (with Best Coast's Bethany Cosentino) during the show's 2012 season.
"And you don't want to argue with Iggy," Calamar said. Thus began a new kind of music industry placement for him: behind a microphone and an electric guitar.
Calamar's debut EP "You Are What You Listen To" (out Oct. 14 on Atlantic Records), is an unexpected and revealing effort. The six songs are unpretentious, easygoing indie rock cuts that hearken back to '80s Athens or '90s Chapel Hill, and they are a rare instance of the music-biz tastemaker putting his own taste on the line — and his own art out in public.
Calamar's Laurel Canyon home has a basement stacked with thousands of records, and enough rock 'n' roll ephemera to stock a mini Grammy Museum. It's evidence of a life committed to supporting other people's music. But in talking about his own record, Calamar is cheerfully self-effacing yet obviously proud.
"One of my colleagues on 'True Blood' said that this was like Roger Ebert making a movie," Calamar said, laughing. "But I always joked that I wanted to work my way to the top of the music industry and then work my way back down to the bottom."
It doesn't get much lower than an indie rock singer-songwriter playing his debut solo show in L.A. (which happens Oct. 12 at the Federal Bar in North Hollywood, where Calamar hosts a weekly music series). But it's clear that Calamar's talents for placing quirky, melodic songs at key moments on TV comes from an inherent understanding of how a good pop song works.
Tracks like "I've Got an Idea" and "She's So Mid-Century" sit right in Calamar's favored Ray Davies/Elvis Costello/Nick Lowe sweet spot of catchiness, humor and thoughtfulness. They're not especially extravagant or dramatic tunes, but they're charming. Producer John Would, who worked on many Calamar film projects and Fiona Apple's "The Idler Wheel …," added just enough crunch and texture to give the songs a distinctive backbone.
That low-key quality of the writing turned the ears of Kevin Weaver, the president of film and television at Atlantic who shepherded the project. Though he'd worked with Calamar for years, Weaver had never known him as a songwriter, and what he heard was a pleasant surprise.
"I'd always just known him as an A-level supervisor and DJ, one of the best in the business," Weaver said. When Calamar offhandedly mentioned he'd been writing music and had a new deal with Downtown Music Publishing, "[Gary] played me 'I've Got an Idea,' and these songs were special enough that it just made sense for us to do something together."
The two had partnered on other projects (Atlantic released several volumes of "True Blood" soundtracks). But Calamar's EP is kind of a reversal of their longtime working relationship.
Weaver stresses that this is a passion project for everyone involved and that "our working relationship is good regardless, he's a good friend, and this was just something we wanted to do for all the usual reasons because we liked the songs." Atlantic is releasing the EP only digitally, and the gray-haired father of one Calamar remains in demand as a supervisor, with current work on BBC America's "Intruders" and the Amazon series "Cocked."
Calamar doesn't have expectations for international headline tours and the trappings of rock stardom. He's being careful not to open his elite-level contact list for this project. "On one hand, I'd love for Apple to put one of these songs in an ad," he said. "But people who know me know I'm not going to expect everyone to drop what they're doing and listen to my record."
Yet he admits that, after a life spent breaking other acts and getting them big moments on TV, it's pretty cool to make a major-label debut.
"I wanted to put the Atlantic Records logo on the album cover; this whole thing is just mind-blowing" he joked. "But also, Gary the Artist wants to let it be known that he's not too busy for music supervision work."
Twitter: @AugustBrown
Get our L.A. Goes Out newsletter, with the week's best events, to help you explore and experience our city.
You may occasionally receive promotional content from the Los Angeles Times.