The Go-Go's on making up after a divisive lawsuit and playing the Hollywood Bowl's Fourth of July shows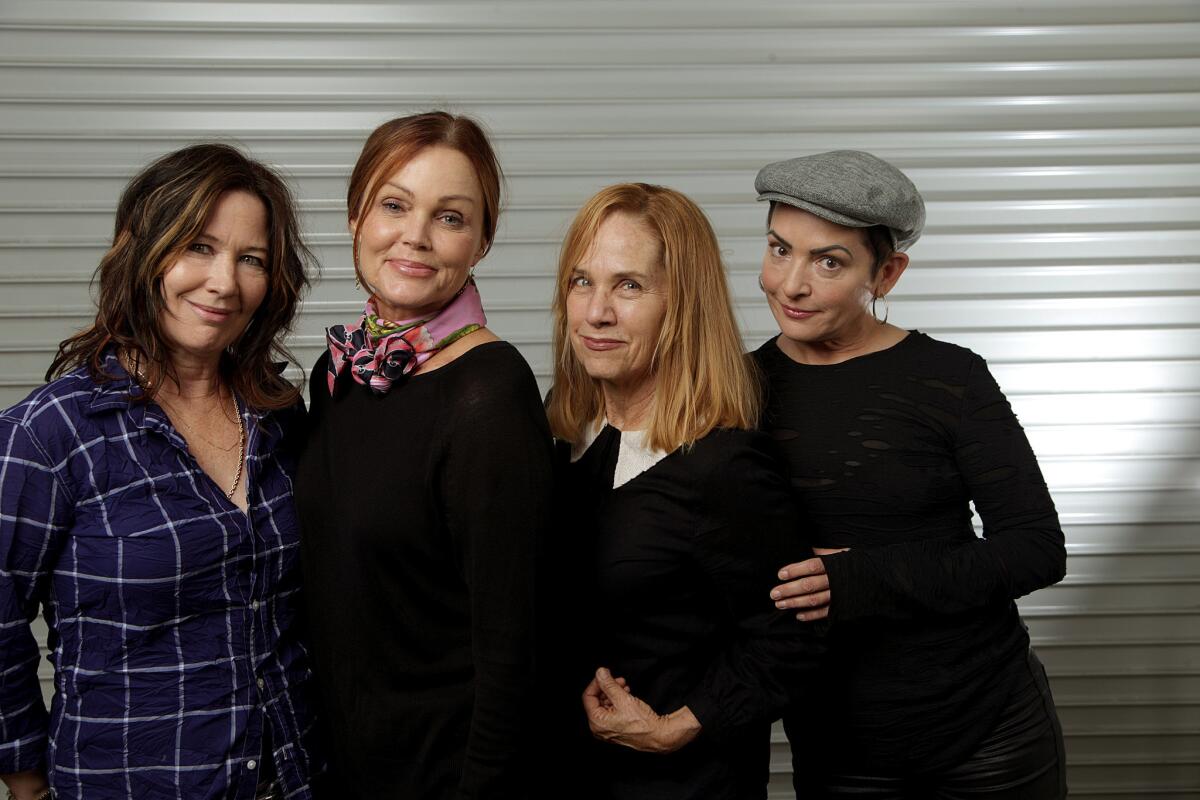 Pop Music Critic
In 2016, the Go-Go's finished a so-called farewell tour with a spirited hometown show at the Greek Theatre, where the L.A. band whipped through their early-'80s pop hits like "Vacation" and "We Got the Beat" with so much infectious enthusiasm that you had to wonder why exactly they were saying goodbye.
Two years later, the Go-Go's are reclaiming that beat with a three-night stand at the Hollywood Bowl set to kick off Monday. The concerts, which will pair the group with the Los Angeles Philharmonic (and a Fourth of July fireworks display), come just before the Broadway opening of "Head Over Heels," a new musical that uses the Go-Go's catalog to retell a 16th century romance by Sir Philip Sidney.
What's more, these big doings have led the group — featuring singer Belinda Carlisle and guitarists Jane Wiedlin and Charlotte Caffey — to reunite with bassist Kathy Valentine, who left in 2013 amid a lawsuit over her share of the band's revenues. (Drummer Gina Schock recently underwent surgery, according to Wiedlin, and will sit out the Bowl shows while she recovers.)
To talk about the band's comeback, if that's the word for it, Carlisle, Wiedlin, Caffey and Valentine sat down before a rehearsal the other afternoon in North Hollywood. These are excerpts from our conversation.
So I guess retirement didn't stick.
Charlotte Caffey: OK, we tried to be very specific in saying that we were retiring from touring, not from playing.
Do you think that was widely understood?
Jane Wiedlin: Obviously not!
Caffey: We only want to do cool gigs now — like the Hollywood Bowl for three nights.
Wiedlin: Which is really different from touring. Touring is exhausting, and the older you get, it's so hard on your body. You end up yanking out your shoulders and your neck.
Even so, zillions of bands say they're done — then they go back on the road.
Wiedlin: In our 70s? Doubtful. We'd all come out with walkers and a morphine drip.
One of the things I liked about the Greek show was how unsentimental it was.
Belinda Carlisle: We're not very schmaltzy by nature. But I was a little bit tearful.
Wiedlin: You were? About not touring?
Carlisle: More just reflecting on what we'd done all those years.
Wiedlin: You know what I despise? I don't want to name names — Janet Jackson — but the ones who do a certain song every single night on a 200-city tour and start crying at the same exact place. That kind of choreographed emotion makes me insane.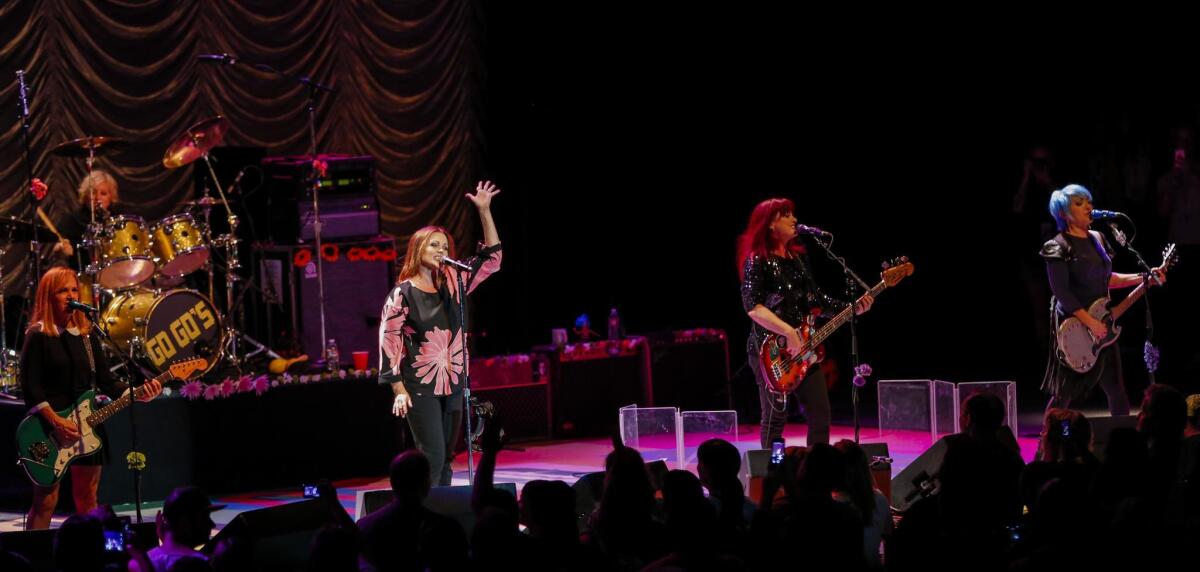 And yet here you are entering the world of Broadway, which is literally all about choreography.
Carlisle: Listen, I am not a fan of that genre at all. Musicals — it's not my thing. But this one is smart. And it's unexpected. It's not a bio thing like "Dreamgirls" or whatever.
Kathy Valentine: Do people keep asking you, "Who's playing you?"
Wiedlin: Yes!
People assume it's the story of the Go-Go's.
Valentine: We've had scripts brought to us. There's a reason you've never seen anything, and it's not because we're opposed to our story being out there. It's just that no one's written it very well.
Kathy, talk about returning to the band.
Valentine: I think of it this way: We're all complicated human beings, and we were married for a long time. Then we had an acrimonious divorce. But we had a kid, which was the Go-Go's. And maybe the kid does something good, gets a Stanford scholarship or something, and the parents get back together and find out they loved each other all along.
You're looking at the Go-Go's musical as the Stanford scholarship.
Valentine: It's like we're in "The Parent Trap."
Was it hard to go through that?
Valentine: Leaving was hard. Coming back wasn't. This band has given me everything that any musician or songwriter could dream of. I've co-written songs that millions of people have heard. I've performed in front of fans that have loved us for decades. In the scope of our career, what happened seems like a blip.
What was it like to see the band play concerts without you?
Valentine: That was odd more than hard. I mean, I didn't go to the concerts.
Carlisle: You weren't standing in the back wearing the glasses with the nose and the mustache.
Valentine: I had other things I wanted to do in my life, so I tried to just let go.
But you also took your bandmates to court. Was it easy to let go of the resentment when you came back?
Valentine: Absolutely.
Wiedlin: It was for me. Shortly after all that happened, I started wondering if we'd done the right thing. And I started thinking, I don't think it's any better without Kathy here. Let's face it: Over our 40-year period there have been so many alliances and feuds between every combination of the five of us. That's nothing new, but for some reason at that point in our lives, we just freaked out. If I could take it back, I totally would. But I can't. So all I can do is make amends to Kathy and move on.
Speaking of which: What's the future of the Go-Go's? A great rock band with women in their 50s and 60s — we don't see much of that.
Caffey: We don't see any of that.
Wiedlin: Ageism is just as bad as sexism in the industry. I got signed in my late 30s to a solo deal at Geffen, and they said I was too old to make a record. They refused to promote it. The head of publicity said, "Not one person wants to interview you." They were militant in their anti-age-ness.
Valentine: I love that Blondie still makes records and that Debbie [Harry]'s in her 70s and she gets out there and slays. Would it be awesome to carry some kind of torch? Yeah, but life is important too. We have families; we have other things we want to accomplish. And we don't want to be playing the state fair as an oldies act.
So write new songs.
Wiedlin: [Sings] "I'm doing the dishes / I'm picking up dog poop."
Valentine: [Sings] "My daughter's touring colleges."
Yes! Not enough musicians write about stuff like that.
Wiedlin: To what end, though?
Valentine: The last record we made [in 2001], we really worked hard, and it was a little bit of a disaster financially. And it didn't get a big response.
Wiedlin: Crooked management and a crooked record label that went bankrupt.
Carlisle: Remember when we did a million dollars' worth of [radio promotion] for Clear Channel? They said, "You need to have money to have a top 10 single — but if you don't have any, you can do the work and we can see what happens."
Caffey: We ran all over the country going to radio stations, and guess what they'd want to talk about? The old hits. They couldn't have cared less that we'd written this new album and there were some awesome songs on it.
Valentine: Some bands hit a vein, and maybe they should leave it at that. Jimmy Buffett built an empire on one song.
Wiedlin: We're still waiting for our empire.
ALSO
They had the beat: The Go-Go's say goodbye at the Greek
Twitter: @mikaelwood
Get our L.A. Goes Out newsletter, with the week's best events, to help you explore and experience our city.
You may occasionally receive promotional content from the Los Angeles Times.