This year's Grammy Awards were very much about life and death
The full spectrum of life was on display at Sunday's 59th Grammy Awards.
Much of the attention surrounding the ceremony in Los Angeles centered on artist comments or performances on hot political issues, but some of the more emotional moments sprang from the timeless themes of life and death.
There were grand tributes to those we've lost, of course — Bruno Mars and Adele honored the works of Prince and George Michael, respectively — but also more subtle homages to the circle of life, such as Beyoncé's performance that referenced the beauty of childbirth.
Beyoncé also indicated during her acceptance speech for the urban contemporary album Grammy that the collection, "Lemonade," was directed in large part to her children.
"My intention for the ['Lemonade'] film and album was to create a body of work that will give a voice to our pain, our struggles, our darkness and our history, to confront issues that make us uncomfortable," she said.
See the most-read stories in Entertainment this hour »
"It's important to me to show images to my children that reflect their beauty, so they can grow up in a world where they look in the mirror, first through their own families, as well as the news, the Super Bowl, the Olympics, the White House and the Grammys, and see themselves. And have no doubt that they're beautiful, intelligent and capable.
"This is something I want for every child of every race, and I feel it's vital that we learn from the past and recognize our tendencies to repeat our mistakes."
Likewise, it was the birth of roots-country singer-songwriter Sturgill Simpson's first child about three years ago that he has consistently cited as the main inspiration for his sophomore album, "A Sailor's Guide to Earth," which earned a surprise nomination in the overall album-of-the-year category and snared him the country album trophy Sunday.
Picking up his award during the pre-telecast ceremony at the Microsoft Theater, Simpson told onlookers, "Six years ago, I was in Utah working on the railroad, writing songs at night.
"My wife made me quit that job and move to Nashville, so thanks babe," the Kentucky-born singer, songwriter and producer said. After the birth of his son, he added, "I spent that spent first year on the road, missing them. If it wasn't for them, I wouldn't have written this album, so I have to thank them."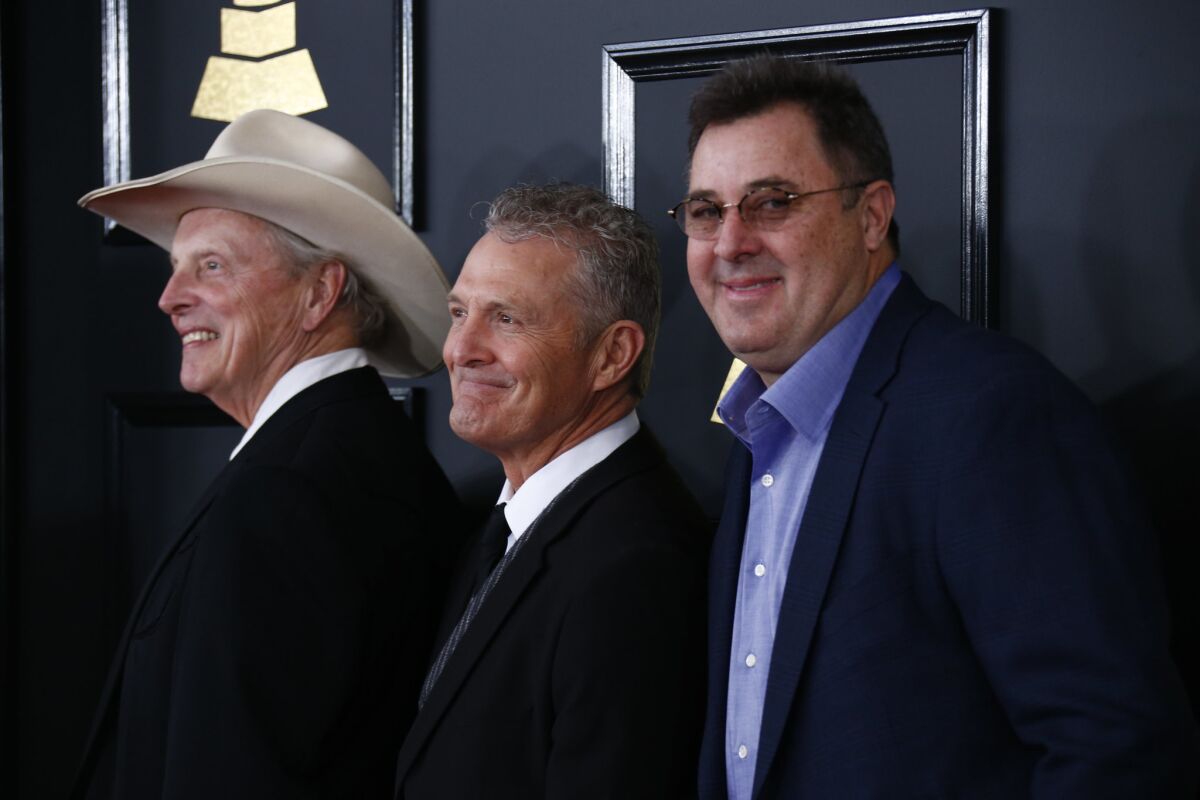 A number of other artists gave powerful acceptance speeches in which they noted that deaths figured heavily into the music that generated awards this year.
Collecting his 21st statuette, country singer and songwriter Vince Gill spoke of the inspiration for "Kid Sister," which was awarded the American roots song Grammy.
"I wish you all would have had the chance once in your life to hear the voice of the woman I wrote this song about: Dawn Sears," he said, referring to the veteran country singer who had been part of his moonlighting western swing band, the Time Jumpers. Sears died in 2014 of lung cancer at age 53. "She had one of the best voices you'll ever hear in your life."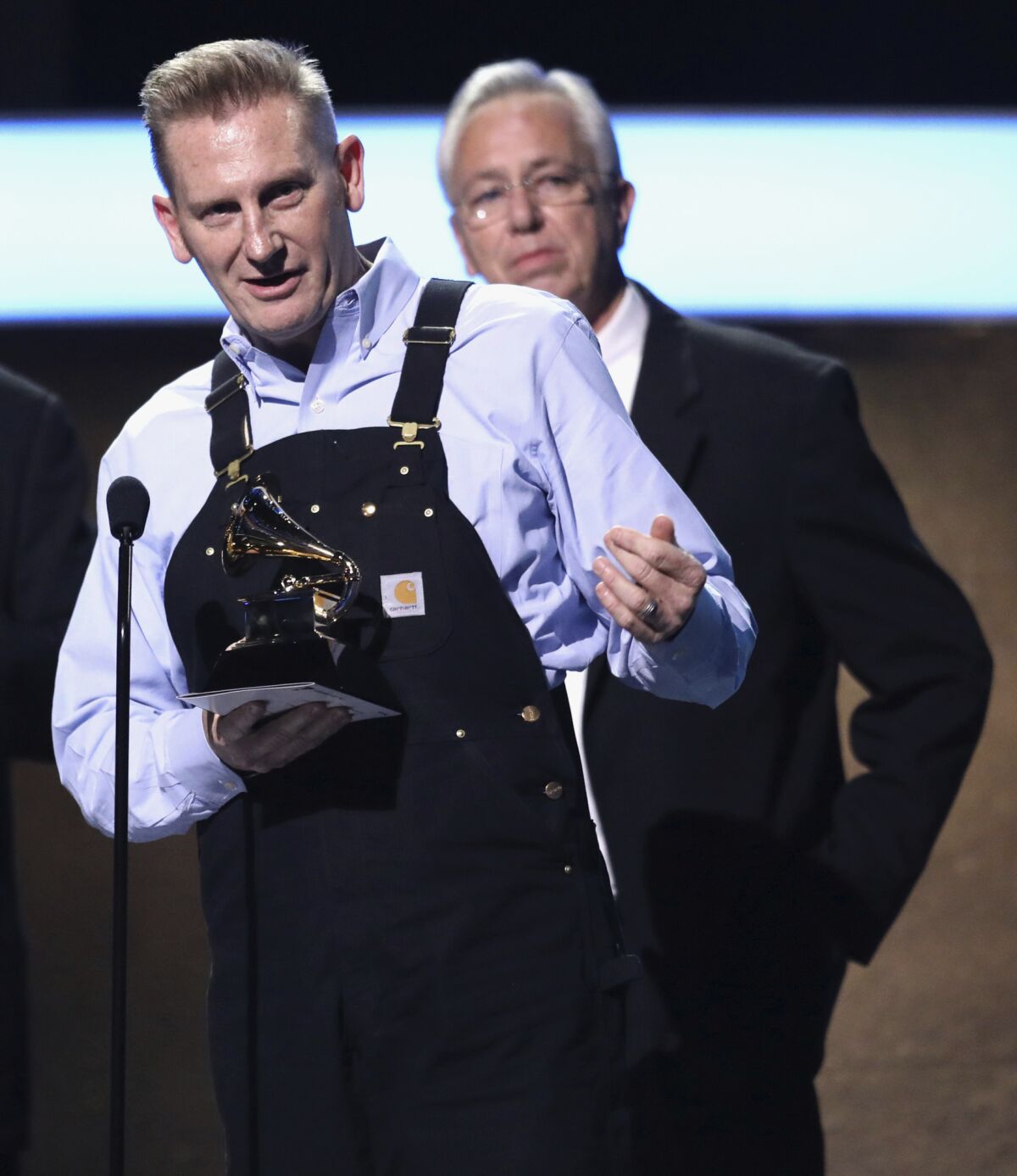 The winner of the regional roots album, Hawaiian musician Kalani Pe'a, said he had struggled with a speech impediment as child, until "my mother introduced me to music, and music saved my life."
Mexican brother-sister pop duo Jesse & Joy's acceptance speech for the Latin pop album award they received for "Un Besito Más" was among many that overtly or subtly weighed in on President Trump's policies on restricting immigration and building a wall between the U.S. and Mexico, but they also noted that the title track "is a song we wrote for our daddy, who passed away."
It includes the lines: "I know you did not want to leave/I know you wanted to stay/Where you are, one day I'll go and visit you/Just save me one more little kiss."
Although the televised ceremony included only a fleeting mention of singer-songwriter Leonard Cohen, who died in November, veteran folk-pop singer Judy Collins saluted him in the pre-telecast proceedings with a performance of the song that put him on the musical map, "Suzanne."
"Here's how I met Leonard 50 years ago," she said from her seat at a concert grand piano. "He came into my living room and said, 'I can't play the guitar, and I can't sing, and I'm not sure if this is a song,' and then he sang me this song."
Saxophonist Donny McCaslin was a collaborator with David Bowie on his final album, "Blackstar," which was awarded five Grammys on Sunday. He described the mercurial English rocker as "a genius, and a funny-as-hell guy. At one point while we were working on the album, he sent me an email that said, 'I'm so happy I just vomited up a 1967 Mercedes.'…. I'm a better artist and a better person for having known him."
Country singer and songwriter Rory Feek, half of the duo Joey + Rory until his wife, Joey Feek, died of cancer in March, saluted her while collecting the roots gospel album Grammy for their final recording together, "Hymns That Are Important to Us."
"My wife's dream was to make a hymns album pretty much her whole life," said Feek, wearing his signature denim overalls even at this black tie-dominated event. "She didn't get a chance to do it until she was diagnosed with Stage 4 cancer.
"She recorded in hotel rooms and in hospital beds, and it came out almost exactly a year ago. When we watched this ceremony last year, she said, 'If we get nominated, promise me you will come.' Then she got a big smile on her face and said, 'Remember, if we win, I'll know before you will.' "
Follow @RandyLewis2 on Twitter.com
For Classic Rock coverage, join us on Facebook
Get our L.A. Goes Out newsletter, with the week's best events, to help you explore and experience our city.
You may occasionally receive promotional content from the Los Angeles Times.