Previewing the key artists, races and storylines for Tuesday's Grammy nominations
Now that Thanksgiving is behind us, it's time for the entertainment industry to turn its attention toward its favorite time of the year: awards season.
Tuesday morning will bring the nominations for the Grammy Awards, which are expected to drop at 5:30 a.m. The major categories will be unveiled on "CBS This Morning," and the network will once again carry the 2018 Grammy telecast, which will be celebrating its 60th anniversary.
The celebration will be held Jan. 28 at New York's Madison Square Garden, which last hosted the Grammys in 2003, on its 45th anniversary. The awards will return to Los Angeles in 2019.
Below, some key questions and observations as we officially head into Grammy season.
Third time's a charm for Lamar?
Kendrick Lamar is likely to win the major hip-hop awards. The bigger question, then, is whether he wins everything at the Grammys.
So will voters feel that classic belated Grammy guilt and give album of the year to an artist who probably deserved it several album cycles ago? At least Adele beating Beyoncé last year was explainable from a sales standpoint. It's hard to imagine the wrath that would befall Ed Sheeran if he shuts out "Damn" for Lamar's third loss at the top prize.
Stand with Kesha
There's no denying the gravity of the movement around sexual assault and harassment in the last few months. No one in music today has been wrapped up in this conversation as much as Kesha, whose years-long battle with her former producer (and alleged assaulter) Dr. Luke is the shadow behind her powerful, chart-topping comeback album "Rainbow" and its searing-yet-hopeful single "Praying."
The academy could make a statement on the cultural climate by acknowledging the record's bravery — and laud an artist who overcame more than just about anyone to return to the top of the pop world.
Keep an eye on alternative
When it comes to the alternative music field, those working their Grammy office pools can probably ink in the unfortunately punctuated Portland, Ore., band Portugal. The Man, whose smash hit "Feel It Still" has become the rare rock track to reach pop audiences. Expect previous Grammy album of the year winners Arcade Fire to also coast into consideration.
One name to watch: Long Island alt-rock band Brand New, whose breakout success — its "Weird Science" debuted at No. 1 on the Billboard chart — likely garnered the band Grammy consideration. That celebratory moment was soon eclipsed, however, as the band canceled tour dates after founder Jesse Lacey issued a statement that broadly apologized to allegations of sexual misconduct that were posted on social media. The issue will likely resurface if Brand New gets Grammy nods.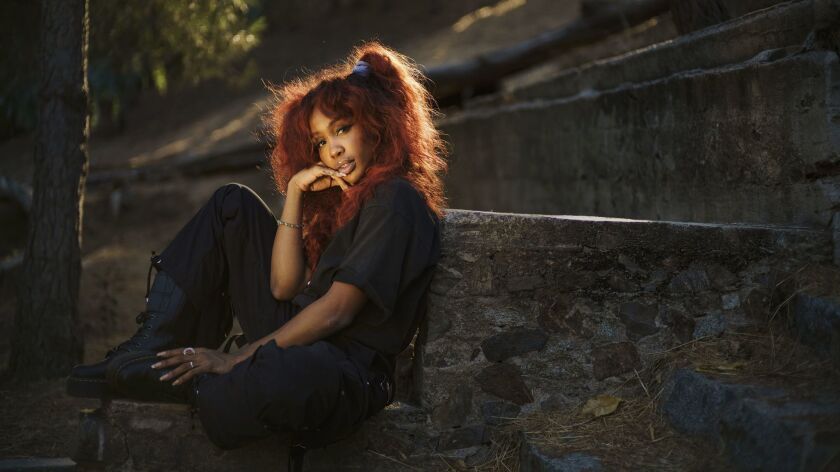 Best new artist is, once again, anyone's best guess
The competition for new artist is as hot as ever, with a slew of fresh faces having broken out this past year. Eligibility rules for this one are complicated, making it hard to predict, but alternative-R&B singers SZA and Khalid have had huge years with their inventive debuts. Julia Michaels, who penned hits for Justin Bieber, Britney Spears, Selena Gomez and Fifth Harmony before stepping to the forefront, is also a front-runner for a nomination.
Pop artist Alessia Cara should have been nominated last year, as her album "Know-it-All" was released in 2015, but she'll be tough to ignore this go around after having a little more chart success, not to mention her collaboration with Zedd, "Stay."
Rappers Post Malone, Cardi B, Lil Uzi Vert, Playboy Carti and Logic had some of the year's biggest hits and voters could look to rectify hip-hop's long tradition of being underrepresented in this category by nominating multiple emcees. Yet the Grammys have always loved a good redemption story, and crooner James Arthur bounced back with the ballad "Say You Won't Let Go," which helped rescue him from a seemingly torpedoed career years after a string of offensive lyrics had him ostracized. Country acts Luke Combs, Kane Brown and Old Dominion all have a strong shot here, as does indie band AJR and pop singers Zara Larson and Dua Lipa.
Rap could be this year's most exciting field
With the charts and pop radio heavily tilted toward rap at the moment, there's so many recognizable artists in the mix for the rap Grammys that, beyond Lamar, the nominations are anyone's guess. At the 2016 ceremony, Lamar won all four trophies in the rap categories — making him the third act to score a clean sweep after Eminem and Kanye West. And he just might do the same this year.
Yet the competition for rap album is particularly fierce. Jay-Z, A Tribe Called Quest, and J. Cole are serious contenders. Future's back-to-back releases could very well see him in two categories (rap and urban contemporary album) and there have been so many massive rap singles this year the song categories will be stacked. Migos, Cardi B, Future, Yo Gotti, Big Sean, Post Malone and Lil Uzi Vert could all keep Lamar from a sweep.
Will Dave Grohl step aside for Harry Styles?
Currently only one rock album is among Billboard's top 20, and that's by probable Grammy rock nominees Imagine Dragons, whose album "Evolve" peaked at No. 2 and has floated around the top 10 ever since.
Other leading contenders in rock categories? Foo Fighters, whose coolly received album "Concrete and Gold" nonetheless spawned another year of Dave Grohl ubiquity. The desert rock band Queens of the Stone Age maneuvered closer to pop music for "Villains," which was co-produced by hit-maker Mark Ronson. Expect Los Angeles band Linkin Park to earn attention for "One More Light," its 2017 swan song with the late singer Chester Bennington, who committed suicide in July.
Outliers? Never underestimate the baby boomers, still a crucial Grammy voting block who could nudge albums by artists including Roger Waters and the late Leonard Cohen onto the ballot. And then there are upstarts like Cape Cod trio Highly Suspect and pop superstar Harry Styles, whose rock-heavy debut album has spawned speculation that he may be vying for a more respectable non-pop nomination in rock categories.
August Brown, Gerrick D. Kennedy and Randall Roberts contributed to this report.
---
The complete guide to home viewing
Get Screen Gab for weekly recommendations, analysis, interviews and irreverent discussion of the TV and streaming movies everyone's talking about.
You may occasionally receive promotional content from the Los Angeles Times.