Grammys 2014: We still have questions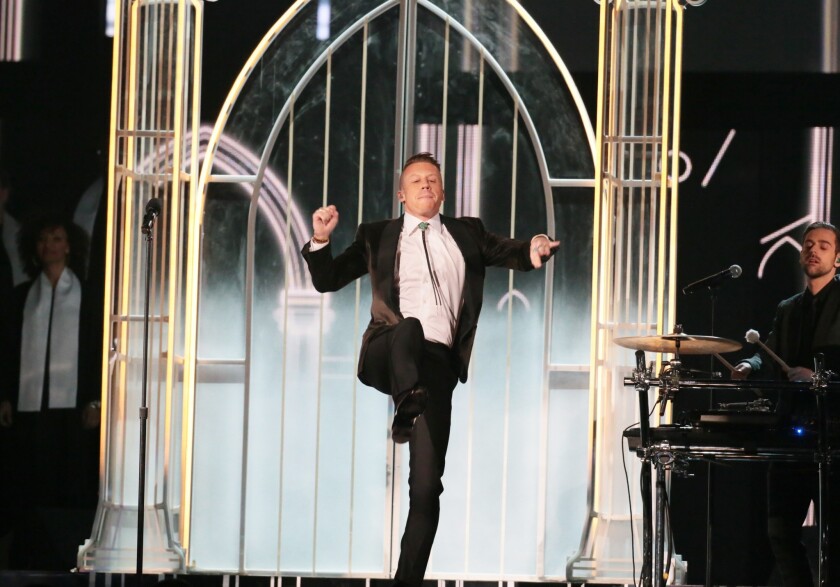 Mass marriage. Odd musical pairings. Pharrell's hat. The 56th Grammy Awards telecast Sunday left us with many indelible images -- and questions.
Why have rap categories if Macklemore is just going to win them?
Because the arc of justice is long, but it bends toward Kendrick Lamar finally being recognized as the genre's most vital artist in years. And Macklemore knows it, even if he needed to send Lamar a passive-aggressively public and sniveling text to prove it. Someday we'll laugh about this travesty with our grandkids over Google-Brain-Implant-Chat with the same derision as the Metallica/Jethro Tull kerfuffle in '88.
-- August Brown
Why is the broadcast delayed three hours for the West Coast even though the show takes place in Los Angeles?
Because Recording Academy President Neil Portnow is a silver-bearded wizard from the future who bends space and time so the East Coast can see inside Staples Center on TV, but not the civilians outside the arena. Really though, this has been a longtime Grammy complaint that's gone from frustrating to rage-making to comical to thoroughly useless in a social-media era. Give it up, Grammys, and let us on the best coast have a hit off that sweet, sweet live telecast.
-- AB
Grammys 2014: Full coverage | Top nominees and winners | Red carpet | Show highlights
Who were really under those helmets?
Our best guesses: John Boehner and Mitch McConnell, because after those latest poll numbers, they need the adoration (legislation can wait). A reunited Captain & Tennille. Kanye and his bruised ego. Those wacky, genre-jumping chameleons Macklemore & Ryan Lewis. Two French guys who don't want to reveal their age.
-- Lorraine Ali
Will Pink ever be allowed to just sing again?
Poor Pink. Since descending from the rafters at the Grammys back in 2010, she may be held captive by a rogue touring company of Cirque du Soleil. Pink's perhaps contractually prevented from anything so pedestrian as singing in front of a microphone, and her voice is now overshadowed by her gravity-indifferent stunts, followed by a few brisk acro-yoga workouts. Pink, you're fantastic and almost alarmingly fit, but it's time to pass the torch to another in need of a high-wire reinvention. Robin Thicke, your lines are coming into focus.
-- Chris Barton
Is Katy Perry really Maleficent?
Perry emerged from a crystal ball of smoke like the dark queen she's never been, and her performance of "Dark Horse," heretofore known as "The Grammy Nightmare Before Christmas," set aflame her ra-ra image. Gone were the knee-high socks and giant fruit costumes of yore, and in their place were decrepit trees, writhing spirits and a witch's broom. Finally, an unveiling of the dark magic that gave rise to the ubiquitousness of "Roar."
-- Todd Martens
TIMELINE: Grammy Awards through the years | PHOTOS: Best & worst dressed at the Grammys

What did Blue Ivy drink from her new gold sippy cup on Monday morning?
When Jay Z accepted his Grammy for rap/sung collaboration, he addressed his daughter at home by telling her that "Daddy got a gold sippy cup for you" -- his phonograph-horned Grammy trophy. The million-dollar question? What would the daughter of Beyoncé and Jay Z drink from that golden horn? Fresh-squeezed nectar from Perry's enchanted forest? A shot of Acqua di Cristallo Tributo a Modigliani, the world's most expensive water? Or just some Ocean Spray?
-- Randall Roberts
Why is LL Cool J still hosting?
The one Grammy-winning music personality no one was talking about Monday morning? Its host, LL Cool J. The rapper-turned-star of "NCIS: Los Angeles" has led the Grammys for three years now, and, as usual, offered little surprise. While the Oscars, Golden Globes, Emmys and Tonys deliver oversized personalities to guide its ceremonies, LL Cool J brings scripted blandness. This is popular music! No one deserves stand-up ribbing more than pompous superstars! Let's make this thing fun!
-- RR
What was up with the headgear?
Pharrell Williams drew loads of social-media attention with a hat that many compared to the Arby's logo. (Others said he was borrowing a look from Smokey the Bear.) But the producer was just one of several stars who covered their heads Sunday. Madonna went through two toppers: a wide-brimmed black number on the red carpet, followed by a white cowboy hat for her performance with Macklemore & Ryan Lewis. LL Cool J, Nile Rodgers and jazz singer Gregory Porter all donned flat caps. And Yoko Ono decorated her top hat with black netting -- a very goth Grammy granny.
-- Mikael Wood
Must a Beatle always be welcome?
Look, the Beatles were more important than any band, ever. And we get that CBS has an upcoming Fab Four special to promote. But when Paul McCartney and Ringo Starr seem as minimally invested in their performances as they were Sunday, it's probably a sign that the Grammys should hand over that precious airtime to someone making new music who matters now.
-- MW
What did Trent Reznor expect?
The Nine Inch Nails frontman took to Twitter to lambaste organizers who ran credits over his show-closing performance. But until the Grammys show stops going over its allotted time -- a day that will never come -- any artist holding down the grand-finale slot can count on getting chopped. That's why they call it Music's Biggest Ni—.
-- MW

---
Your essential guide to the arts in L.A.
Get Carolina A. Miranda's weekly newsletter for what's happening, plus openings, critics' picks and more.
You may occasionally receive promotional content from the Los Angeles Times.