Grammy nominees find an expert touch in producer Louis Bell, who's all over the awards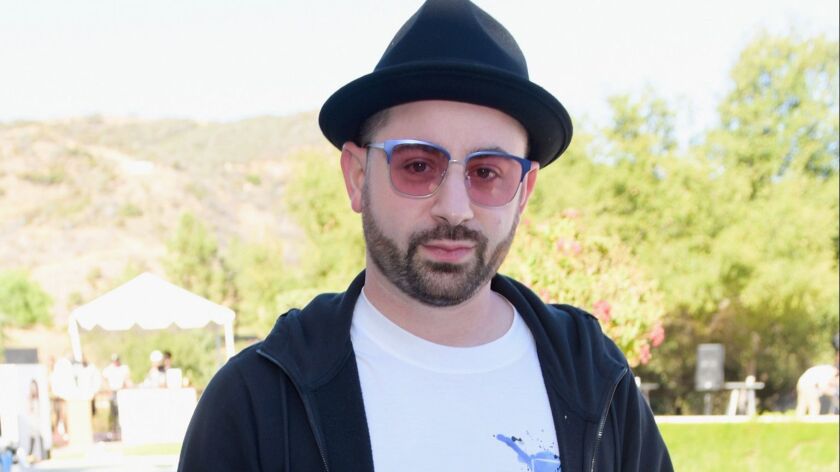 Music producer Louis Bell has an analogy for all the parts of his job that you have questions about — and probably some of the ones that you don't.
If an artist can get the emotion right in the vocal booth, that's like hitting the golf ball onto the green. From there Bell can putt it in the hole. But if he needs to get a wedge, then it's not going to happen.
If Bell grabs different parts from an artist's multiple vocal takes, then comps and tweaks them in software program Pro Tools into what sounds like a single performance, that's like tuning a piano.
If people try to make an artist record new music before they're ready, that's like when a waitress tries to get you to buy another round when you're already drunk.
But if an artist waits too long to put out new music these days, that's like taking out an earring and the hole in your lobe closes up. Or maybe it's more like when a restaurant shuts down. "People don't starve, they go to another restaurant," Bell says. "It might not be the same, but they're still hungry. People need music. They need content. They need to be fed constantly."
Bell, 36, explains all this from inside Electric Feel Studios on the Sunset Strip. From within this dim, purple-tinted room, Bell has established himself as a rising sorcerer in the dark arts of pop music production.
Projects that Bell was part of received nine Grammy nominations this year, and several of them are facing off against each other in categories like pop solo performance and pop vocal album. The most notable awards he's up for at the Staples Center ceremony Sunday night are album of the year for his extensive work on Post Malone's double platinum "Beerbongs & Bentleys" and record of the year for Malone's druggy, hypnotic single, "Rockstar."
The industry recognition is a nice payoff, considering that if you spent any time in 2018 listening to the radio or Spotify's New Music Friday playlist or absorbing transmissions from the ambient soundtrack of the modern world, then Bell's work was inescapable. An incomplete list of hits he had a hand in include 5 Seconds of Summer's righteous strut "Youngblood," the woozy dirtbag soul of Post Malone's "Better Now," the big dumb energy of Tiësto and Dzeko rework of Preme's "Jackie Chan," and Camila Cabello's pleading "Never Be the Same."
In January, two Bell productions — Halsey's aggrieved "Without Me" and Malone and Swae Lee's jaunty collaboration "Sunflower" — both reached the top spot on the Billboard Hot 100 singles chart. And now "I've Been Waiting," the just-released team-up between iLoveMakonnen, Fall Out Boy and departed emo rap idol Lil Peep, is already gaining attention.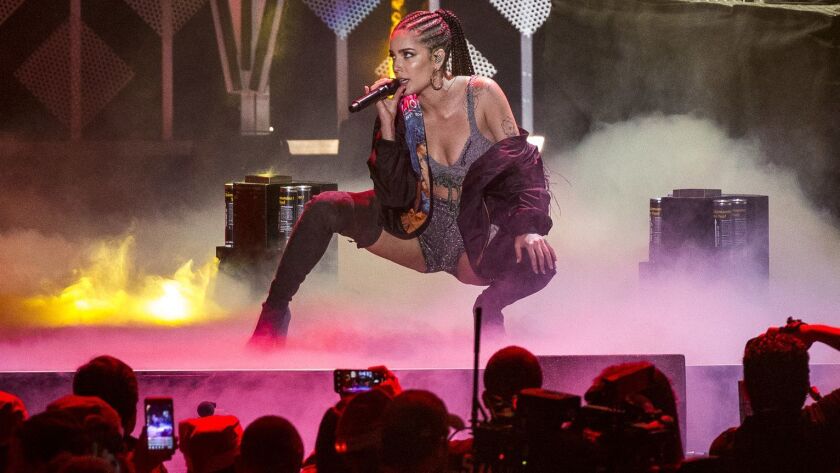 With this newly amassed chunk of credits, Bell is in the position to take on all manner of high-profile projects. "Your résumé is all you have. Nobody cares what school you went to or how many instruments you play," he says. "If you don't have that résumé, then you've never proven you can do it at that level. People are going to be reluctant to just give you the chance. Would you ever be the head of Citgo if you never ran a smaller gas company?"
Bell is stout, with a low-level sheen of stubble on his face. He began making music in 1999 as a teenager in Quincy, Mass., a suburb just outside of Boston. If his accent didn't betray his Northeastern roots, then the black North Face jacket slung over the back of his chair would.
He started off rapping, modeling his rapid delivery after Eminem and his aggression on DMX. At first he'd just record his vocals on a computer and put them over instrumentals he took from the internet. By 2002 he became interested in making his own beats.
He went by the name Lu Balz, both an achingly bad sexual reference and an allusion to the R&B singer Lou Rawls. He fortunately got rid of it and returned to just his birth name before his career got too far.
In 2004, Bell decided to stop rapping ("People didn't believe I should be a rapper. 'Your dad owns a restaurant, what struggle are you going through?'" he says) and focused on production. His manager at the time convinced him to open up his own studio in South Boston, which he later relocated to Quincy.
He worked with local acts, but still kept the vampire hours that are the norm when recording hip-hop. To this day he comes into the studio at about 3 p.m. and usually leaves around 8 a.m.
Bell continued developing his producing and songwriting skills, and in 2013 he met Mike Stud, a Rhode Island-born rapper and former college baseball pitcher with a loyal grassroots following.
Stud suggested Bell fly to Los Angeles to meet his manager, Austin Rosen. "My plan was always to come out here, I just didn't want to come without having a real plan," says Bell. "I didn't want to crash on somebody's couch and say, 'I'm going to just keep making beats and figure it out.' I wanted to have an exact thing where I would have an income and I wouldn't have to rely on anybody."
Rosen took Bell on as a client, and once Stud went out on tour, Rosen put him in sessions with other songwriters and producers in his stable. He was part of the team that created "Let Me Love You," an originally acoustic song that was kicked around for a couple years by various singers until it was grabbed by DJ Snake. The EDM star got Justin Bieber to handle the vocals and released it as a single in 2016.
"Once he is around something, he can sponge it up," says Stud of Bell. "He can take someone's superpowers just by being around them. Once he started getting around more and more amazing [things] and better producers or other people doing great stuff, he could see what they were doing, calculate it, understand why they're doing it, and then embody that going forward."
Shortly before "Let Me Love You" was on its way to becoming a smash, Bell was brought on to help wrap up what would turn into "Stoney," Post Malone's debut album. It was about halfway finished, so Bell tightened up was already there and put together a few new songs. "Post became my partner in crime as far as music," says Bell of the experience. "My musical soul mate."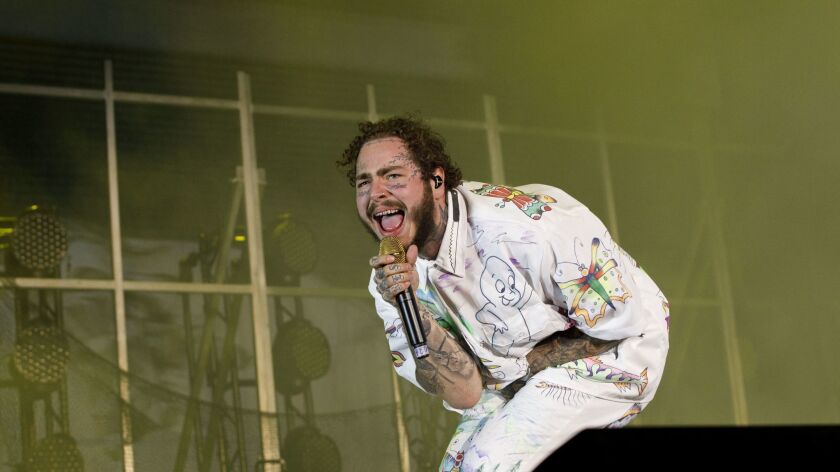 Almost immediately after "Stoney" was out, they began working on the follow-up, "Beerbongs & Bentleys." Bell took on the role of executive producer, overseeing the project and creating a tracklist from the copious amount of material Malone recorded.
Bell is not precious in his approach. He sees no need to revisit ideas that aren't coming together. "Nowadays, things are disposable. You can pull up another sound, pull up another thing. Why keep working on something that doesn't feel right?" he says. "If the magic isn't there right away, then start something that might create that magic."
Making contemporary pop music is often work created by committee or by disparate collaborators separated by time and space. When sifting through the credits it can be confusing to discern who exactly did what on each song and when they did it. Along with songwriting, Bell has been recognized for vocal editing (futzing with and fixing existing recorded material), vocal producing (helping the singer when they are actually recording), and producing (shaping the overall sound of the song, to some significant extent).
What Bell always wants to be is the last person to touch the song, the final say in how it's supposed to sound. Now he's finally got the track record to hold that position, though various non-disclosure agreements and a fear of jinxing things prevent him from mentioning what he specifically has on the way.
Of course when the producer is done with a song, it's got to be mixed by an engineer, which doesn't always turn out the way Bell wants. That's why he's taken to mixing some of his productions himself.
What's the difference between a good mix and a bad mix? Well, there's an explanation for that …
"Having the wrong mixer, it's like you give them a sandwich and they take one of the pieces of bread off and they mess with the food a little bit and then they put the bread back on," Bell says. "It's like ordering sushi delivery and they made it great in restaurant, but by the time they delivered it, it doesn't taste right."
---
From the Emmys to the Oscars.
Get our revamped Envelope newsletter, sent twice a week, for exclusive awards season coverage, behind-the-scenes insights and columnist Glenn Whipp's commentary.
You may occasionally receive promotional content from the Los Angeles Times.