Hal Blaine, prolific 'Wrecking Crew' drummer who worked with Frank Sinatra and Elvis, dies at 90
Drummer Hal Blaine, one of the most recorded musicians in pop music history whose powerful percussion work shaped the sound of scores of hit records, died Monday at age 90, his family announced.
Blaine's signature beat can be heard on countless hits by Frank Sinatra, Elvis Presley, the Beach Boys, Simon & Garfunkel, Neil Diamond, the Byrds and others.

For the record:
10:45 p.m. March 11, 2019An earlier version of this post included Glen Campbell's "Wichita Lineman" among numerous hit records on which drummer Hal Blaine played. Drummer Jim Gordon is credited as the drummer on "Wichita Lineman."
In a post to Blaine's official Facebook page, his family referenced his "inspiration to countless friends, fans and musicians," adding: "May he rest forever on 2 and 4," referencing the accented beats that have powered hundreds — if not thousands — of hit recordings over the decades.
"I'm so sad, I don't know what to say," Beach Boys creative leader Brian Wilson said of the man he typically called first for many of his group's recording sessions in the 1960s. "Hal Blaine was such a great musician and friend that I can't put it into words. Hal taught me a lot, and he had so much to do with our success — he was the greatest drummer ever. We also laughed an awful lot. Hal, we love you and our memories will last forever."
Blaine was a key member of the ace Los Angeles studio musicians who came to be known as "the Wrecking Crew," and is even credited with coining the term. The name is an allusion to the way a new generation of professional players emerged in the 1960s and ostensibly "wrecked" the careers of their predecessors, who often disdained performing on rock, soul and R&B recordings that became the lingua franca of popular music after World War II.
Rolling Stones drummer Charlie Watts said Monday, "Godspeed Hal. He gave us all so much. Feeling very blessed to have celebrated his life with him," referring to Watts' participation in Blaine's 90th birthday gathering last month at Wrecking Crew musician Don Randi's Baked Potato jazz club in Studio City.
"Hal was huge in my life," another veteran studio drummer, Jim Keltner, told The Times on Monday. "Ninety years is a good run. We should all be so lucky."
Blaine's floor-rattling "thump, thump-thump, crack!" drumbeat that opened the Ronettes' 1963 hit "Be My Baby," one of many produced by "Wall of Sound" creator Phil Spector, remains one of the most influential musical introductions in rock history. It was a key reason that Wilson, who has consistently cited "Be My Baby" as his favorite record of all time, tapped Blaine to play on many of that group's most important recording sessions. "Be My Baby" directly inspired the Beach Boys' 1964 hit "Don't Worry Baby."
Blaine's relationship with Wilson included work on such signature Beach Boys songs as "California Girls," "Wouldn't It Be Nice" and "Good Vibrations" that helped expand the sounds and textures of rock music in the '60s.
Consequently, his role in Wilson's music played a significant part in "Love & Mercy," the 2014 biopic documenting Wilson's life and career.
According to the Rock and Roll Hall of Fame, which inducted him in 2000 among the first five studio instrumentalists ever elected to the hall, Blaine "has certainly played on more hit records than any drummer in the rock era, including 40 No. 1 singles and 150 that made the Top 10."
Scoffing at the notion of being an "unsung hero" in pop music at the time of his induction, Blaine told The Times, "I've had 263 gold and platinum record awards, made literally a couple of million bucks — it goes on and on — so at the time I was laughing all the way to the bank."
Yet he famously lost much of his material wealth following a messy divorce, and he spent some years working as a security guard in Arizona after he and many of his Wrecking Crew mates ceded their studio supremacy to subsequent generations of musicians.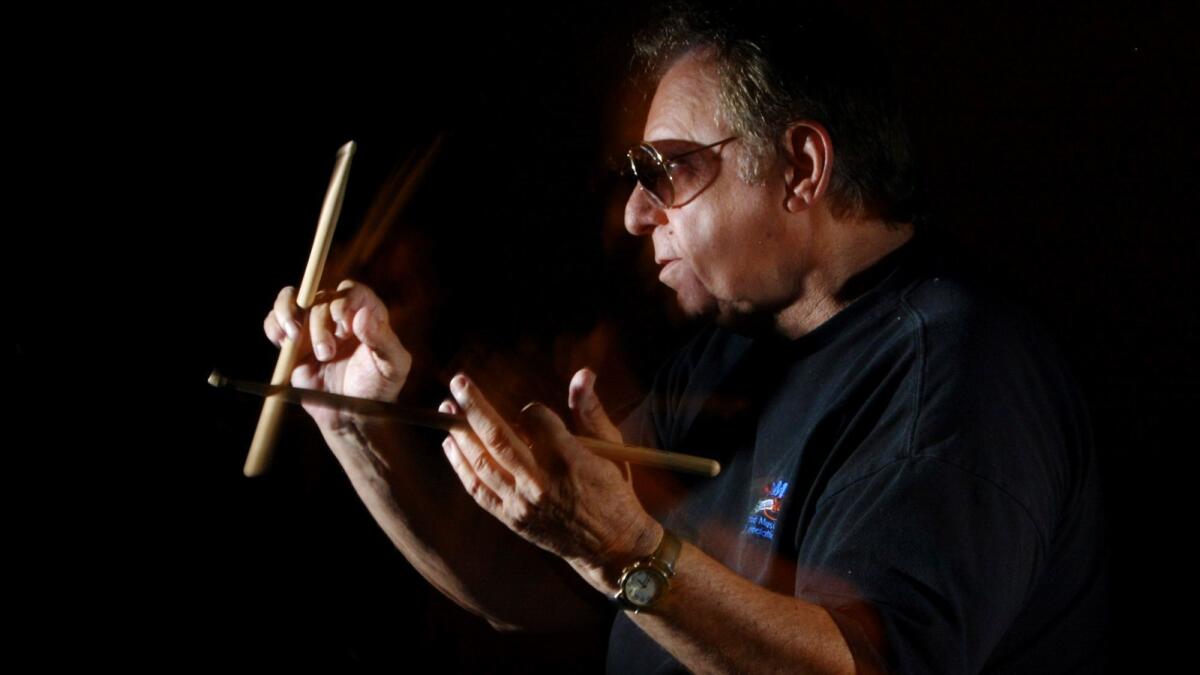 Blaine was born Harold Simon Belsky on Feb. 5, 1929, in Holyoke, Mass., and after moving to Los Angeles, he participated in thousands of recording sessions that included most of Presley's movie soundtracks as well as TV and movie themes including "Batman" and the original cast recording of "The Rocky Horror Show."
Other hits featuring Blaine's drumming include Paul Revere & the Raiders' "Kicks," Richard Harris' "MacArthur Park," Roy Orbison's "It's Over," Simon & Garfunkel's "Homeward Bound" and "Mrs. Robinson," "The Byrds' "Mr. Tambourine Man," and the Mamas & the Papas' "California Dreamin'" and "Monday, Monday."
"We come in wearing blue jeans, smoking, and the older guys said, 'They're gonna wreck the business,'" Blaine said in the 2015 documentary "The Wrecking Crew" directed by Denny Tedesco, son of similarly prolific studio guitarist Tommy Tedesco.
That film included a scene that crystallized the magic the often anonymous studio professionals brought to the sessions.
When Byrds lead singer Roger McGuinn entered a studio surrounded by such journeymen, it took only an hour to lay down the group's career-launching hit "Mr. Tambourine Man."
When the rest of the group joined McGuinn to create a follow-up single, the full band needed 77 takes to perfect "Turn! Turn! Turn!"
"It's kind of a shock to the general public when they find out that a lot of [musicians in famous bands] didn't play on their records," Blaine told The Times in 2000. "But not everybody can be a plumber and go fix a broken pipe. Sometimes you need an expert, and that's all there is to it.
"Most of it was economics," he said. "We could go in and do an album in six hours. Kids today, sometimes it takes them months to get one song down."
Of the wildly varied demands placed on studio musicians, Blaine recalled, "One minute I'd be playing with Count Basie, the next minute I was with Lawrence [Welk] and the next minute I was with the Beach Boys," he told author Ken Sharp for his companion book to Tedesco's "Wrecking Crew" documentary, "Sound Explosion."
"We played every genre of music," Blaine said. "We'd play with the top jazz people in the world, like Gerry Mulligan or Chet Baker. There were no nerves in our bodies. Nobody was shaking in their boots. Our chops were perfect in those days. There was nothing we couldn't do."
His contributions touched countless other musicians and continue to resonate a half-century later.
"When I recently had the honor of playing the Beach Boys' 'Good Vibrations' with [music director] Gustavo Dudamel and the L.A. Philharmonic, I thought of Hal," John Densmore, a founding member of the Doors, told The Times on Tuesday. "I knew I was playing some of his parts."
Blaine often credited getting his start in the L.A. recording studio scene to New Orleans drummer Earl Palmer, who came west in 1957 and quickly became the first-call studio drummer, as he had been in New Orleans.
When he received requests for sessions he was too busy to handle, he frequently directed callers to Blaine.
The contributions of the studio players shouldn't be underestimated.
"I don't know how many times I've seen an artist go into the studio and have to be guided along by the musicians," Palmer told The Times in 2000, "because the artists and even the producers didn't know what to do."
Atlantic Records executive and producer Jerry Wexler explained it this way: "All we would start with was a bunch of chords — we didn't have written arrangements. The musicians routinely came up with things that made those records.
"If you just play the chords, it's [nothing]," Wexler said. "It's how you fill it in — the in-between notes, the upbeats, the downbeats, the walk-ups, the walk-downs, the rhythm pattern — that puts the icing on the cake."
Such was the respect that Blaine and his cohorts commanded among the singers, producers, composers and others who worked with them that songwriter Jimmy Webb, in his 2017 memoir "The Cake and the Rain," said that he remembered only one thing about winning the Grammy Award for song of the year for his 1967 Fifth Dimension hit "Up, Up and Away.
"I had not prepared a speech and I don't know what I said," Webb wrote, "except that I thanked Hal Blaine."
The statement from Blaine's family said his survivors include his daughter, Michelle, and seven grandchildren, and added that "no further details will be released at this time."
Follow @RandyLewis2 on Twitter.com
For Classic Rock coverage, join us on Facebook
Get our L.A. Goes Out newsletter, with the week's best events, to help you explore and experience our city.
You may occasionally receive promotional content from the Los Angeles Times.