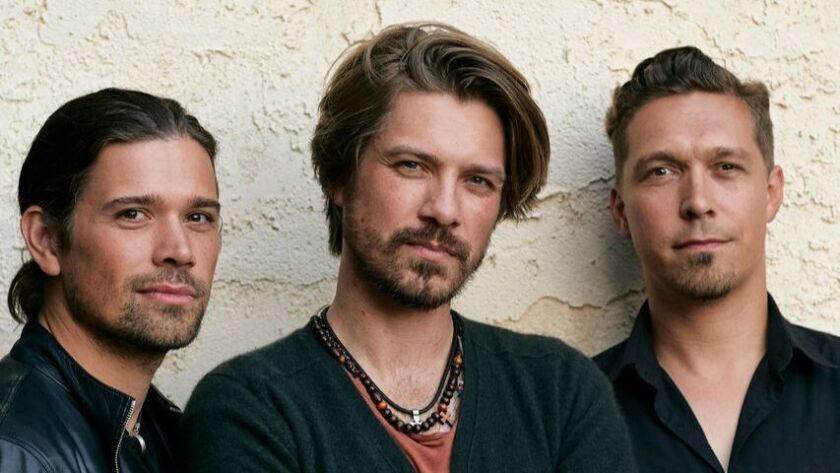 I love Hanson.
Yes, the band Hanson, with brothers Isaac, Taylor and Zac. It is 1997, I am 12 years old and I am not allowed to wear makeup, no matter how much I protest. And Hanson's first single, "MMMBop," is the hit of the summer.
But Hanson is not popular the way the Backstreet Boys are popular. They're from Tulsa, Okla., they're very religious (read: wholesome) and, as the boys in my sixth-grade class always say, their long hair makes them look like girls.
A few Saturdays ago, I was 12 again.
Hanson — yes, they're still touring — played the Greek Theatre. But as I made my way to my seat, I was dismayed to notice a sea of empty red rows in the balcony. I was suddenly a tween on the defensive again, and I felt the urge to defend the band — to curse everyone who didn't understand how great they were.
Of course, everyone who was at the Greek felt like kin, other women in their 30s wearing faded Hanson T-shirts from the 1990s. The chosen few who really get Hanson.
Most people don't even know they've been making music for the past two decades. "Wait, Hanson is still a thing?" the clueless ones ask. "What do they even play after 'MMMBop?'"
Plenty. Hanson's new tour is called String Theory, because they're performing each show with a 46-piece orchestra in every city they visit. Collaborating with Academy Award-winning arranger David Campbell, they've reimagined old songs and written new ones specifically to play with a symphony. (An album of the same name was released Friday.)
This is Hanson saying: We're grown-up now. Yes, we'll play "MMMBop" for you, but it's going to be mellower, we're nixing the drums and adding violins. No more pushing or shrieking or fainting. You may remain in your seats, and your ears won't ring the next day. We'll even give you an intermission.
In other words, this is exactly the kind of concert you want to attend as a 32-year-old.
Except that for me, part of loving Hanson is loving the memory of who I was when I became their fan: an outsider who found kindred spirits in a band that wasn't quite mainstream.
Best friends, best fans
I was in sixth grade when I became a Hanson fan, and I wasn't cool. I had Harry Potter glasses and desperately wanted to hang out with the girls who bought all their clothes at Express. But there was one girl in my class who loved Hanson too: Julia.
She had braces and really wanted to be friends with me, which, naturally, meant I did not want to be friends with her. But when our class took a field trip to Plimoth Plantation, we ended up sitting next to each other on the school bus. She had brought Hanson's album, "Middle of Nowhere," so we each took an earphone and listened on her Discman.
Hanson bonded us. Every weekend, we had sleepovers during which we devoted all of our time to obsessing over the band. We made VHS tapes with recordings of all of their television appearances. We crafted collages of them from the pictures we found in Bop and SuperTeen magazines. We read — and wrote — fan fiction about them. We chatted about them on America Online, where my screen name was AmyZac.
And on June 26, 1998, we went to our first concert ever together: a Hanson show.
Which is why, when Julia moved to Los Angeles this past summer, the first thing I imagined us doing together was going to a Hanson concert. Since graduating from high school, we've lived on opposite sides of the country. While my Hanson fandom has never wavered, it's something I've had to enjoy mostly in private. I've been to a number of their shows in town — and even interviewed them for this paper — but always alone.
So when I saw Hanson was coming to town in October, I told her to mark down the date on her calendar. Twenty years after seeing them for the first time, we would once again come together for our favorite band.
Part of loving Hanson is loving the memory of who I was when I became their fan: An outsider who found kindred spirits in a band that wasn't quite mainstream.
In anticipation of the show, I pulled my old Hanson binder out of storage. Filled with hundreds of sheet protectors, the binder contains every important piece of band-related memorabilia I own. I saved the ticket stub for that first show — $28.50 plus a $5 service fee — along with one of my earplugs and silly string Hanson sprayed at the audience. There is also a photo of Julia and me before the show. It is distorted because it was taken on a disposable camera, but you can still see that we wore matching Roxy tank tops. I also wore a necklace that I got at a street market in downtown Boston: A glass heart containing a grain of rice floating in oil. One side of the rice says Amy; the other side says Zac.
I called my mom back in Massachusetts to see what she could recall about the momentous day in our lives, since she had to escort us to the show. The details she remembered, however, weren't particularly revelatory. She said there was a lot of traffic and the parking lot was endless. Lots of kids apparently arrived in limousines. She liked the music more than she expected to, but there were so many screaming girls that she was legitimately concerned she might go deaf.
For Julia and I, of course, the night still conjures deep emotion. Toward the end of the concert, we left our seats and attempted to get as close as possible to the stage. The brothers kept leaning into the audience from the stage and touching concertgoers hands. Zac threw some of his drumsticks into the crowd, and Taylor kept spraying his water bottle on the audience.
"But we just couldn't get through," Julia recalled. "And then we tried to find their tour bus, but they'd left. It somehow ended as the worst night of our lives. We didn't meet them or randomly get pulled backstage like in one of our fan fiction stories. I remember you saying: 'We're never going to meet them.'"
Reader, I was obviously very over dramatic, and very wrong.
Hanson with strings
This past Saturday, Julia picked me up at 7 p.m. to drive to the Greek.
When we arrived at will call, I picked up our tickets and found two VIP passes inside the envelope. A note explained that the pass would grant us access to a special lounge where the after party would take place.
"Julia," I said, handing over the sticker, "this probably means we're going to meet them."
She took a deep breath, the thought almost incomprehensible.
At promptly 8 o'clock, Hanson walked onstage. They explained the ethos behind String Theory — how the project was a symbol of "reaching for the crazy dream." Then the show began.
And being with Julia, I could get into the music. We harmonized to the songs we've known for years and analyzed the lyrics to the new songs. We danced in the aisles and posted videos to Instagram and may or may not have screamed their names a few times.
"I've never done Ecstasy," Julia said when the two-hour set finished, "but this has gotta be what it's like to come off a drug."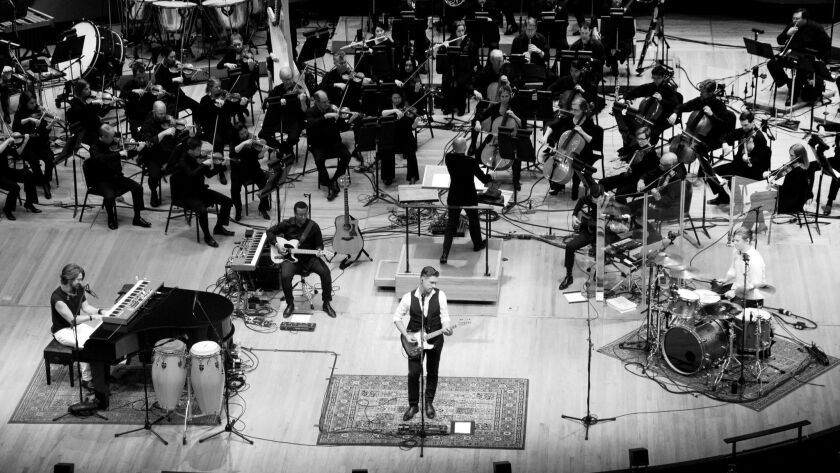 At the risk of saying something I probably shouldn't, I think we're a band that has always been underestimated.
Zac Hanson
After waiting in vain for an encore, we decided to wander over to the after-party space: An indoor-outdoor lounge filled with cookies and twinkly lights. We found a corner seat and tried to act like we weren't watching the door like hawks. I told Julia that when Hanson arrived, I was going to approach them to ask a couple of questions about the show, and that she should come with me.
Zac entered first, then Taylor, with all five of his children and his pregnant wife in tow. He was holding the hand of his 6-year-old, a redhead named Wilhelmina. Even though we seemed to be in a somewhat exclusive space, the guys were immediately surrounded by fans asking for selfies. Julia and I lurked in the background, not wanting to look like desperate fangirls but still feeling like them.
We decided to approach Isaac first. I asked him how he thought Hanson had evolved since the days when Julia and I first started listening to them. He explained that this tour was about "doing something really boldly different," noting that the group visualized the set almost like a movie.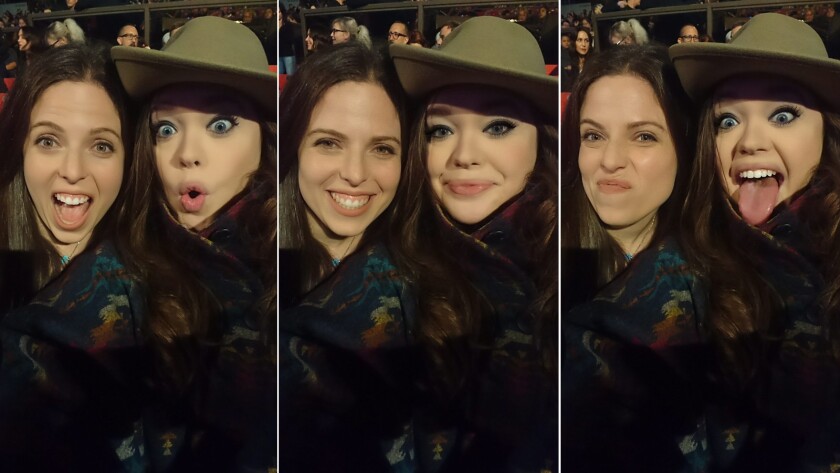 "It's definitely different for us, and it's intentionally different," he said, explaining the show's more mature vibe. "We're painting with bold colors in this show. You can't come to this show and just think it's a pop show. It's a musical."
Roughly an hour later, when there were only two people around Zac instead of 15, we decided to walk over to him. We were somewhat more nervous to talk to him because he was the member of the band who was our exact age, and when you're 12, that means he's the one you like the most.
He said he was proud of the band's new material, and hoped fans like us who had been with them from the beginning felt a "feeling of vindication and the feeling of coming home all in one."
"At the risk of saying something I probably shouldn't, I think we're a band that has always been underestimated," he said, preaching to the choir. "As a Hanson fan, I think you would see this show and say to yourself, 'You can't misunderstand.' No one has ever doubted that we were talented. From day one, people have said, 'You play your own instruments, you write your own songs.'"
"What we have suffered from," he continued, "is not a misunderstanding of ability, it's a misassociation. So when you stand in this environment, it is unequivocally, without confusion, what it is. And you get to see it for that and experience it as a work, not as a piece of pop culture."
Then he said he had to wake up at 3 a.m. and walked out a side door just before midnight with his brothers. Walking back to our car through empty Griffith Park, Julia and I were high off the buzz of being momentarily transported back to our childhood. But she said she was also overtaken by an odd sense of melancholy — the kind you get after meeting someone who has meant so much to you. It was the "never meet your heroes" thing everyone always talks about — how discombobulating it can be to come face-to-face with people you spent years turning into a fantasy.
She dropped me off and the next morning, I woke up to an email from her in my inbox:
I'm twenty years past the person I was when I was twelve, and yet seeing Zac Hanson in person gave me the exact same feeling — the heart-in-throat, stomach-flip — that it once did. He was talking to a group of people and I was watching him through a window. I was two ages at once, and it was uncomfortable and ecstasy all in the same moment. I wonder what it would have been like if my twelve-year-old self knew that one day this would be me. I wonder if she would know the empty feeling I have now. I want so deeply to make meaning out of what it means for me now, but honestly, I'll have to make meaning for my young, insecure self: She would have loved it and cherished it for the rest of her life.
ALSO
At 21, Bella Thorne has 4 movies out, 18 million Instagram followers, 19 cats and the will to survive
Actress Sarah Scott reported sexual misconduct on a Hollywood set and found a difficult path to a resolution
How did Donald Trump become president? A slew of new documentaries tackle the question
Follow me on Twitter @AmyKinLA
---